At the start of the New Year, millions of Americans made New Year's resolutions to be healthier and more physically fit. While hitting the gym is important, the New Year is also a great time to focus on your financial fitness. Whether you are looking to pay off student loans, build up an emergency fund, or start saving for college, it's important that you start doing it now. Putting it off will only make you more stressed down the road when you really need the money!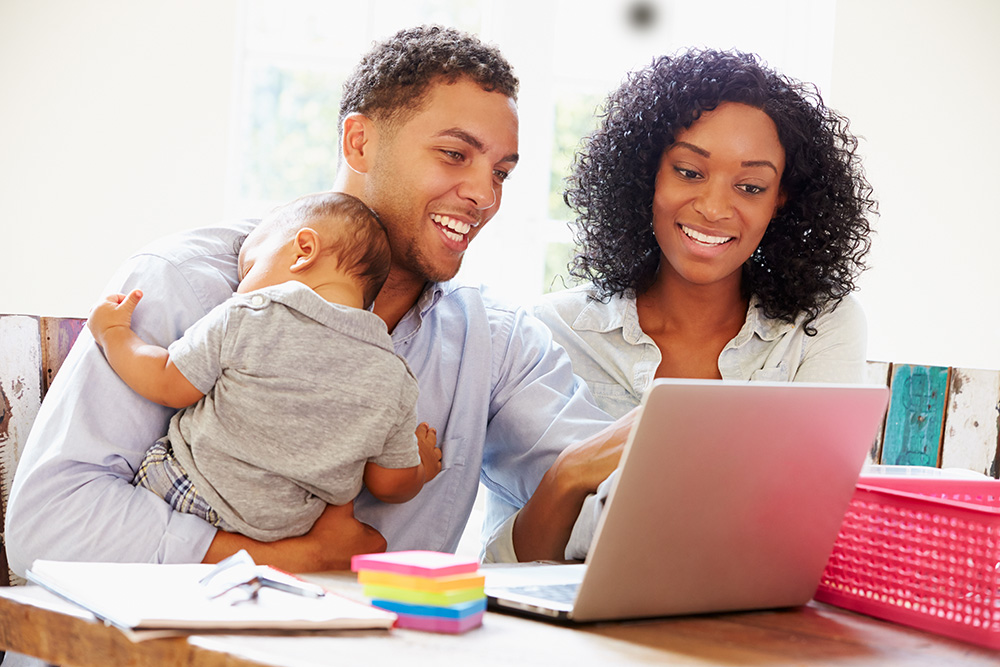 Nearly all families agree college is an important and worthwhile investment. However, over 60% feel overwhelmed about saving for it, according to the How America Saves for College 2015 report by Sallie Mae and Ipsos. As a parent, I can totally relate to this. After paying all of our monthly bills, it's hard to find extra money to set aside for savings. It's hard to imagine sending three kids to college, but I know it's possible, especially if we start saving now.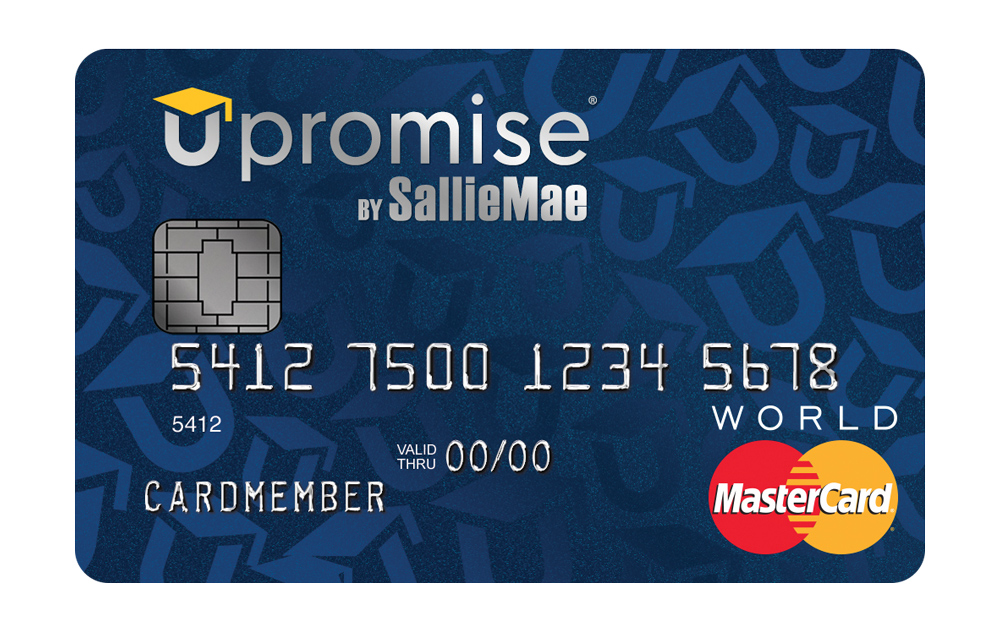 I've been looking into different ways that my family can save for college, and while there a number of options, I am really impressed with the Upromise MasterCard®, a credit card designed to help you build a college savings. With the Upromise MasterCard, you can earn up to 10 percent cash back on your purchases, which can be used to save for college.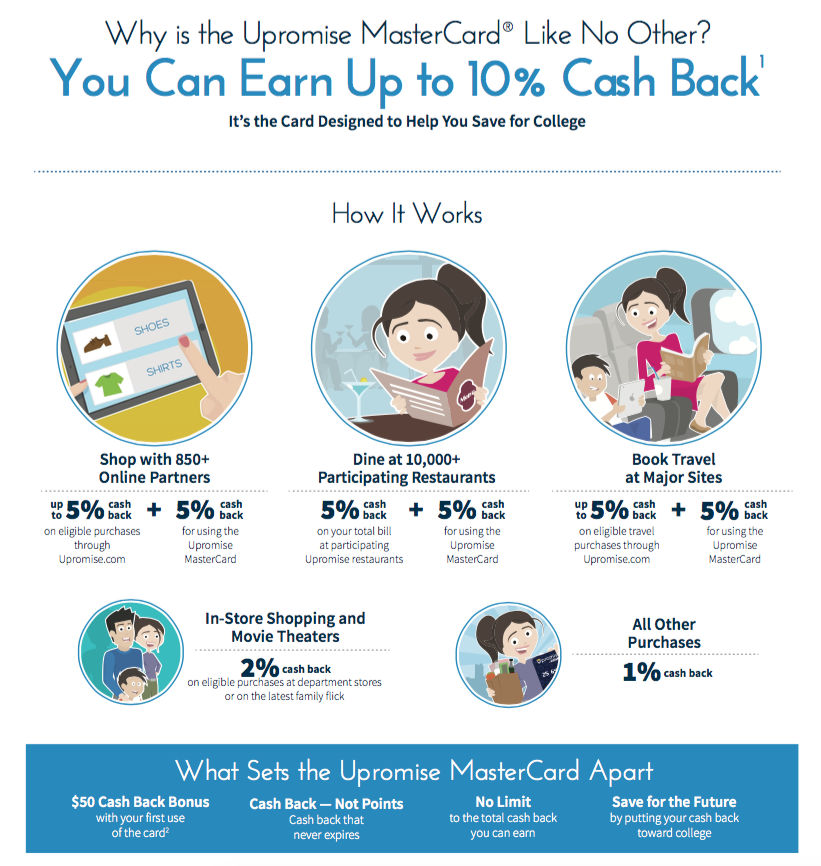 If you're looking to save more in 2016, you might want to consider the Upromise MasterCard. Take a look at the benefits below to decide if it is a good fit for your family.
5 Benefits of Having a Upromise MasterCard
1. You can earn up to 10 percent cash back. Yes, 10 percent!
With the Upromise MasterCard, you can earn up to 10 percent cash back. You can earn five percent back through Upromise by Sallie Mae, and an additional five percent from using the Upromise MasterCard.
Here's how:
Shop at more than 850 online retail partners at Upromise.com
Dine at more than 10,000 Upromise participating restaurants
Book travel at major travel sites via Upromise.com
And there's more. You can also earn two percent cash back when using the Upromise MasterCard for in-store shopping at major department stores and at movie theaters. All other purchases with the card are eligible for one percent cash back.
2. You can build a college savings with the cash back you earn.
Saving for college can feel like a marathon but the Upromise MasterCard can help you sprint ahead.
When you open the Upromise MasterCard, you're automatically enrolled in Upromise by Sallie Mae, a free-to-join program that allows families to earn cash back on everyday purchases. You can immediately start earning up to 10 percent cash back.
The cash back earned on everyday purchases can be invested in an eligible 529 college savings plan, used to help pay down an eligible student loan, transferred into an FDIC-insured Upromise GoalSaver account, or withdrawn by check.
Last year, Upromise MasterCard cardmembers collectively earned $42 million in cash back for college!
3. There are no annual fees, no cash back limits, and no expirations.
Unlike other credit cards that offer points that expire or you may simply never redeem, the Upromise MasterCard means cash back. There are no limits to how much cash back you can earn. No expirations, no annual fees and no rotating cash-back categories. It's that simple. In addition, you'll stay on top of your credit with free access to your FICO Credit Score, and enjoy $0 fraud liability on unauthorized transactions.
4. You'll shop where you're already shopping – just earning more.
With more than 850 online retail partners, more than 10,000 restaurants, and multiple major travel sites, chances are most families are already shopping, dining, or booking travel through a Upromise partner. So why not earn cash back and start boosting savings on purchases from major retailers and travel sites like Travelocity, Hotels.com, and Expedia? For a complete list of Upromise partners, visit Upromise.com.
5. You can earn extra through special promotions throughout the year.
Upromise partners with major retailers to offer special promotions that offer additional cash back opportunities at major online retailers. For Upromise MasterCard cardmembers that can mean cash back savings of more than 15 percent. Cardmembers also receive special cash back offers via email.
In addition, new cardmembers can earn a one-time $50 cash-back special offer after making a purchase, cash advance transaction, or balance transfer within 90 days of opening an account by clicking here.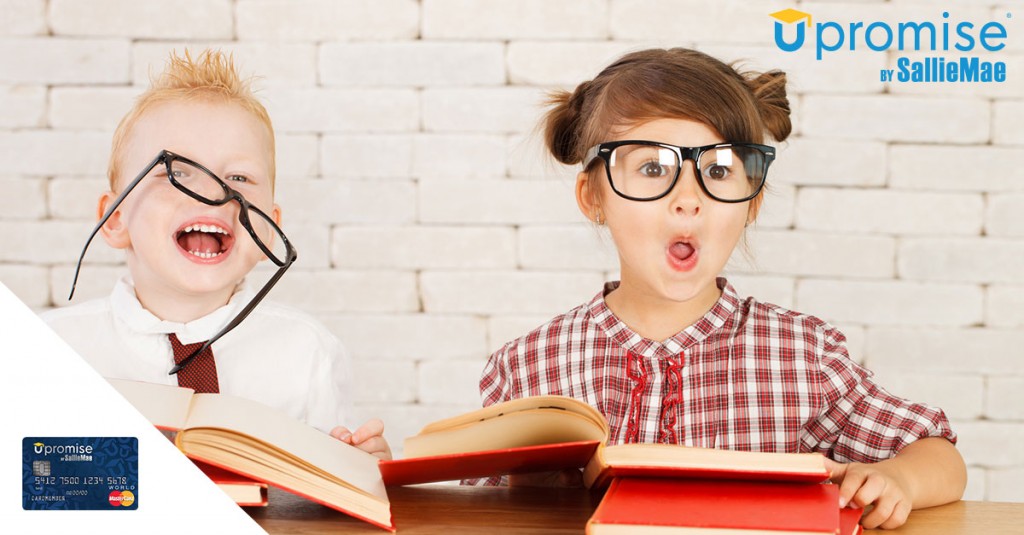 Whether your kids are just babies or halfway grown, there's no better time than now to start saving for college. The Upromise MasterCard can not only help you grow a college savings more quickly, it can also help you achieve and maintain financial health for years to come!
Click here to learn more about the Upromise MasterCard.
Have you started saving for college?
I partnered with Upromise to bring you this post. All opinions are my own.