My three-year-old twin girls are really into imaginative play right now. They love pretending to be mommies to their baby dolls and they especially like to pretend they are little cooks in the kitchen. I like to encourage them to play right along with me, but the play kitchen we've had since they were babies is too small for the two of them to use at the same time. I decided that it was time to find them a bigger one that would hopefully last a long time!

After browsing around online for a new play kitchen, I came across KidKraft, a company that makes children's toys and furniture. I immediately fell in love with their wide selection of wood play kitchens. I could tell just by looking at them that they they were well-made and designed with kids in mind. I decided that I had to get the girls the KidKraft Uptown Espresso Kitchen and was thrilled when KidKraft agreed to send us one for review.
As soon as the kitchen arrived, the girls were so excited and couldn't wait for daddy to put it together. We knew it was going to take awhile, so we told them they would be able to play with it after nap time.
After sorting all of the pieces, my husband and I used the instruction guide to put the kitchen together. The steps were fairly easy to follow, but it still took us a long time to complete. My father-in-law and brother-in-law ended up coming over to help and it still took about three hours to complete. It's totally worth it though — just look at how nice it looks now that it's all done!
There are so many things we love about the Uptown Espresso Kitchen. We especially like that it is big enough for both of our girls to play with it at the same time.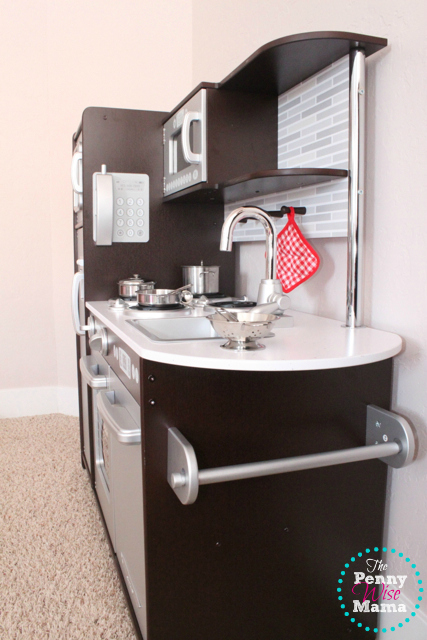 We also really like that the kitchen blends in and looks nice with the rest of our furniture. The darker wood, "granite" countertop, and "stainless" appliances match our kitchen and other household décor.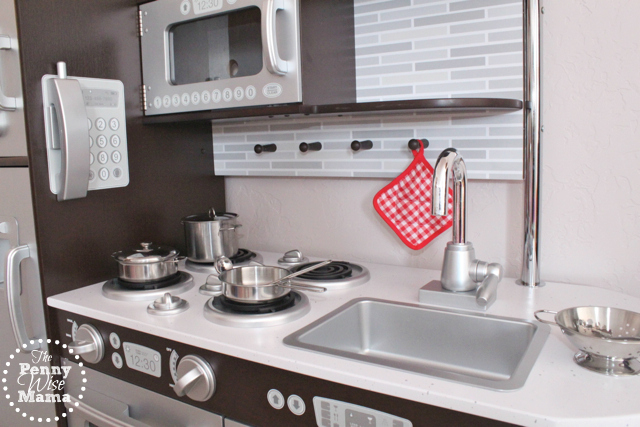 What sets this kitchen apart from other play kitchens is every part of the kitchen has a function — the fridge, freezer, microwave, oven and dishwasher doors all open, the knobs on the stove turn, and the faucet rotates.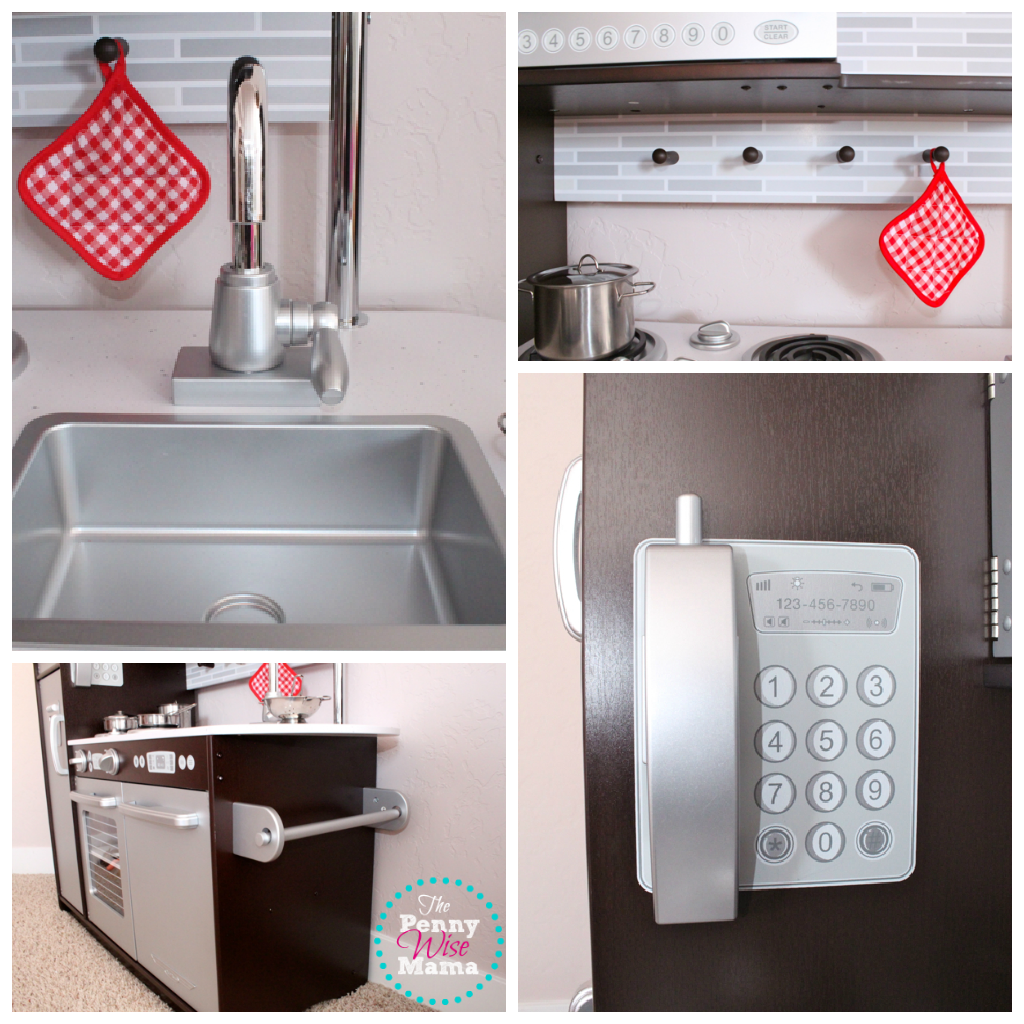 It even has a cordless phone, life-size paper towel holder, chalkboard, and removable sink for quick and easy cleaning!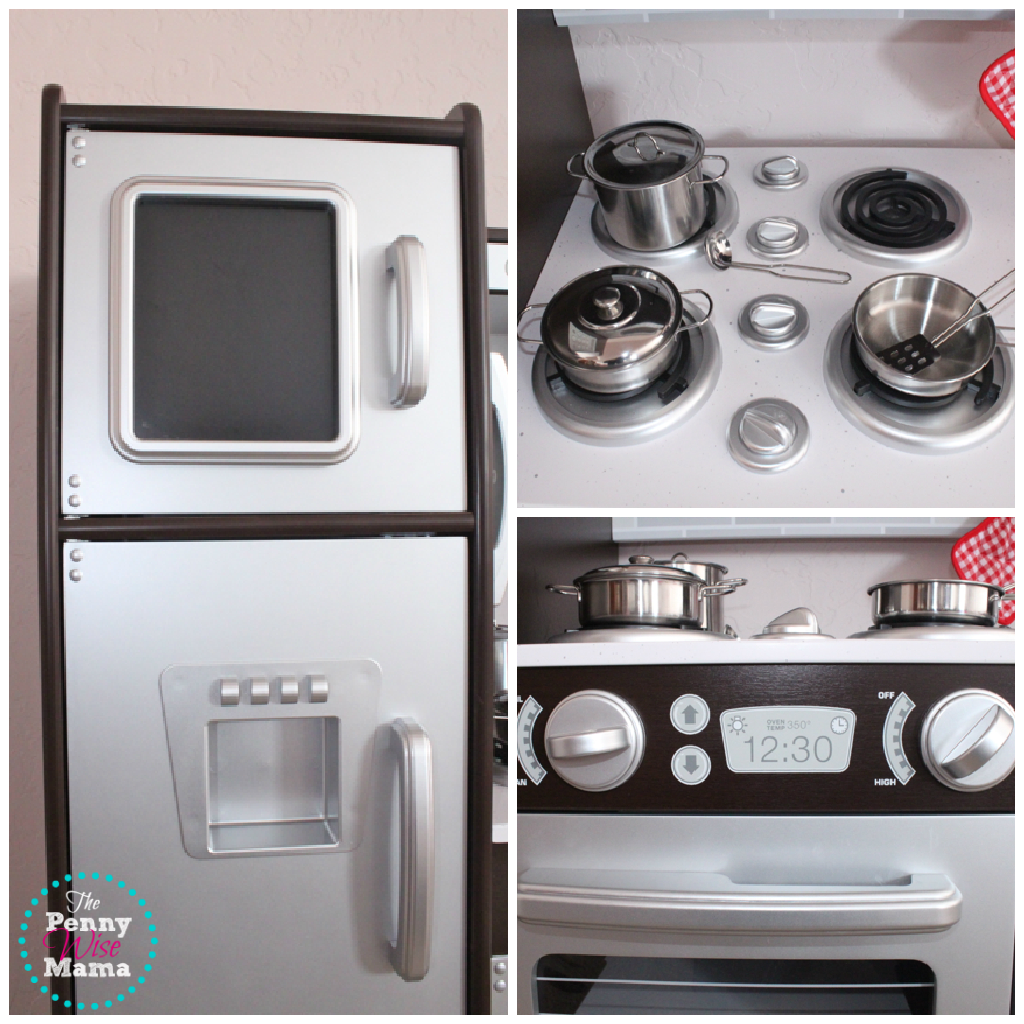 I love that the kitchen is realistic. The burners on the stove are raised and look like real burners. The plastic on the oven and microwave doors are see-through just like the ones in our kitchen. We even found a stainless pan and utensil set to match for about $15 at Toys R Us.

The kitchen is solid, unlike many other play kitchens. It is heavy enough that the girls can't move it by themselves, but light enough that I can move it if I need to. Everything about it feels sturdy, which is a good thing when you have toddlers who tend to be rough on toys.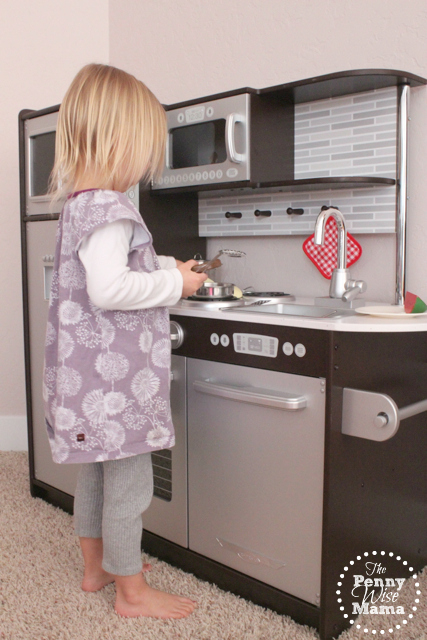 The girls love playing with their new kitchen. Just about every morning it's the first thing they want to do with when they wake up. They never seem to get tired of opening and closing the doors, "washing" their hands, and "cooking" breakfast on the stove.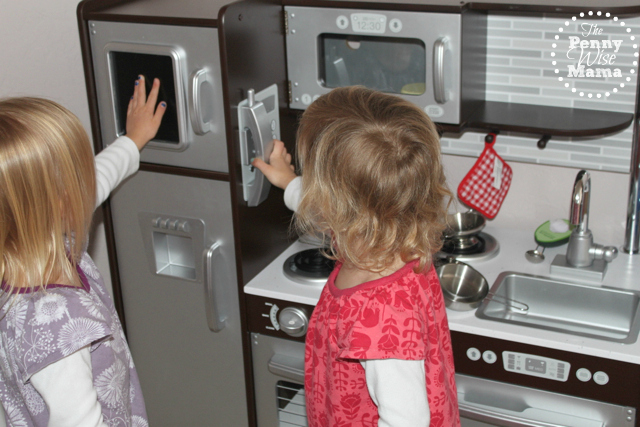 We are very impressed with the style, quality, and functionality of the kitchen. Not only do the girls love it, we do too!
I can see this kitchen lasting us a very long time. It is one of those toys that you want to keep in the family and pass down for years to come!
Buy It
The KidKraft Uptown Espresso Kitchen retails for approximately $120 on Amazon.com.