This Parmesan Crusted Chicken is so yummy and you can't beat how fast and easy it is to prepare. It's perfect for busy nights!
Oh my goodness. I made the most delicious chicken last night. It was so yummy and so easy.
It literally only took five minutes to prep and about 30 minutes to bake. It was fast and easy and that's exactly what I need in my life!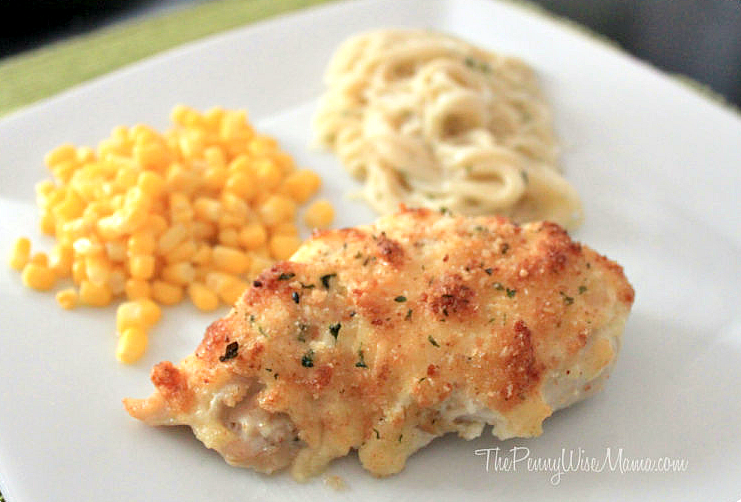 If you're looking for something good to cook for dinner tonight, I highly recommend this recipe.
The chicken comes out slightly crispy, yet incredibly moist and juicy on the inside.
It only requires 4 ingredients — mayo, parmesan cheese, Italian bread crumbs, and chicken breasts.
With so few ingredients, it's one of those meals you can easily throw together last minute!
Parmesan Crusted Chicken Breasts
Recipe courtesy of Hellmann's
Ingredients
1/2 c. real mayonnaise
1/4 c. grated parmesan cheese
4 boneless, skinless chicken breasts (about 1 1/4 lbs.)
4 tsp. Italian seasoned dry bread crumbs
To get started, heat your oven to 425 degrees. Place chicken on a baking sheet or in a glass dish (I like to use a Pyrex dish).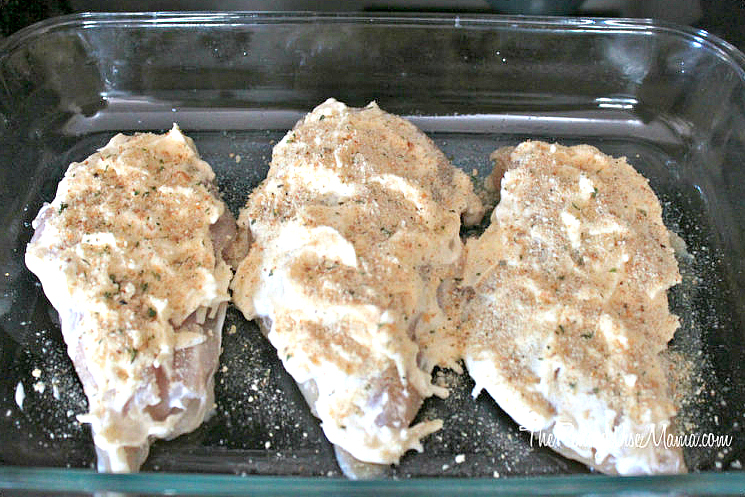 In a medium bowl, mix the mayo and parmesan cheese.
Spread the mixture evenly over the chicken breasts, and then sprinkle Italian bread crumbs over the top.
Bake for 20 minutes or until the chicken is thoroughly cooked.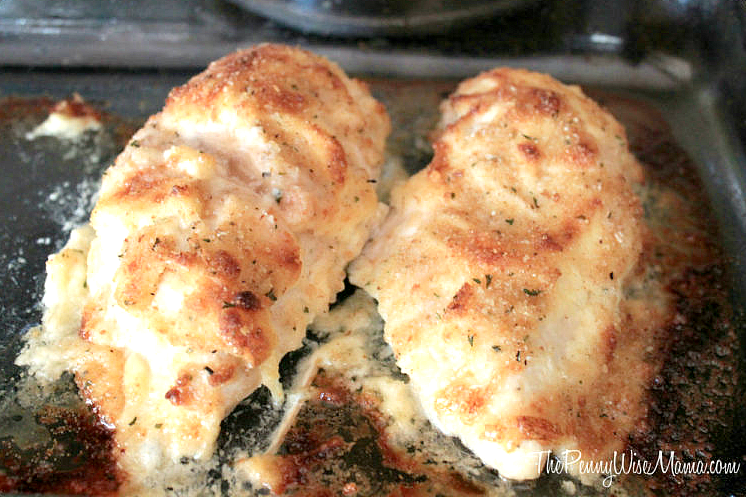 The topping helps keep the chicken moist and juicy. It comes out a little crispy and so full of flavor!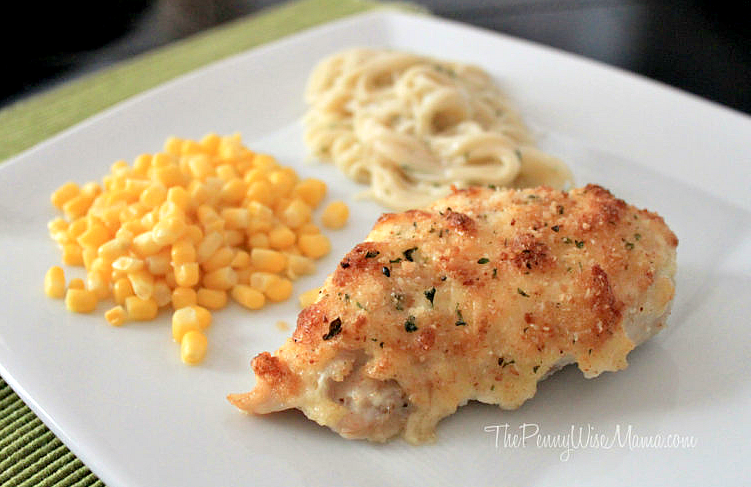 We paired our chicken with golden corn and creamy parmesan noodles. It was a huge hit among the entire family!
Everyone thought it was absolutely delicious, so I will definitely be making it again!
Check Out These Simple Recipe Variations
Don't like mayo?
You can substitute the mayo with Miracle Whip, sour cream, or Greek yogurt (a great low-fat option!).
Can't have dairy?
You can easily swap the mayo and parmesan cheese with vegan mayo and vegan cheese.
Want to spice it up a bit?
Before topping chicken with the mayo and cheese mixture, sprinkle with spices such as salt, pepper, garlic powder, cayenne pepper, or your favorite spice blend.
Don't have breadcrumbs?
You can substitute the breadcrumbs with panko or crushed crackers, chips, or nuts (I recommend almonds, pecans, walnuts, or cashews).
Looking for a Keto-friendly version of this recipe?
This recipe is already super keto-friendly, minus the breadcrumbs. Simply swap the breadcrumbs with crushed pork rinds and you have a yummy, low-carb dinner!
Have you tried this recipe? I'd love to hear what you think!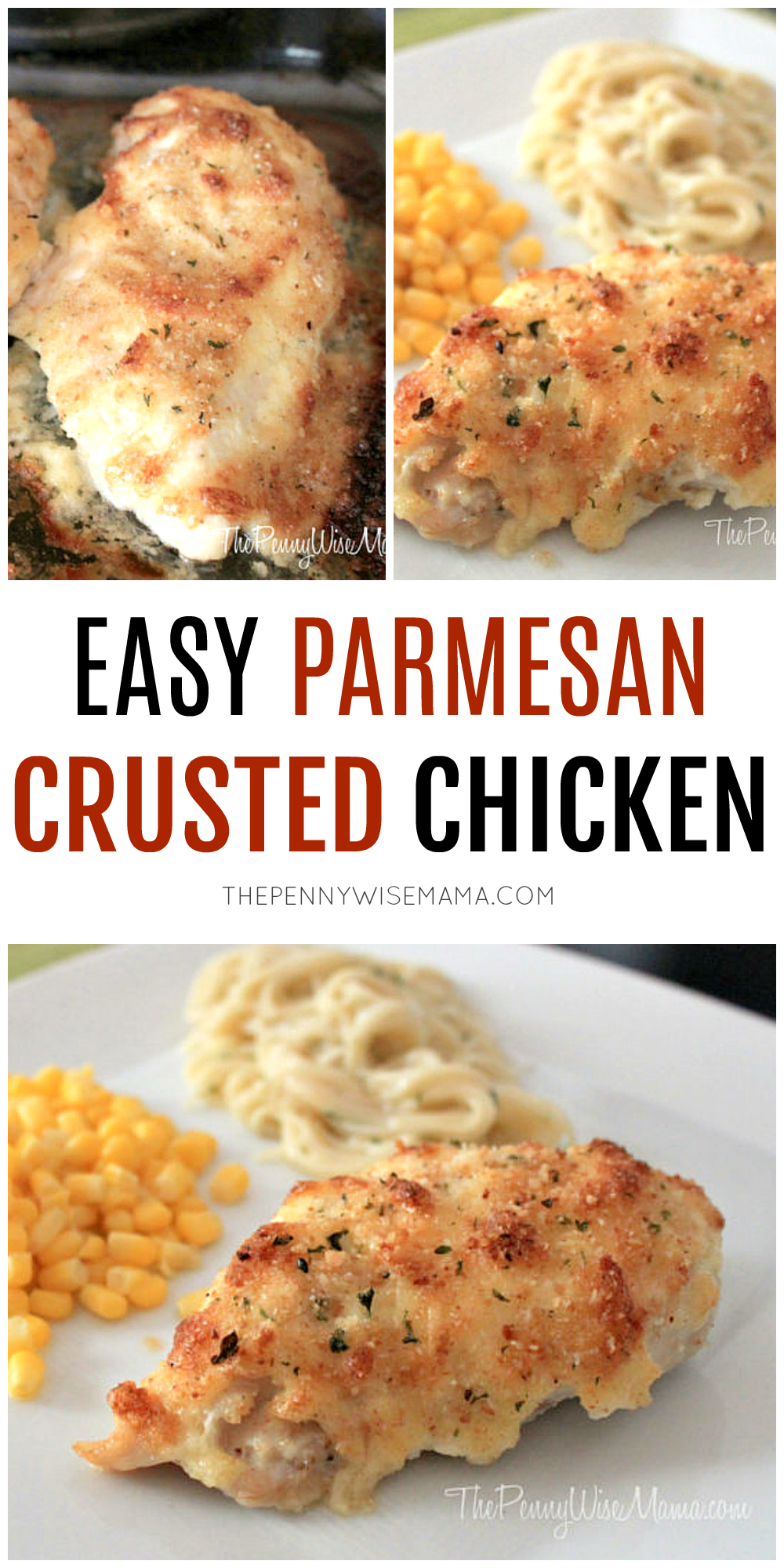 Looking for more great chicken recipes? Try this Cheesy Salsa Verde Chicken!