Fall is here! I've decided to embrace the change of seasons, even though I am sad to see summer go. There is a lot to look forward to in the Fall – leaves changing colors, cooler days, going to the pumpkin patch, trick-or-treating, drinking hot cider, making homemade soup…
When the weather gets cooler, I love making soup. It's just so easy, and there's so many different kinds you can make. The other day it was cold and rainy here in Colorado, so I thought it would be great day to make Zuppa Toscana, my favorite soup from Olive Garden. Awhile back I decided I would learn how to make it myself. It's actually super easy and cheap to make! And to be perfectly honest, I think mine is better! 🙂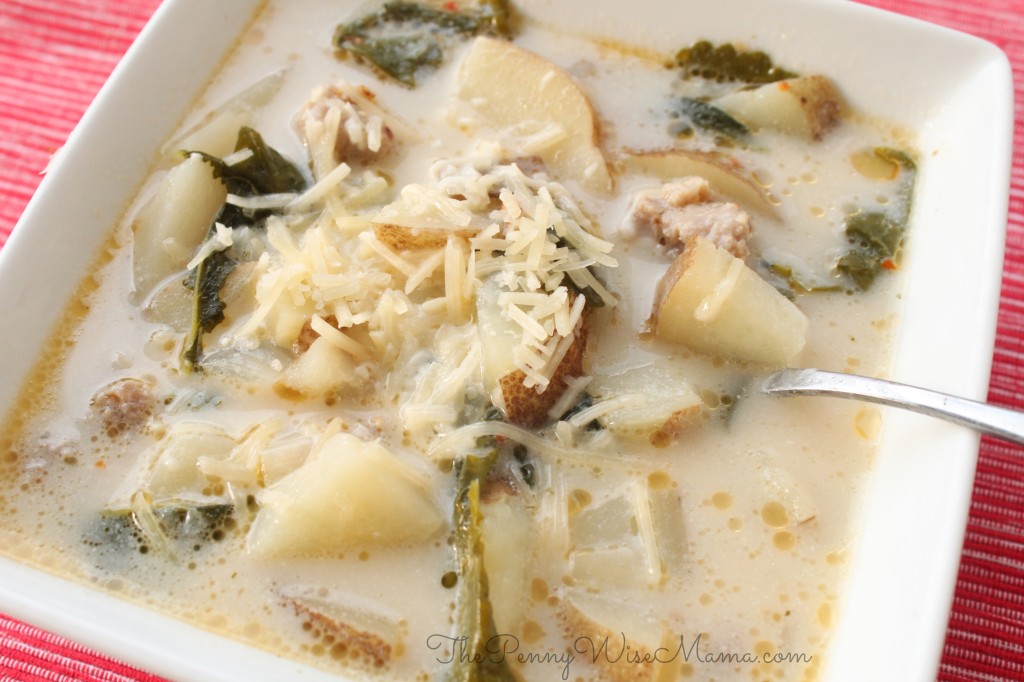 To make this recipe you'll need:
Crushed red pepper
Minced garlic
Salt
Half & Half (milk works too, but it's not as creamy)
Pork sausage (any variety works)
Chicken bouillon or chicken base
Russet potatoes
Large sweet onion
Fresh Kale (found in the produce section)
Fresh grated parmesan cheese (optional)
To start, fill up a large stockpot with 10 cups of water. Then add 1 1/2 tsp. of crushed red pepper flakes, 1 tsp. of salt, 2 chicken bouillon cubes or 3 tbsp. chicken base, and 1 lb. (7-8 small) sliced potatoes. Boil on medium heat, stirring occasionally.
You can slice the potatoes in small triangles like I did, or you can slice them in thin circles.
While that's cooking, dice a large onion and combine in another pan with 1 lb. of sausage and 2 tsp. of minced garlic. Sauté until the sausage turns brown, then drain the fat and add the mixture to the stockpot.
Next, take the bushel of kale and break off small chunks of it and add it to the pot (discard the stems).
Simmer for 20-30 minutes, or until the kale and potatoes are tender. Then add 1 cup of half & half and simmer for another 10 minutes.
Serve hot and sprinkle with fresh grated parmesan cheese. Yum!
Try it out and let me know what you think! I promise you'll want to make it again and again…