Growing up, camping was one of my favorite things to do in the summer, and now that I am a parent, it's one of my favorite things to do with my kids.
It's something we look forward to every summer. Not only is it a great way to get away from the busyness of weekly life, but it's also a lot of fun!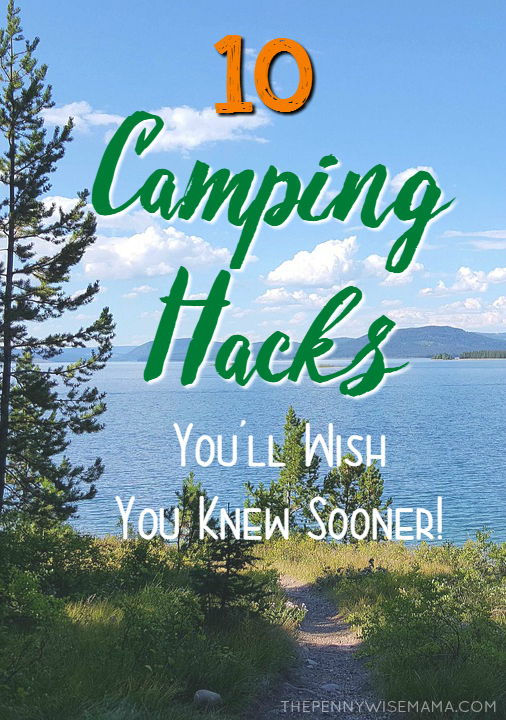 If you're planning on taking a camping a trip this summer, make sure you check out these camping hacks to make your trip easier, lighter, and more enjoyable!
1. Freeze your water so it doubles as ice in your cooler.
You can use individual bottles of water or gallon milk jugs. Simply freeze for a day or two before heading out camping and then add to your cooler when you are ready to leave.
Not only will the bottles keep your cooler of food cold fora while, they will also save space by doubling as your drinking water!
2. Pack your spices in Tic Tac containers for your campfire cooking.
There's no need to empty the entire spice cupboard and bring bottles of all of your spices.
Instead, pick out the spices you'll use the most on your camping trip and fill empty Tic Tac containers with your spices. Don't forget to label them!
3. Pack a hanging shoe organizer for the ultimate camping kitchen.
A hanging shoe organizer has so many pouches and pockets that you'll be able to keep all kinds of goodies in it.
Hang it near your picnic table to hold your spices, utensils, dishes, non-perishables, clean-up supplies, and more! You'll have everything you need in one place, making it easy to find what you are looking for. I recommend this one.
4. Hate mosquitos? Then don't forget to pack a bundle of sage.
By adding dried sage to your campfire, it'll keep those nasty mosquitos at bay. Nothing is worse than sitting at the campsite trying to have dinner or play games and having to constantly swat away mosquitos.
5. Don't forget about ticks!
Mosquitos are annoying, but ticks can be a real pain! Not only will they latch on to you and suck your blood, there's also a chance that they will have Lyme Disease.
To keep them away, make your own Tick Spray. Mix 1 part tea tree oil and 2 parts water into a spray bottle. Shake together. Spray the mixture on your arms and legs to deter ticks. Don't spray near your eyes or mouth.
6. DIY fire starters will make lighting your campfire a breeze.
You can easily make your own fire starters with supplies you have at home. All you need is an empty toilet paper roll, lint from the dryer, and newspaper.
Stuff a good-sized chunk of lint inside the cardboard tube and then wrap the newspaper around it, tucking in the ends. Use 1-2 fire starters at a time, along with your wood, and your fire will take in no-time.
7. Use your jugs of water as a light source.
Your water is getting a serious workout while camping! At night, take a headlamp and slip it around a gallon jug of water. This creates a nice, soft light that is perfect for playing games in the dark. You can set it on a table or even bring it inside the tent with you.
8. Add an extra layer of comfort to your sleeping situation with a yoga mat.
Sleeping on the ground is not the most comfortable way to snooze, but with this simple hack, you'll be surprised how much more comfortable it is.
If you're sleeping in a sleeping bag, slip the yoga mat under it (or if you'd like, put it right inside the bag with you. It'll help keep you from feeling every rock and stick under the tent that, when trying to sleep, feels like boulders beneath you. I really like this one because it is extra thick!
9. Make a waterproof mini first aid kit.
This is perfect if you're going for short hikes, nature walks, etc. You never know when someone might fall and get a scratch or cut.
Throw your basic first aid must-haves into an old pill bottle or Ziploc baggie. It's small enough to bring with you wherever you go, and if you drop it in water or get rained on, your items won't get soaked.
10. Be prepared for anything with duct tape.
Instead of taking up extra space by throwing a whole roll of duct tape into your supplies, wrap a decent amount around a water bottle — the same way it's on the original roll. That way you're saving space and it'll be much easier to find the duct tape when you need it.
You never know when something can happen, but with duct tape on hand, you'll be able to fix just about anything!
Do you have any camping hacks? Please share them in the comments below!