Summer is such a drastic weather change. You just start falling in love with all the spring colors and styles, and then BOOM! Summer is here and you're sweaty, your makeup's melting off your face, and overall, your beauty routine becomes more complicated. Don't fret! With these 10 summer beauty hacks, you'll be able to stay cool, look hot, and feel totally comfortable in the process — all for dirt cheap.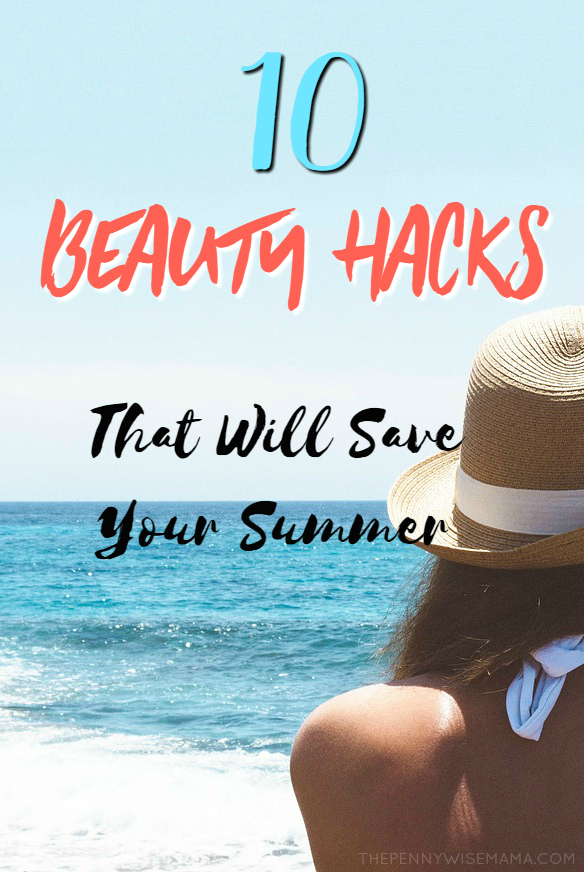 Get Rid of Dark Underarms
There's nothing better than living in tank tops and swimsuits all summer. If your underarm area is dark and it makes you feel too self-conscious to wear something sleeveless, this hack is for you! Combine a tablespoon of lemon juice and baking soda and stir until you create a paste. Scrub your armpits with the paste and allow it to set for about five minutes. Wash it off. Do this three to four times a week and you'll see the stained skin go back to its normal healthy color.
Fix Self-Tanner Mishaps
Self-tanning is an art and can often lead to unwanted results. Thankfully, a mixture of equal parts baking soda and water will clean up any mistakes. Rub it into any areas that need lightening (streaky areas or if you're a little too orange in spots). Rinse away. Repeat until you get the look you want. Looking for a tried-and-true self-tanner? This one gets rave reviews.
Keep Your Lipstick from Bleeding
One of the worst parts of summer is that your makeup doesn't stand up to the heat. This hack will allow you to keep your sanity while wearing your favorite summer lippie. Using a concealer brush, apply a thin layer of concealer around your lips. This will define them, as well as block your lip color from melting off your lips.
Wear Shorts Without Chaffing
Deodorant is a thing of the gods when it comes to summer hacks. Shorts will have you looking super cute all season, but if your thighs touch, you know just how uncomfortable chaffing can be. Apply a thin layer of stick deodorant to the inside of each thigh before putting on your shorts. You don't have to be in pain to look good and keep cool.
Keep Your Hair In Check
I was serious about how awesome deodorant is for summer. You'll never need to worry about those little flyaways around your hairline with this beauty hack. Put a little deodorant around your hairline and down the back of your neck. This will keep the tiny hairs where you put them and will keep your neck from sweating. Can't beat looking good and staying dry!
Highlight Your Hair the Natural Way
Looking to lighten your hair a little without having to use bleach? Mix 1 cup of lemon juice with 1/4 cup of water. Apply it to your hair in the areas you want to lighten, then go sit in the sun for a couple of hours. The sun will react with the acidity in the lemon, giving you sun-kissed hair.
Give Yourself a Temporary Summer Tattoo
While you're out sunbathing to lighten your hair, put a sticker on your skin. A heart, star, whatever you want. The sticker will protect the skin underneath while the sun tans the rest of your body. When you remove the sticker later, you'll have a fun summery temporary tattoo.
Soothe Your Sunburn with Tea
Sunscreen is a must when you're spending time outside in the summer, but we don't always remember to reapply after so many hours. If you happen to find you've got a mild sunburn, use tea bags to help soothe your skin. Steep 4-5 Black Tea bags in hot water for 5 minutes. Remove from the water and place them in a cloth. Use a rubber band to keep the cloth tightly closed then press the bundle onto your skin. The herbs in the black tea will naturally soothe the pain from the burn.
Get Silky Smooth Legs Right in Your Kitchen
If your legs are rough and dry, it's time to exfoliate them. Instead of buying a pricey body scrub, make your own at home. Sugar scrubs are so simple to make! Sugar, coconut oil, and essential oils and you have a DIY scrub that will take off the dead skin on your legs and leave them silky smooth. Be sure to use it in the bathtub or with a towel on the floor — no one wants a sticky floor to clean.
Last Minute Beach Trip? No problem!
Invited to the beach but don't have time to use a scrub on your legs? No worries! When you get to the beach, head right to the shore. Sand works as a great exfoliant! Rub it onto your legs and feet. Then wash it off right in the ocean. The salt water and sand will have your legs soft and smooth in no time!
What are some of your summer beauty hacks? Share them in the comments below!