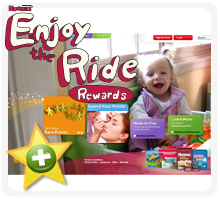 Wowza!! Here are 20 Huggies Enjoy the Ride Reward Codes worth 34 points each for a total of 680 points!
UPDATE: The codes are applying a "0" balance when you enter them. It looks like Huggies has decided to reset the codes…perhaps because so many people were entering them ?? You can still try, but like many people you will probably have the same problem.
JXBQX-LWHPP-HPPGB 34 pts.
LNXBX-DXTSH-BSPGB 34 pts.
BBWSJ-TDHDT-PTPGB 34 pts.
BBWTN-CMZRL-PPPGB 34 pts.
BCXWH-SFFSF- ZSPGB 34 pts.
BBWZZ-RTRRH-SKPGB 34 pts.
BBMKJ-CWQWD-GZPGB 34 pts.
BBQCX- GGQBX- SSPGB 34 pts.
BCBCK -PXQNK-KGPGB 34 pts.
BCBHC- JXSNF-TWPGB 34 pts.
BBXJG- QPMKN-NQPGB 34 pts.
BCPJC -JBXGD -PCPGB 34 pts.
BBLWG -BKMQL -SNPGB 34 pts.
BCXMX-GGJWZ-WFPGB 34 pts.
BCWPP-SDLLF-SFPGB 34 pts.
BCCBD-JBCTB-HFPGB 34 pts.
ZQQGS-FLRLM-XBPGB 34 pts.
RZMRR-QFZNP-WGPGB 34 pts.
BCCHZ-WFLLX-GGPGB 34 pts.
BCDXM-ZPMFW-SQPGB 34 pts.
*Please note: These will not work if you have already entered them in your account.
If you are not already a member of the Huggies Enjoy the Ride Rewards program you can sign up on their website HERE which is also where you will enter your codes. Once you do you can start redeeming your points for prizes like diaper coupons, sweepstakes entries, toys, books, gift cards (like Starbucks!) and more. You can find more codes on Huggies diaper and wipes packages.
Thanks Baby Coupons & Stuff!