Show the special people in your life how much you appreciate them with these "Thanks for always going the EXTRA mile!" gift bags. They are so cute and simple to make!
The holiday season is a great time to reflect and show gratitude for all the things we are thankful for.
It's the perfect time to tell the very important people in our lives — THANK YOU.
That could be through a simple phone call, card, or gift — a little something to say thanks to those who always give extra and deserve some recognition.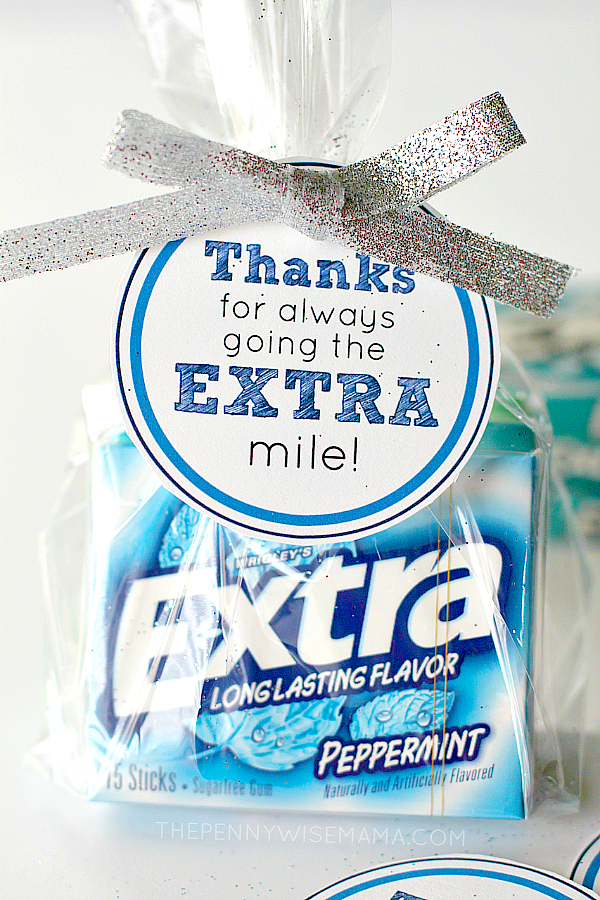 I have so many people in my life that I am thankful for — my husband, my kids' awesome teachers, my dad who is so generous with his time and help, the daycare workers at the gym, and my wonderful friends.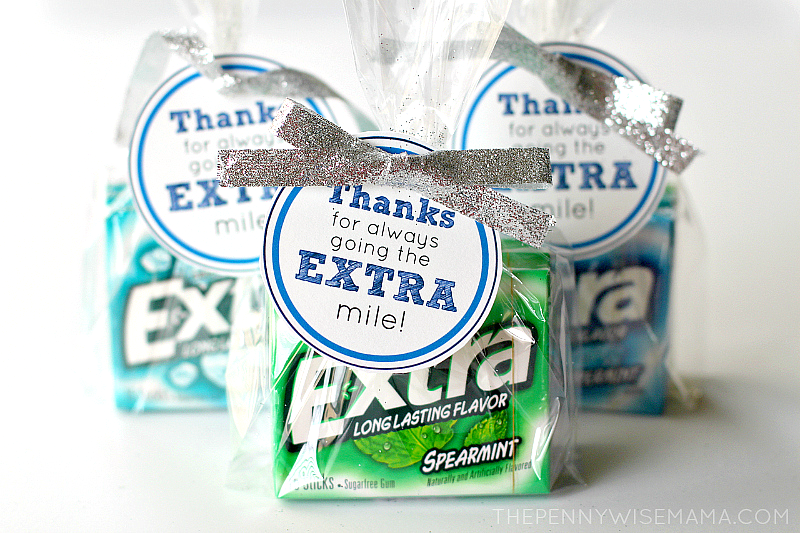 There are also people I don't usually see but appreciate so much, like the delivery drivers who deliver mail and packages to my house almost daily and all of the service men and women who work around the clock to keep us safe.
They all deserve a little something extra this year.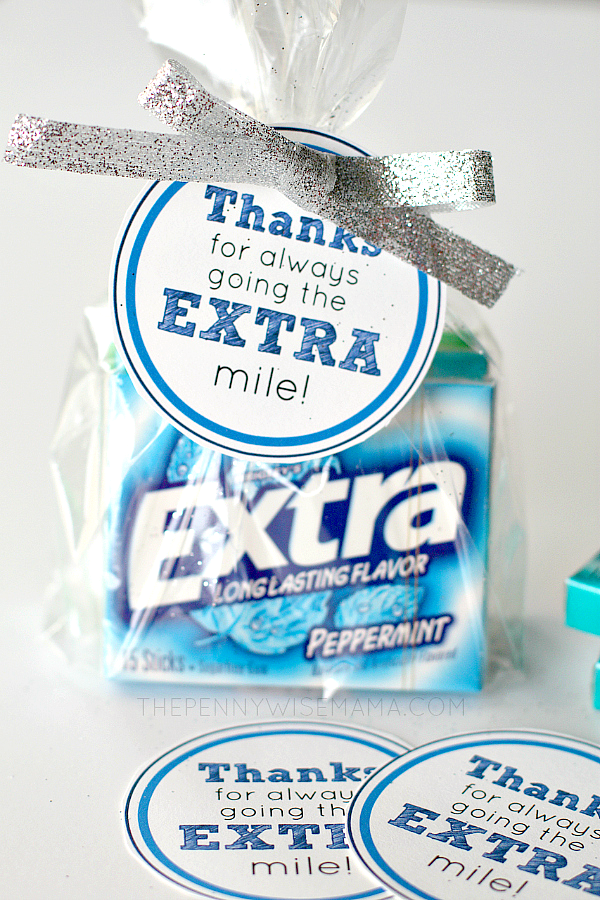 To show my gratitude, I'm giving all of my VIPs these cute gift bags filled with Extra Gum that say, "Thank you for always going the EXTRA mile!"
I want to show them that I appreciate everything they do — for going the "extra mile."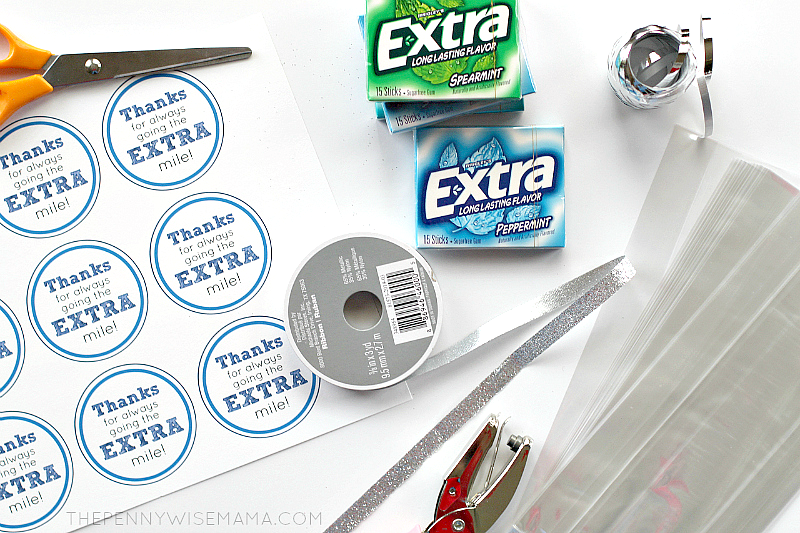 If you're looking for a simple and inexpensive gift idea to say thanks to the VIPs in your life, you can easily make these gift bags as well. Here's what you'll need:
Extra Sugarfree Mint Gum Variety Box, 18 Count
Neenah Exact Index Card Stock, 8.5 x 11 Inch, 65 lb, White, 75 Sheets
Wilton Party Bags, 4 by 9.5-Inch, Clear, 50-Pack
American Crafts Value Pack Glitter Ribbon Set 2, 1-Yard Spool, Set of 18
Fiskars 1/8 Inch Circle Hand Punch (23517097J)
Save yourself time and a trip to the store and purchase these items on Amazon
.
You can buy just one flavor of gum if you choose, but I recommend buying the variety box to give your recipients a selection of flavors.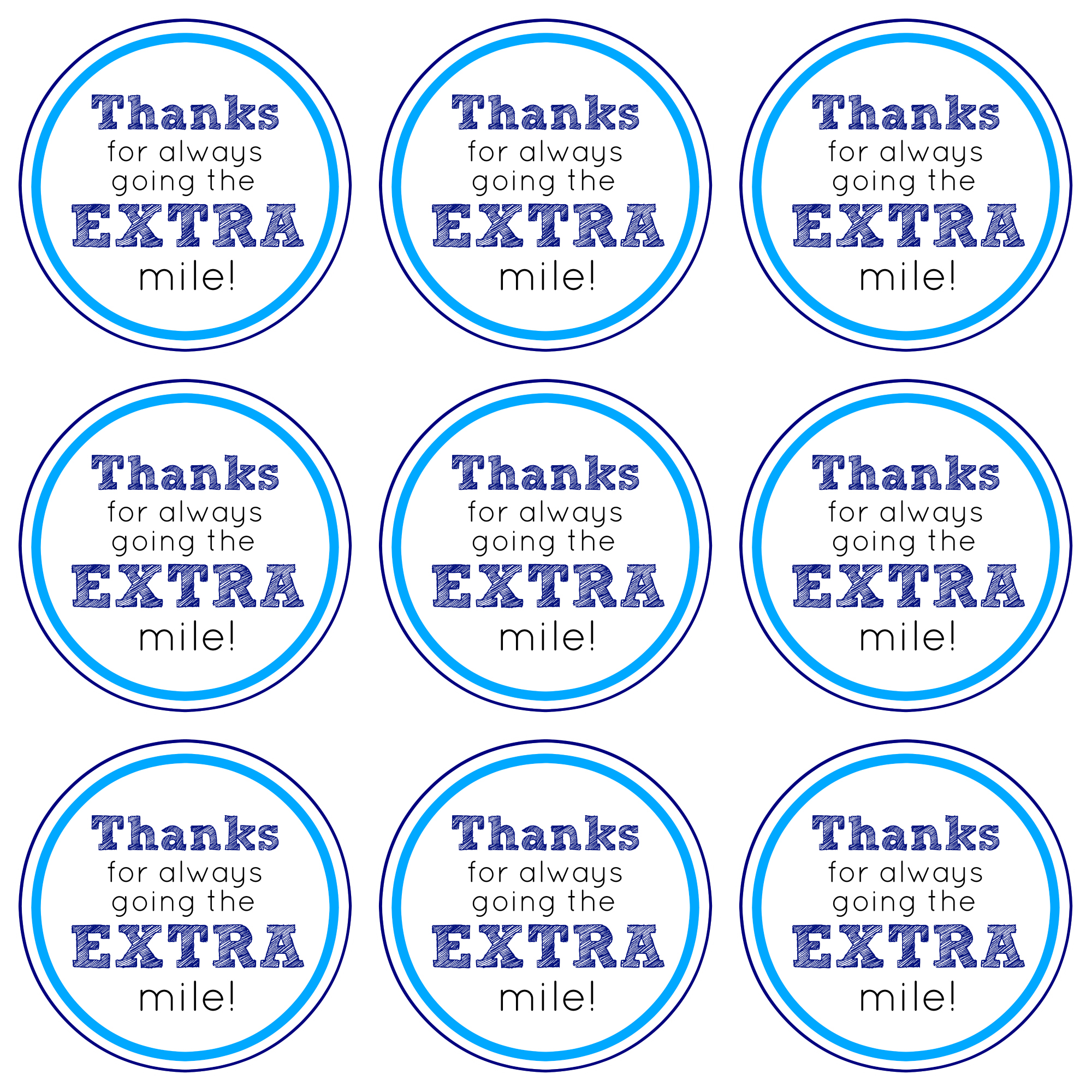 Before getting started, you'll want to print these free printable gift tags that I made. They print perfectly on 8.5″ x 11″ cardstock.
Cut them out and punch a hole into the top of each. Then add 2-3 packs of gum to each bag and tie a gift tag to each using the ribbon. Easy peasy!
How To Get Perfectly Round Circles
I've gotten several emails about how to cut out the perfect circle, especially if you are making a bunch of these. You can cut them out with scissors, but it's tedious.
The easiest alternative would be to use a 2.5-inch circle paper punch, which will cut almost exactly on the outer, dark blue line.
Feel free to email or leave a comment with any other questions you might have!
Say THANKS to the important people in your life with these EXTRA mile gift tags. Teacher appreciation, staff appreciation, or just to say thank you for all they do!