I participated in a campaign on behalf of Mom Central Consulting for Boys & Girls Clubs of America. I received a promotional item as a thank you for participating.


Did you know that June is National Internet Safety Month? If you haven't already, this would be a great time to talk to your kids about Internet Safety and how to avoid cyberbullying. In this day in age, just about every kid has access to the Internet. This can be a great thing and a bad thing at the same time. That's why we as parents we need to be proactive about teaching our children how to be safe online.
Considering that all of my work is done from the computer and I use social media for everything, I feel like I know the ins and outs of how to teach my children to be safe on the the Internet. However, that isn't the case for all parents. In fact, one in three parents believe their teens to be much more tech-savvy than they are. Where do you stand? Take the Cyber Survivor Challenge Quiz to find out!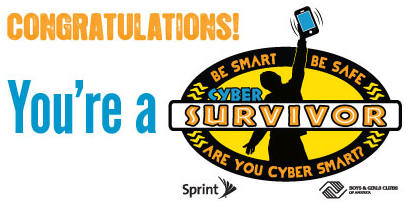 My twin girls are only 3.5, so they don't use the Internet yet, but my 11-year-old son has been going online for about two years now and I would have to say that he is pretty tech-savvy. He is still learning how to do certain things, but it's amazing how quickly he catches on! We do allow him to have an Instagram account, mainly so that he can interact with friends from school and to show-off his Lego creations. For the most part it has been fine, but we have had to have a talk with him a few times about cyber bullying. Even at the tween age kids can be very mean behind a computer screen.
Did you know? One in three teenagers have been the victim of cyber bullying. That is shocking! And even more alarming — only 7% of parents are concerned about it! I have seen the damage that cyberbullying has done and I will not allow my son to be subjected to it. We have told our son that he needs to inform us of any bullying so that we can put a stop to it. We have also set up some specific rules for him to follow regarding the Internet.
5 Internet Safety Rules for Kids
No Facebook until 13 years of age (that is the legal age to have a Facebook account). We will most likely hold off on our son having an account until he is out of middle school to avoid drama and cyberbullying.
No Internet usage behind closed doors. Our computer is in our family room for that reason.
Don't share personal information with anyone.
Provide parents with passwords to any social media or email accounts.
Inform parents of any cyberbullying or anything else that is inappropriate.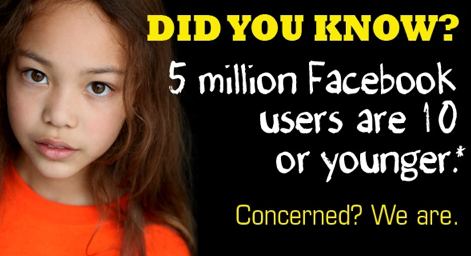 The Boys & Girls Clubs of America (BGCA) places a primary focus on child safety and is committed to ensuring the safe futures of youth, including providing tips and tools to safely navigate an ever-expanding online world. In partnership with Sprint, BGCA is educating young people and the adults that care for them on important media safety issues and arming parents and guardians with resources needed to have an open dialogue on tough safety topics. It is their goal for every young person to have a cyber safe future.
To learn more about kids and Internet safety, please visit CyberSafeFutures.org.
What steps are you taking to keep your kids safe on the Internet?