My son loves the Pirates of the Caribbean movies. He thinks that Captain Jack Sparrow is pretty awesome, so he decided that he wanted to dress up like him for Halloween this year. In the past he has always chosen to be an action figure or super hero, so I thought it was great that he wanted to be something different this year.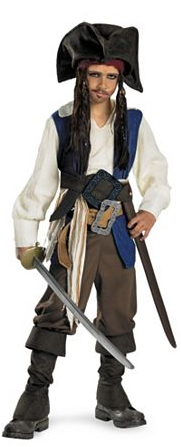 After browsing around AnytimeCostumes.com for a Pirates of the Carribbean costume, we decided to go with the Captain Jack Sparrow Deluxe Costume. There were several variations of Jack Sparrow to choose from, but we liked that one the best because the hat and boot covers were included. Based on my son's age and the height/weight size chart, we decided to go with a child's size Large (10-12).
The Captain Jack Sparrow Costume comes with a white pirate shirt and attached blue vest. The waist area is highlighted with a sash and two different colored belts for that authentic old time, worn look and feel. Brown pants and matching boot covers are also included. To complete the look, an authentic pirate's hat with a red bandana and matching beaded braids is also included. Toy weapons and other accessories are sold separately.
Overall, we are happy with this costume. It seems to made made well and it looks realistic compared to what the famous buccaneers might have worn. A lot of costumes are itchy or flimsy, but this one isn't. We really like the extra pieces that came with the deluxe version to give the costume a more complete look. The only thing I don't like about it is the hat is really hard to shape. It comes folded up in the package and even after messing with it for some time, we can't seem to get it to look like it does in the picture.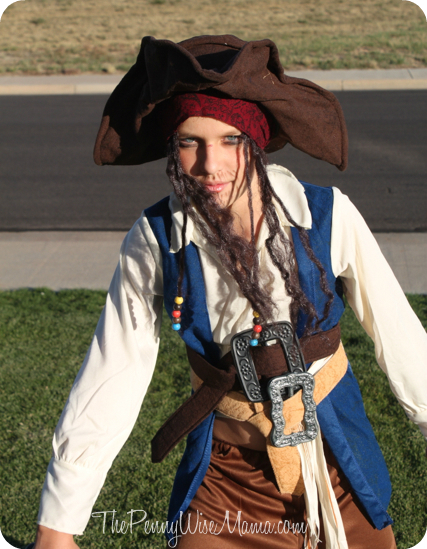 As far as sizing goes, the Large (10-12) fits my average height/weight almost 11 yr old son a little on the small side. Considering that he will be 11 next month, I think this costume runs small. The shirt doesn't cover up his tummy and he really doesn't like that. I'm not sure if it's supposed to look that way or not. Otherwise, the sleeves and pants seem to fit fine. If you are thinking about ordering this costume, I would recommend ordering a size up.
I would highly recommend AnytimeCostumes.com if you are looking for quality costumes for Halloween or another occasion. We have ordered from them a couple of times now and have always been pleased with our order. They carry hundreds of costumes for the whole family at affordable prices. Plus, for a limited time they are offering 15% off orders of $25 or more with promo code FALL15.
Buy It
The Captain Jack Sparrow Deluxe Costume can be purchased from AnytimeCostumes.com for $39.99.