My family has been "eating clean" for almost three weeks now. We are avoiding processed foods, sugar, simple carbohydrates, and artificial sweeteners and flavors.
It's been quite the adjustment, but I feel fantastic. I have more energy, my workouts are easier, and best of all, I'm losing weight.
The one thing I love about eating clean is you don't have to starve yourself in order to lose weight. I am actually eating more now than I was before. The difference is now I am fueling my body with more protein and better carbs.
The hardest part so far has been finding recipes that are "clean." I am using the The Eat-Clean Diet by Tosca Reno as a foundation and have found some good recipes in it.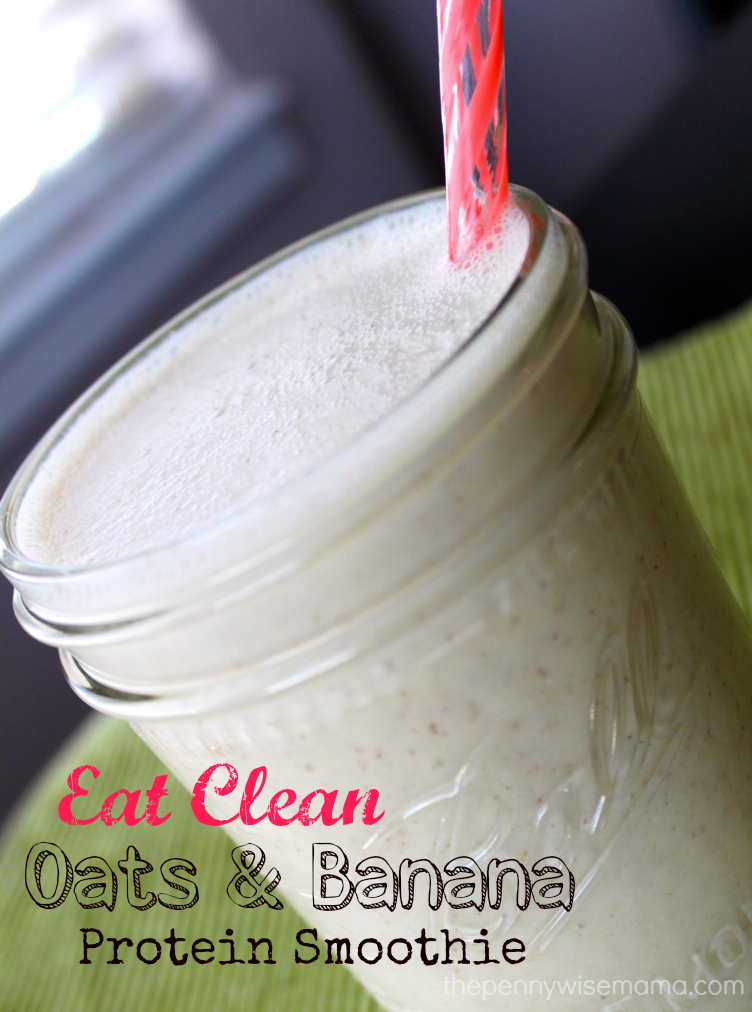 Just about every day of the week I make a protein-packed smoothie for breakfast. It's full of good stuff and tastes delicious!
Even my husband (who is having a hard time adjusting to the eat clean diet) loves it! (If I'm not having a smoothie, I'm eating four scrambled egg whites (+ one yolk) and oatmeal with flax seed, bee pollen and berries).
This Eat Clean Oats & Banana Protein Smoothie is delicious and packed full of healthy protein, carbs and fats. It will give you great, long-lasting energy to fuel your morning.
To make it you'll need unsweetened vanilla almond milk, plain Greek yogurt, old-fashioned oats, natural peanut butter or powdered peanut butter, flaxseed, bee pollen (optional), and a banana.
PB2 – Bell Plantation Peanut Butter, 1 lb Jar 16oz (4-pack)
Bob's Red Mill Organic Golden Flaxseed Meal, 16 Ounce (Pack of 4) (Package May Vary)
GREENBOW Organic Bee Pollen – 100% USDA Certified Organic, Pure, & Natural Bee Pollen – Superfood Packed with Proteins, Vitamins & Minerals – Non-GMO, Kosher Certified, Gluten Free – 155g
I've had a lot of people ask me which powdered peanut butter, flax seed, and bee pollen I recommend. These are my top picks: PB2 Powdered Peanut Butter, Bob's Red Mill Golden Flax Seed and Greenbow Organic Bee Pollen.
I buy mine in bulk on Amazon — it saves me a trip to the store and I've found that Amazon has the best prices, and of course, FREE shipping!
I have made this recipe many times and have tried several different variations. I have used one cup of berries in place of the banana and it's definitely not as filling.
I have also tried using cottage cheese instead of greek yogurt and the only difference is the smoothie comes out a little thicker.
If you are making this recipe for the first time, I would highly recommend making it as stated. It is delicious just the way it is!
Try it out and let me know what you think!