It's a new year, which means most people have made some type of health resolution, whether it's to eat healthier, exercise, or quit some type of bad habit. If you are a mama like me, you probably have a hard time trying to fit exercise into your day. I've been debating whether or not to get a gym membership, or workout from home with a program like P90X (yes, I want to get ripped! LOL).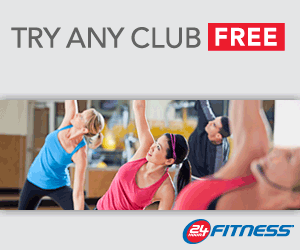 If you think a gym membership might be the best for you, you can get a 3-day FREE trial membership to 24 Hour Fitness. This is a great way of seeing if the gym is a good fit for you at no obligation, and it also gives you time to decide if you are going to stick with working out. There are 24 Hour Fitness clubs all across the U.S. Find your local club by searching HERE. Ready for the challenge? Check out the trial details and sign-up for your free pass.
Get your FREE 3 Day Pass HERE.
Here's the fine print: Pass is good for 3 consecutive days, beginning on your first day of usage at a club. Pass good at multiple locations. User must not have been a guest or member of 24 Hour Fitness within the last 6 months. Local residents only. No other discounts can be used with this offer. Must be at least 18 years old (19 in NE) or 12 with parent. Personal Training available to members only for an additional fee. Kids Club, Pilates Reformer and class reservations available for additional fee.
This post may contain affiliate links. Read my full disclosure here.