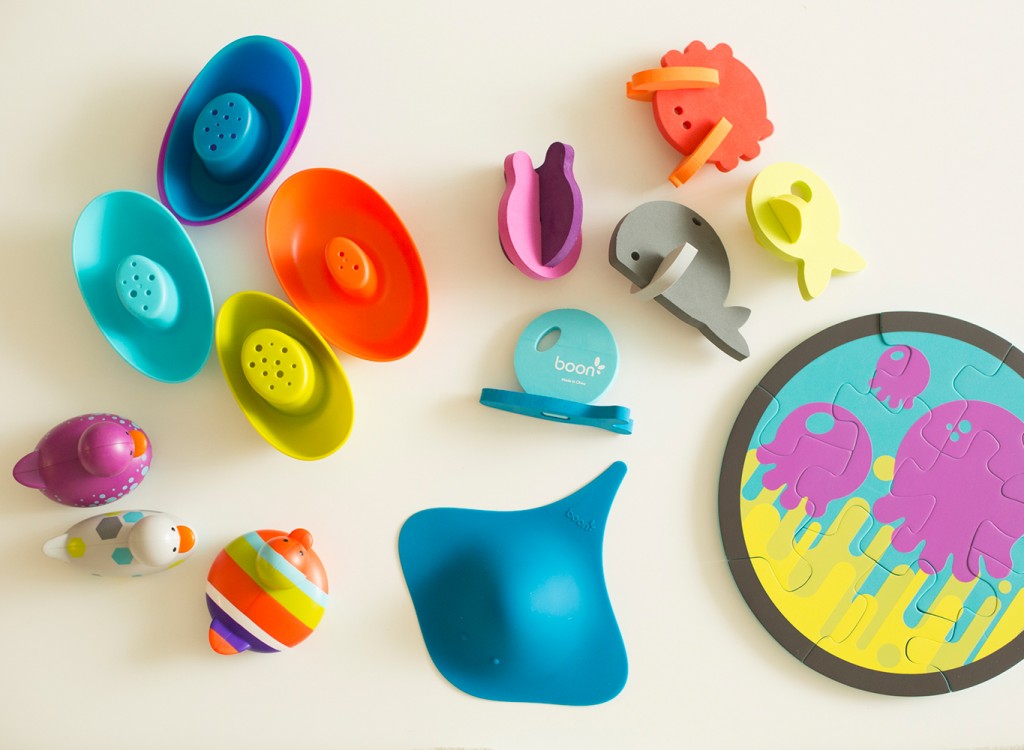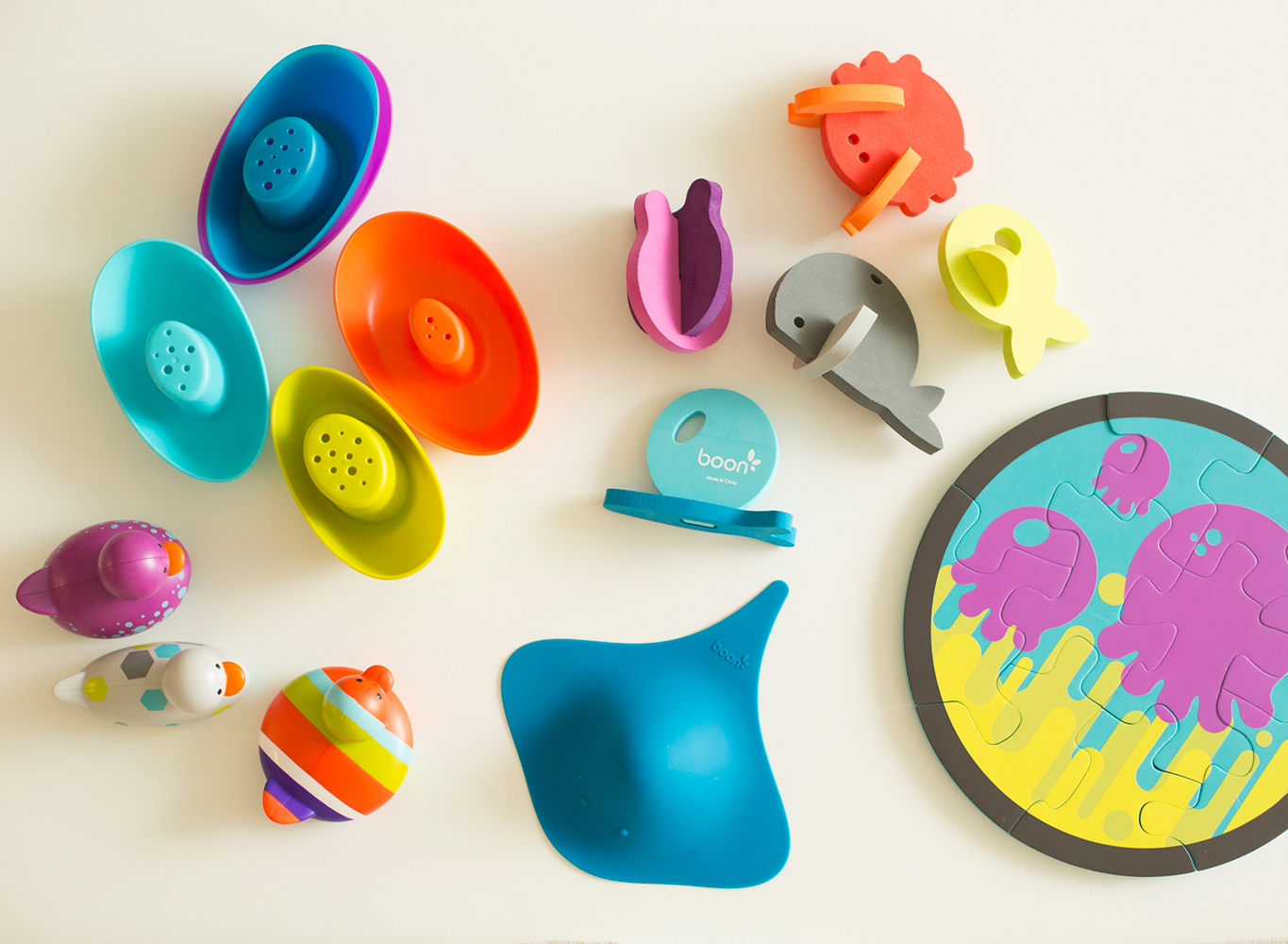 Hello moms! It's Julia again with another episode of "what Clementine is up to these days." Currently she LOVES taking baths. When she was only a few months old we used to lay her down in the shallowly filled bathtub and she would shake her arms and legs and giggle with excitement. Now that she is a bit older and wants to sit up while I clean her she is also looking for entertainment. If I don't give her any, she'll start crawling around, exploring the faucet, sticking her finger down the drain, pulling the shower curtain, etc… And one little ducky doesn't do it anymore to keep her from those dangerous adventures! So I am happy to have discovered a few fun water toys from Boon that I want to tell you about.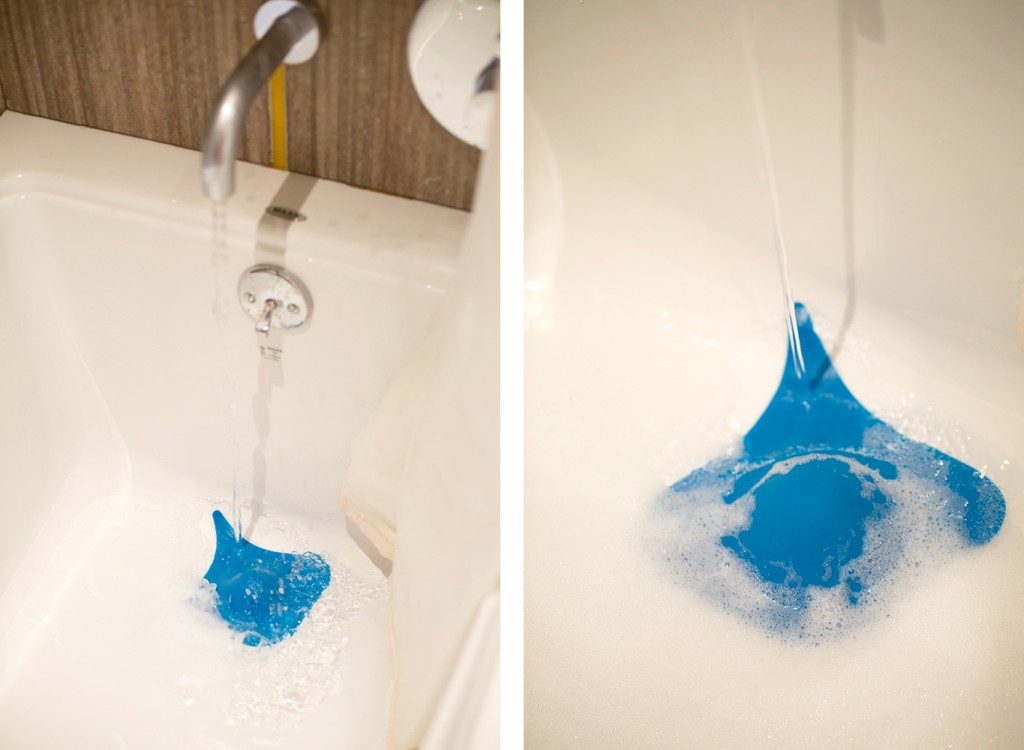 But let's start at the beginning. If you have a drain that doesn't come with a plug to keep the water from escaping (I'm talking to you, New Yorkers), you might like the Ray Bathtub Drain Cover. Ray's soft exterior covers the plug while also forming a suction of the drain, so the water stays where you want it — in the tub!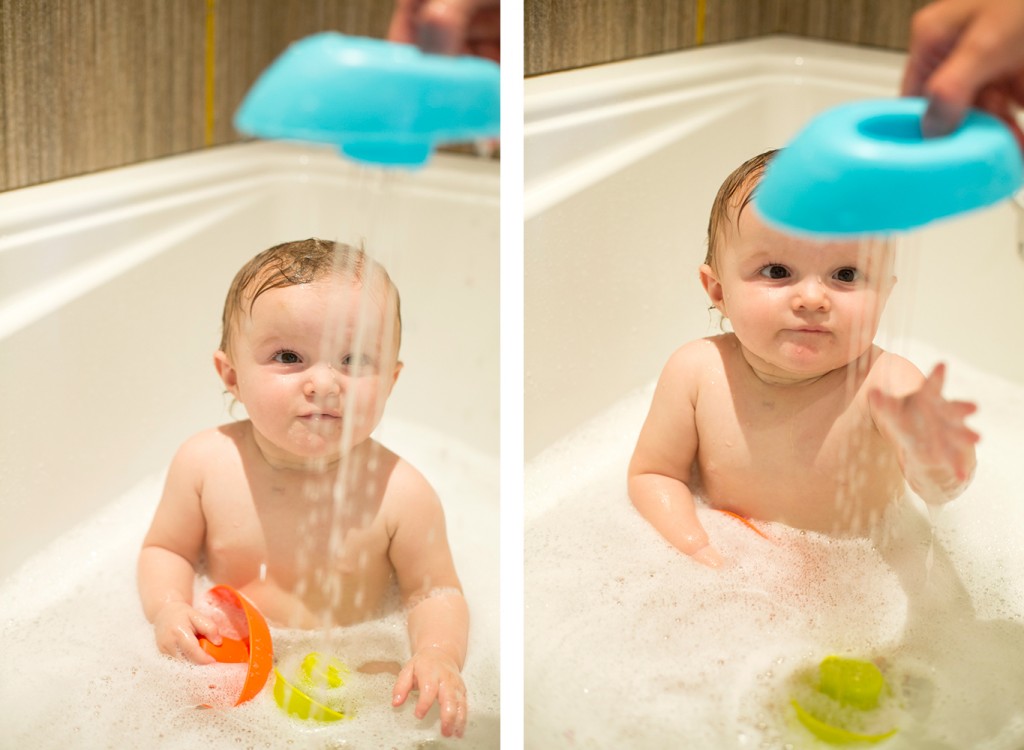 Ok, now let the fun begin. Clementine loves the Fleet Stacking Boats, a set of five stackable, little boats that I use to pour water over her hands and body. It is basically like a rain storm in the bathtub. I also pour some over her head to get her used to water in her face without being afraid.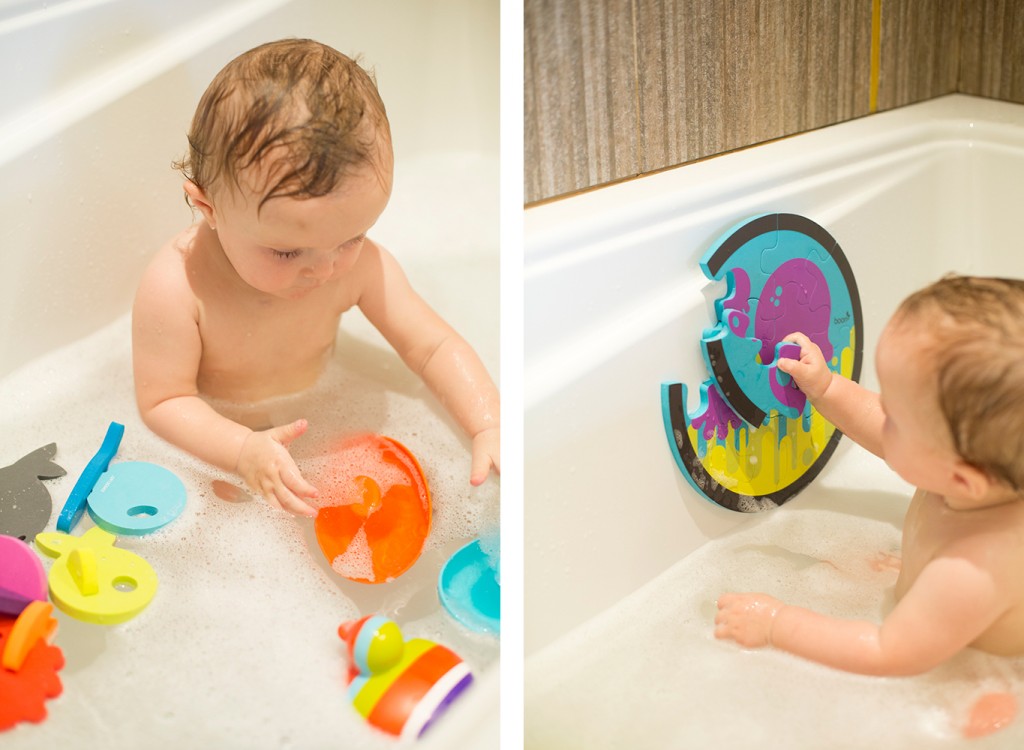 A cleansed body should come with a cleansed mind, right? So for some mental challenges we tried the Pieces Foam Bath Puzzle. Clementine doesn't really get the point yet of putting pieces together but I'm sure she will enjoy this puzzle when she's a bit older. The nice thing is that the foam sticks to the bathroom wall.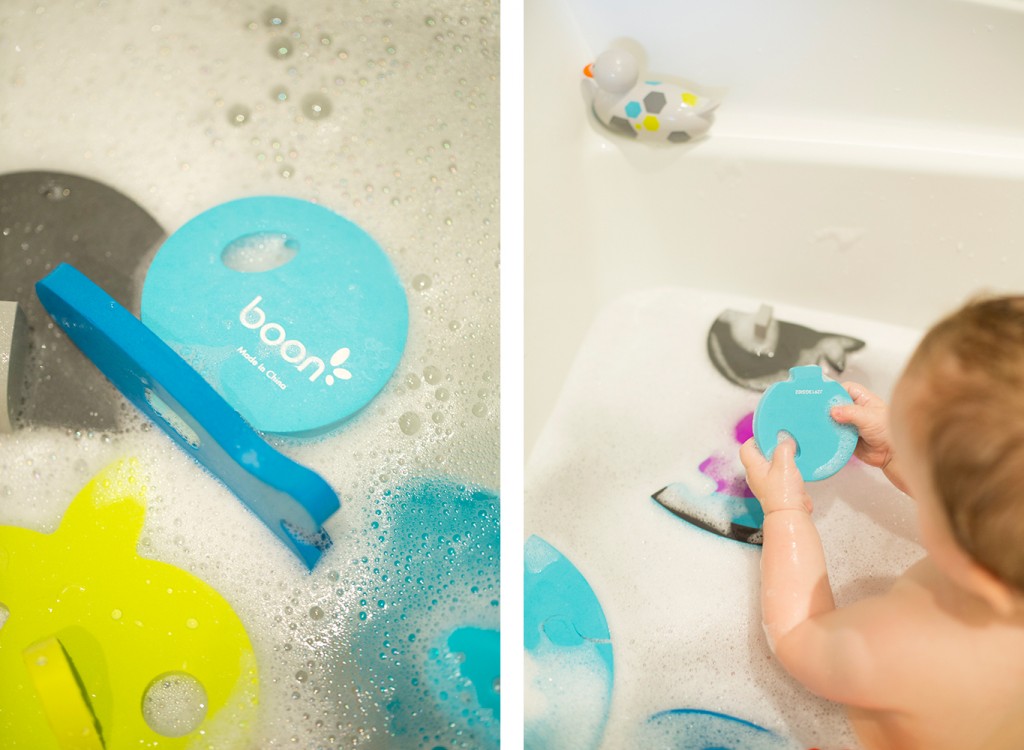 A little simpler than a puzzle are the Links 3D Foam Bath Pieces. They are such cute little encouragers to problem solving and motor skill development. The colorful shapes fit together into fun sea animals.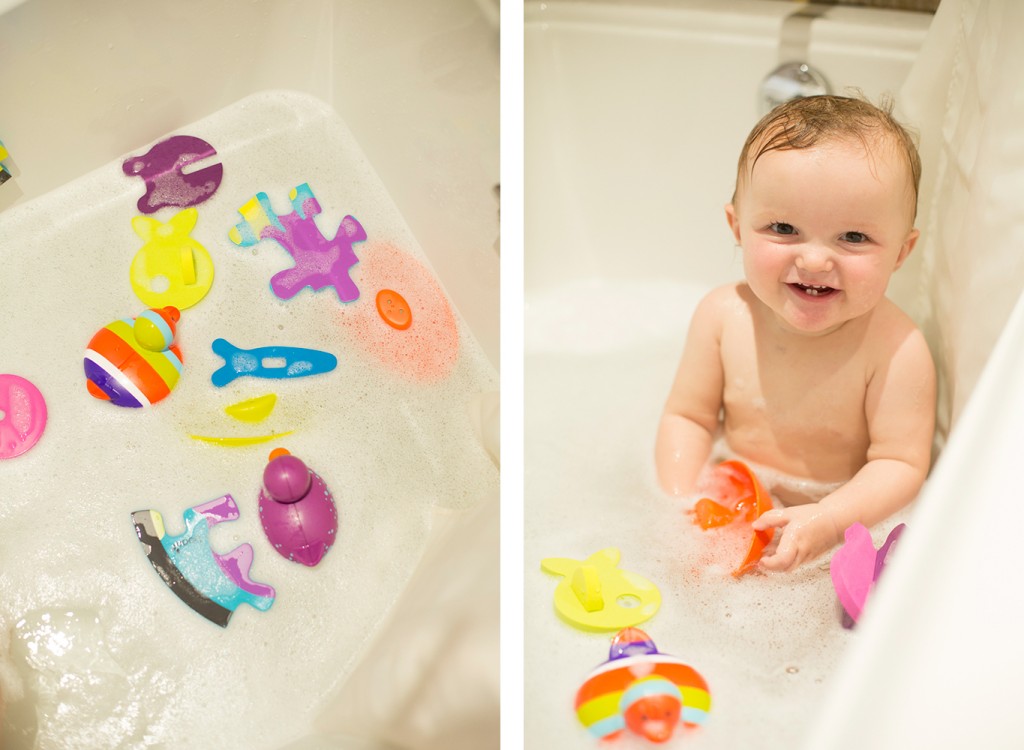 Oh, and see those cute Odd Ducks? They are so much fun too! They come in bright colors, and better yet, they are PVC-free and they don't hold water, so you don't have to worry about them growing icky mold.
Clementine had so much fun exploring all these new water toys. She started screaming when I finally took her out of the water! But every water bug needs to get back on solid ground at some point… We are looking forward to her next bath though!
Like what you see? You can buy any of these bath toys directly from the Boon website or from retailers such as Amazon and buybuyBABY.