This Watermelon Mint Detox Water is incredibly refreshing and the combination of ingredients work together to create a healthy detox drink. Read on to learn more and get the full recipe!
There's just something about summer that makes me want to eat watermelon.
Maybe it's because ever since I was a kid I can remember eating it at just about every picnic or barbeque we went to.
It's super refreshing on a hot day, not to mention a healthy and delicious treat.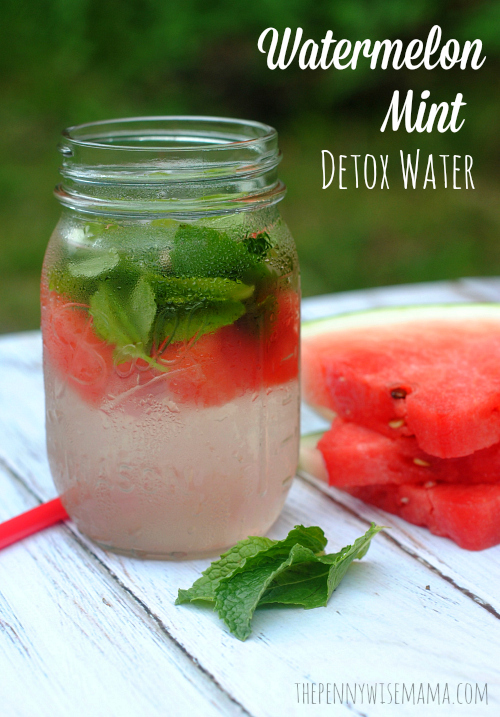 We've been eating a lot of it around here — either sliced up or in smoothies. I've also been enjoying it in my water.
This summer I've even been taking my watermelon obession to a whole new level by making watermelon mint infused water.
If you've never tried fruit infused water, it's incredibly refreshing and the best part is the combination of ingredients work together to create a healthy detox drink.
Watermelon + Mint = A Healthy Detox Drink
If you didn't already know, watermelon offers many health benefits. It is excellent for detoxing and helping the body flush out excess toxins. It's also great for fat loss and overall immune function.
Watermelon contains citrulline, an amino acid that helps improve liver function by filtering and getting rid of ammonia, which can damage cells.
The citrulline in watermelon has been shown to reduce the accumulation of fat in our fat cells.
The vitamin C content in watermelon is also incredibly high, which helps overall immune function.
Watermelon has many more benefits, but these are just a few.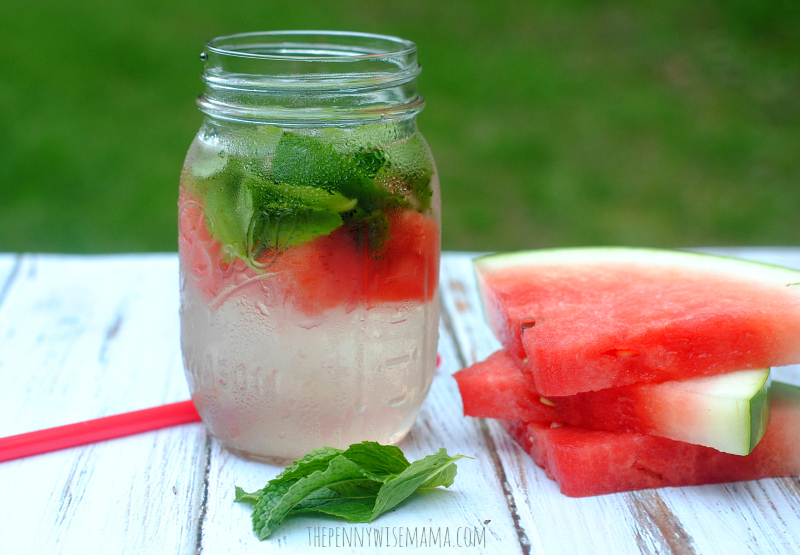 And the mint leaves? They aren't added just for flavor. They help improve digestion and get rid of stomach cramps.
Ok, now that I convinced you that this drink is good for you, are you ready to make it?
How to Make Watermelon Detox Drink
Don't worry, it's easy. Simply cut up chunks of watermelon and add it to a jar with a handful of mint leaves.
Then use a spoon or fork to mash them up a bit to let the juices. Once that is done, fill the jar up with cold, filtered water and place it in the fridge to infuse overnight.
The next morning it's ready to go and full of flavor!
Do you make your own fruit infused water? If so, what combination of fruit is your favorite?