I participated in a campaign for Mom Central Consulting on behalf of Healthgrades. I received a promotional item as a thank you for participating.
We recently found out that our son's allergist was moving away, which meant we would need to look for a new one to treat my son's asthma and allergies. The thought of having to find a new doctor is overwhelming, especially considering that my son needs a specialist to treat his symptoms. In the past we have not always been happy with our choice of doctors, so this time around I wanted to make sure that we did our research to find the best one for my son.

To make my search easier, I turned to Healthgrades, a leading online resource for information on physicians and hospitals. Thanks to their new Healthgrades app available for iOS devices, I was able to search for doctors in my area that specialize in asthma and allergies. I was even able to search for doctors based on our insurance coverage.
The best part about the app is that I can read reviews from patients. I really appreciate other peoples' opinions and experiences, so this helped me narrow down who we should make an appointment with.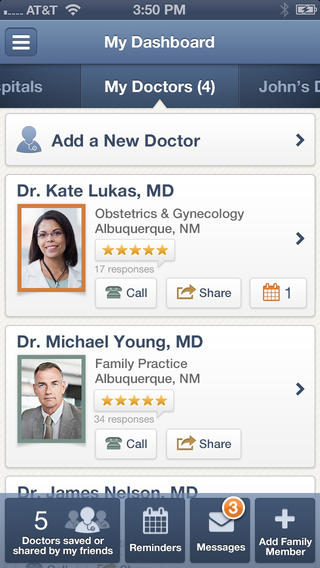 Another great feature of the app is it also allows me to store key information about our healthcare providers, and manage appointments and reminders.
If you are looking for a new doctor in your area or you just want to get your healthcare organized, I would encourage you to download and try the Healthgrades app!