These Candy Corn Fruit Parfaits are a fun and festive fall treat. Not only are they delicious, they are nutritious! Made with pineapple, oranges and yogurt, they are a yummy, tooth-friendly treat that you can feel good about giving your kids.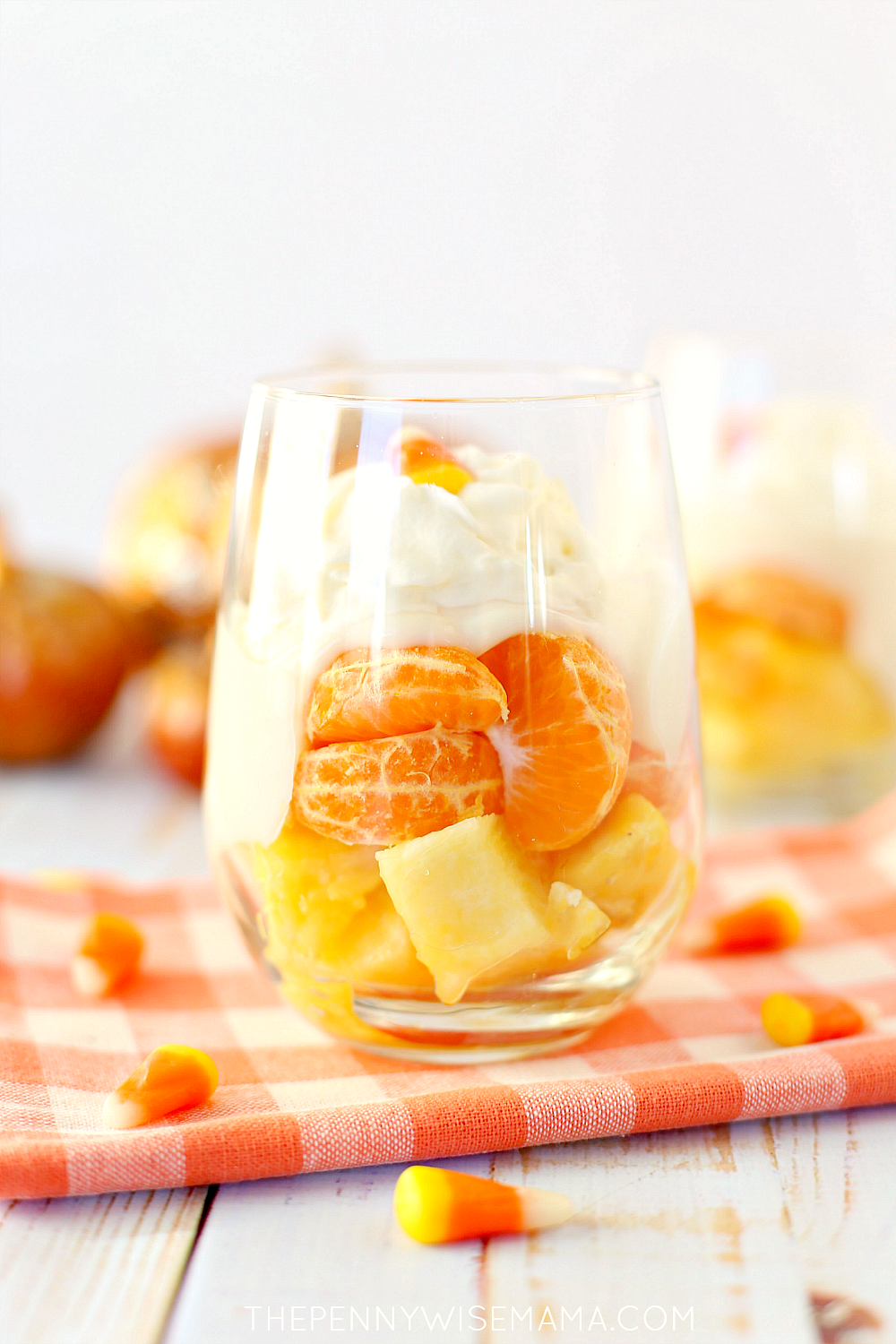 My kids love to go trick-or-treating on Halloween. Besides dressing up in costumes, their favorite part is seeing how much candy they can get. As a parent, I want them to have fun but I also don't want them to bring home an excessive amount of candy.
I recently read somewhere that the average trick-or-treater comes home with an estimated 3 cups of sugar. I'm not surprised, but wow, that's a lot!
Did You Know?
Besides causing a sugar high and an upset tummy, too much sugar can lead to cavities and tooth decay. There's often a perception that baby teeth don't matter, because they fall out. However, cavities can pass from baby teeth to adult teeth.
Additionally, overall oral health has a big impact on the health of the body as a whole. It can even impact learning — the leading cause of kids missing school in Colorado is due to dental decay diseases.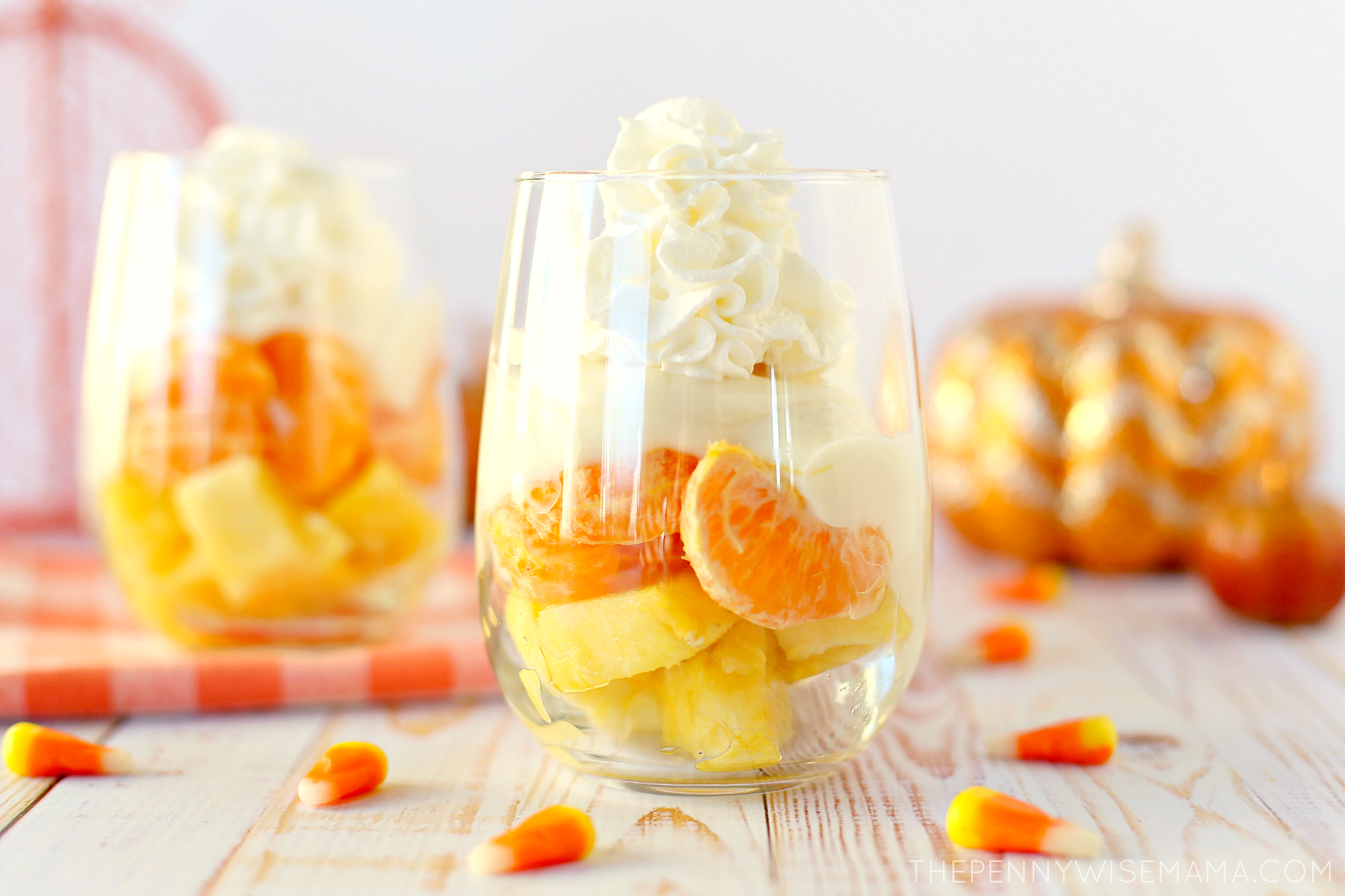 Tips to Help Prevent Tooth Decay
We all know that there is no such thing as a "sugar-free" Halloween, but there are ways to cut down on the amount of sugar your kids consume (any day of the year).
Following these simple tips can help limit the amount of sugar your kids consume, as well as help prevent cavities and an upset tummy:
1. Limit Candy — I usually let my kids pick 2-3 pieces of candy to enjoy on Halloween and then they have to save the rest. We spread it out over the next month or two to make sure that they aren't eating it all at once.
2. Avoid Sugary Drinks — The sugar in juice, soda, and other sugary beverages sits on teeth and eats through thin baby teeth enamel, causing cavities. It's best to cut out all sugary drinks, but at least limit consumption to 4-6 ounces of juice per day.
3. Drink More Water — Water helps wash sugar off teeth from both other drinks and food, and tap water is even better because it has fluoride that helps strengthen enamel. Have your child drink a glass of water and swish it around his/her mouth after eating anything sugary.
4. Brush and Floss Daily — It's important to brush your child's teeth twice a day — in the morning and at bedtime — and floss at least once per day.
5. Provide Fruit as an Alternative to Candy — Your kids will get plenty of candy on Halloween, so offer them a fruit-themed "treat" like these Candy Corn Fruit Parfaits at home instead.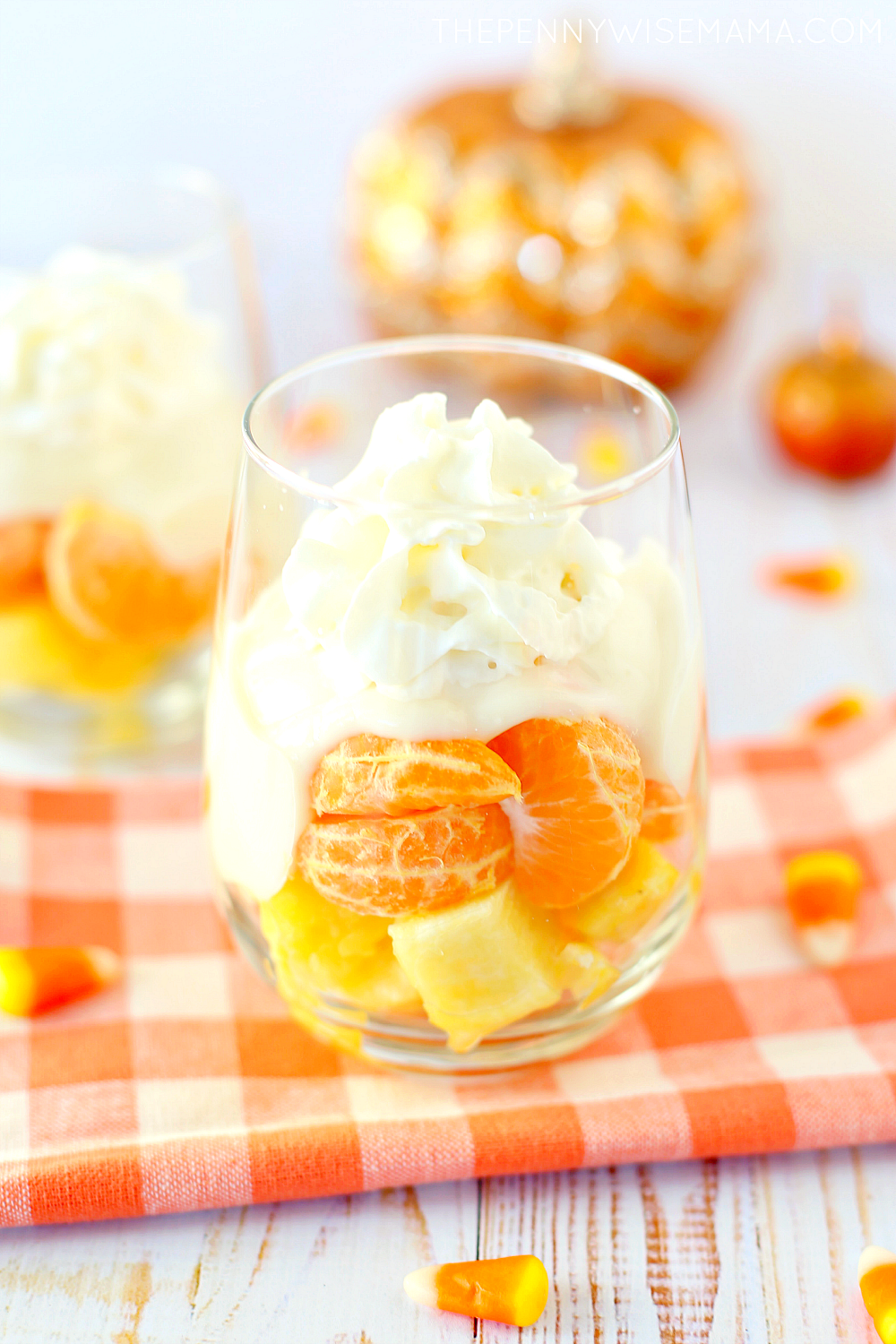 I made these fun, fall-themed Candy Corn Fruit Parfaits for my kids the other day and they loved them so much that I plan on making them again for our Halloween party this week. They may taste sweet and look like candy corn, but they are much more nutritious!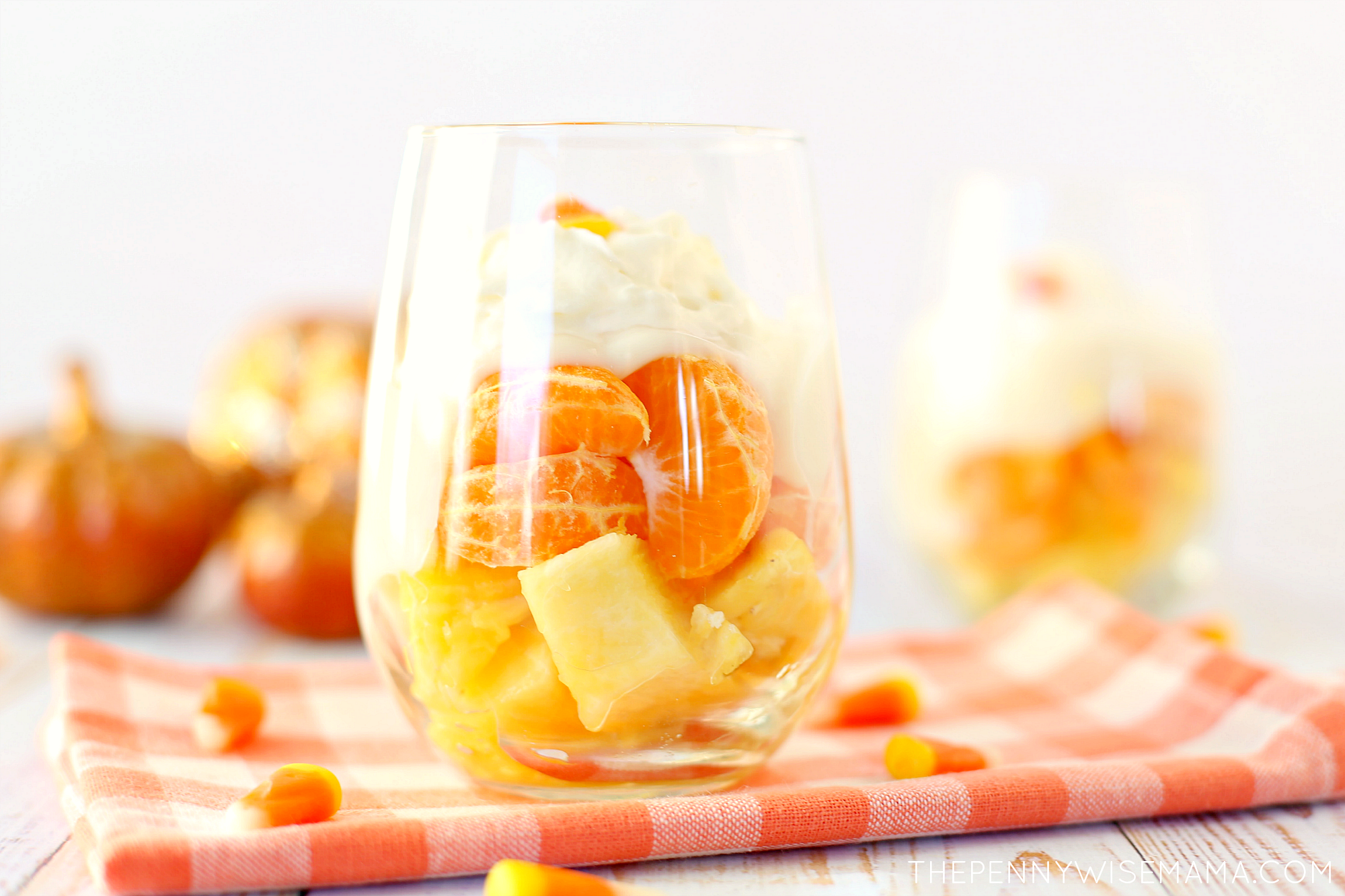 Featuring fresh pineapple chunks, mandarin oranges, vanilla yogurt, and a little bit of whipped cream for fun, these fruit parfaits are a healthy and delicious treat. Serve them as a snack, dessert, or party treat. Adults and kids alike will love the refreshing flavor and vibrant fall colors.
Baby teeth matter! Make sure your kids drink plenty of tap water after eating sugary treats to help keep cavities at bay. Learn more about protecting your child's oral health by visiting Cavities Get Around.
What are some of your favorite tooth-friendly treats?
Pin It! Hover over the image below and click the "Save" button in top left corner to save this recipe for later!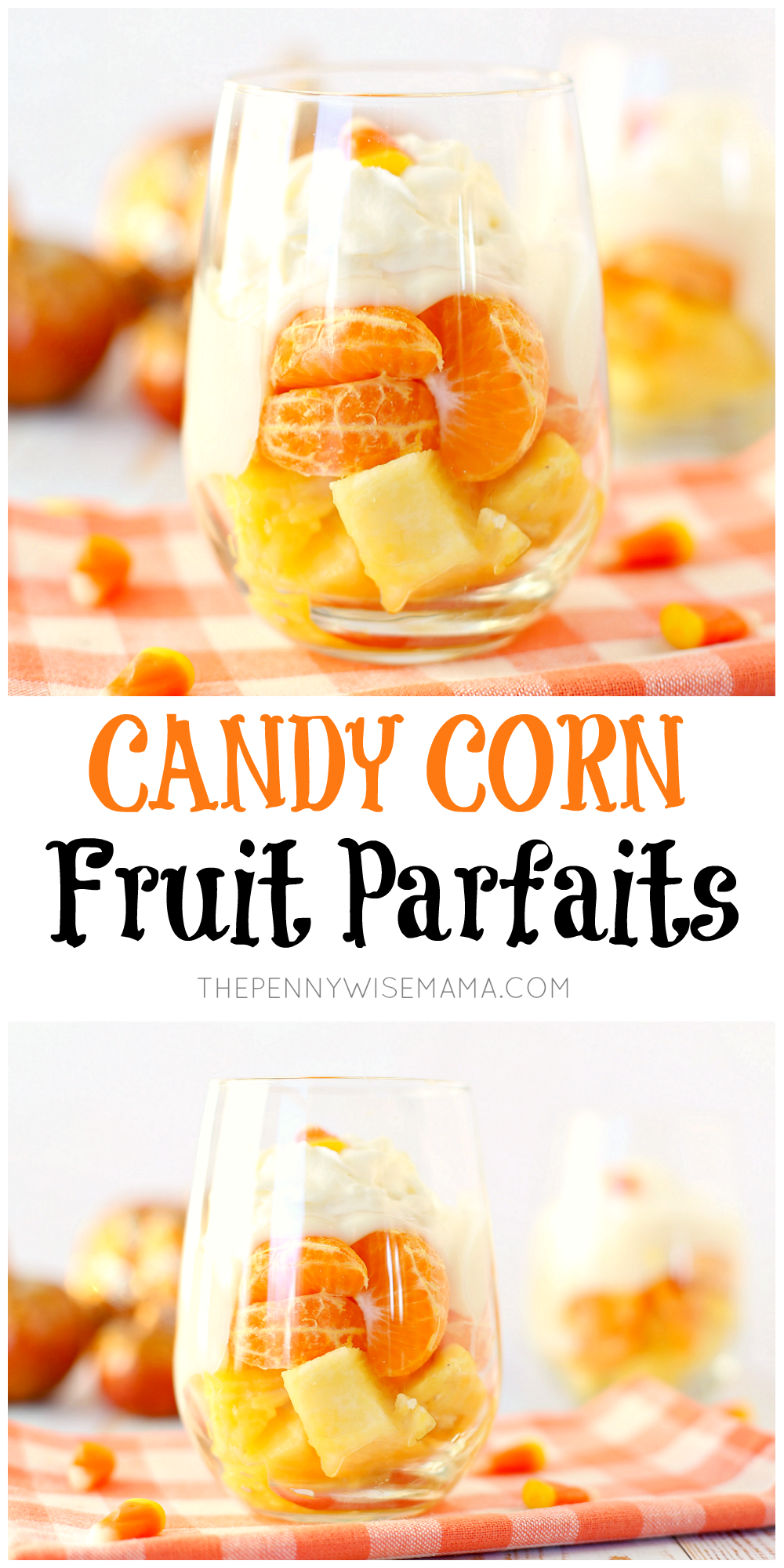 I partnered with Delta Dental of Colorado Foundation to bring you this post. All opinions are my own.