Everyone enjoys a benefit event. You dress up in your finest attire, sip cocktails and nibble on hors d'oeuvres with the hope of a silent auction — all in the name of a good cause. What makes a silent auction a good idea for your next fundraising event? It's a great way to showcase an array of fantastic prizes while still allowing people to mix and mingle. Each guest can choose which item they'd like to be in the running for and there's excitement when anticipating who will be the lucky one chosen.
If you've never held a silent auction before, don't feel intimidated. It is a lot of work, but with the right planning and preparation, it can be a huge success. One of the most important things you need to have is good organizational skills. If possible, it's a good idea to speak with someone who's held one before to get any valuable insight. Either way, you should feel great about the fact that you are giving back. Addressing the following tips will help prep you for hosting a silent auction at your next big event in the hopes of raising money for your charity or non-profit.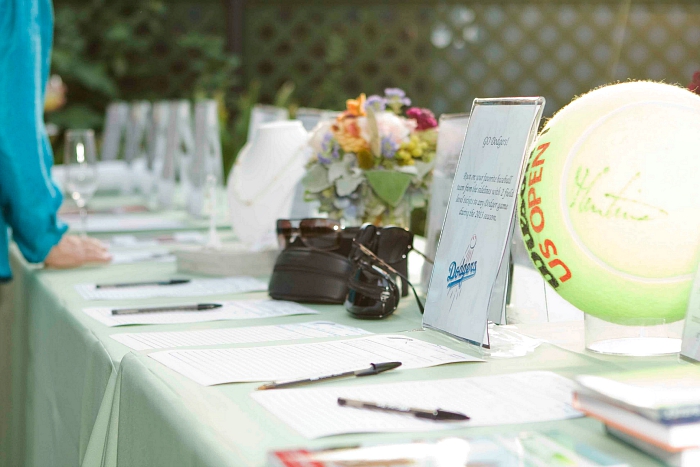 How to Organize a Silent Auction
1. Decide how many items you'd like to auction. It doesn't have to be an exact number, but ballpark what your goal is. Are you aiming for 10 high-end items or more like 20 or 30 items at smaller values? Do you want a mix of the two? Depending on the size of the guest list of who you plan to attend and the size of your company, this will help you determine just how many items you will want to auction. Decide what fits for both your organization and for the event itself. Also, keep in mind your fundraising goal, which will help you plan accordingly.
2. Don't go into it alone. Reaching out to companies and sponsors can be a challenge. Gather up a committee who will work with you to solicit auction items from friends, family, colleagues, and businesses in the area. Divide up the work and assign a certain number of people to each committee member to contact. Allow donors to decide if or what they can offer and check in once a week with your committee to discuss progress.
3. Make sure you arm yourself and your committee with all the information needed about the event and with the silent auction itself. These materials should include fliers and brochures that detail what your organization is about and what people can expect at the silent auction. If you are trying to raise funds for a specific reason within your organization, make sure that is communicated as well. People are more apt to donate, if they know what their goods or money or going towards helping.
If you have several items that you don't have room to list the program, select a few of the more high-end items to draw people's attention and interest. As far as fundraising materials, you'll also going to need lots of signs: signs to promote the event as well as signs for each table at the auction. eSigns sells signs online for an affordable price to help keep planning costs low. You can add your own logo and customize each sign to reflect the style and message of the event.
4. Get to work! Make a list of all the businesses that you can email or call to ask for donations. This list should include restaurants, hotels, local shops, salons and spas, and other area attractions that you feel would make a good prize for someone. Make sure to keep track of who has responded, who's a maybe, and who has declined. You'll want to keep this list organized so that you can follow-up and also, send thank you notes for any items they donate.
Construct a pitch letter that tells the donor what your organization does and how the event is designed to help your efforts. Make it as easy as possible for people to accept and donate by including a simple form that can be easily sent back. Then, schedule a time days before the event at which time you'll pick up the items. Although, it saves time to put together one email or letter that will be sent out to all your hopeful donors, make sure you take time to add a little personalization to each one.
Keep a separate sheet to track donations. This will help you keep organized to enter information about the donation, such as item description, bid sheets, and winners. Assign each item a number and organize according to type on the tables. Make sure each sign is descriptive of what the prize includes with details about the donor itself with contact information. Each items should also list its retail value and the starting bid.
Plan the details of the benefit itself. Is it going to be catered? Hire someone in advance to do so if that's the route you're taking. Sell tickets to those who would like to attend.
It's never too early to get started in the planning process. This way you won't feel rushed or as stressed leading up to the event. Confirm enough table space with your event host for all the prizes and schedule a setup as early as possible leading up to the day of the silent auction.
Keep in mind your overall goal, which is to raise funds for a good cause and don't forget to have fun along the way!
What are your tips for organizing a successful silent auction?