This recipe for pumpkin spice popcorn has been compensated by Collective Bias, Inc. and its advertiser. All opinions are mine alone. #SkinnyGirlSnacks #CollectiveBias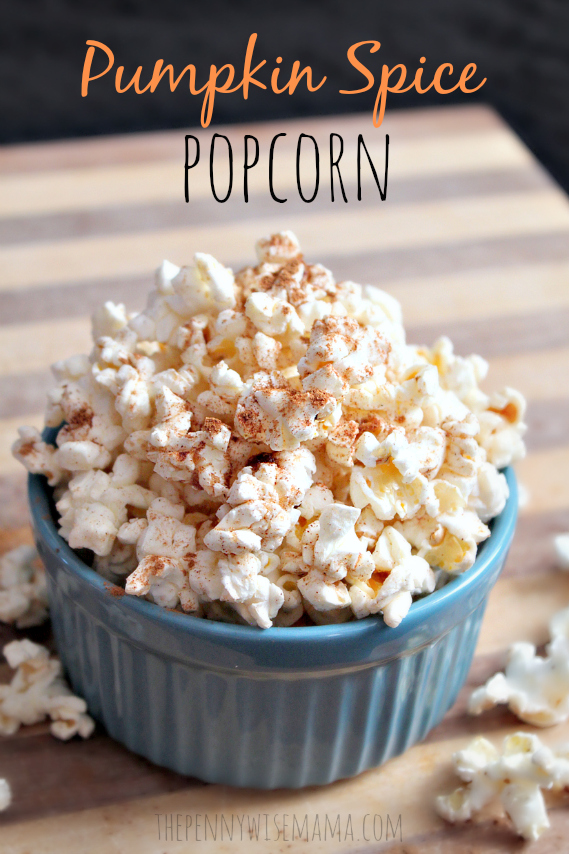 If you are looking for healthier snacking options, this low-calorie Pumpkin Spice Popcorn is sure to hit the spot!
I don't know about you, but I am always excited for fall to come around because it means I have an excuse to eat or drink anything with the word pumpkin in it. Pumpkin spice lattes, pumpkin pie, pumpkin coffee, pumpkin bread…you get the idea.
I'm clearly all about pumpkin right now, so I figured it would be fun to give one of my favorite snacks a little pumpkin love and create a treat for just me to enjoy. I love popcorn, but between the hubby and kids, I never get any of it. My hubby pops these huge bowls but hoards all of it. I'm lucky if I get a handful. How unfair is that?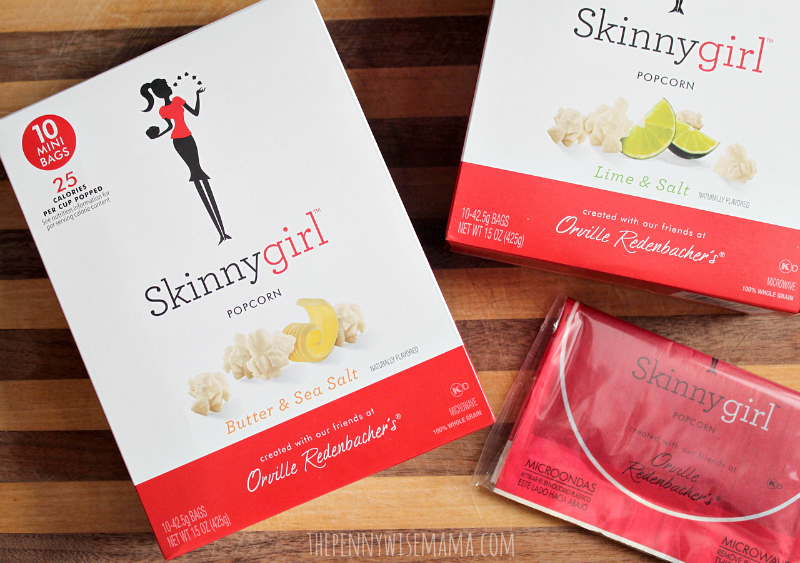 Thanks to Skinnygirl Popcorn, I no longer have to share my popcorn with anyone else. Featuring two delicious flavors — Lime & Sea Salt and Butter & Sea Salt — each mini bag contains only 25 calories, so I can pop a bag and eat the whole thing and not feel even a tiny bit guilty. And since I am all about eating foods that are healthy and natural, I love that Skinnygirl popcorn has no artificial flavors, artificial colors, artificial sweeteners (e.g. aspartame, sucralose) or high fructose corn syrup.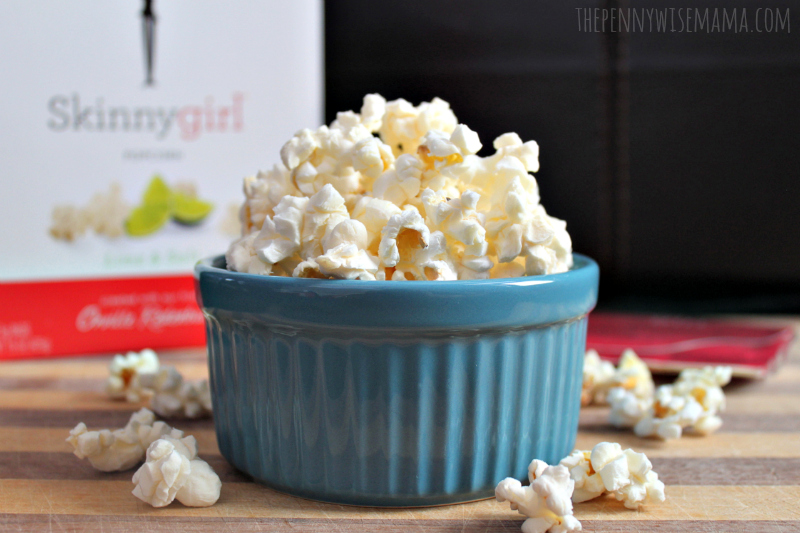 The best part is this popcorn tastes amazing! Seriously folks, it tastes pretty darn good for being healthy and convenient. There is nothing artificial about it. The lime tastes like real lime and the butter tastes like real butter. I'm in love.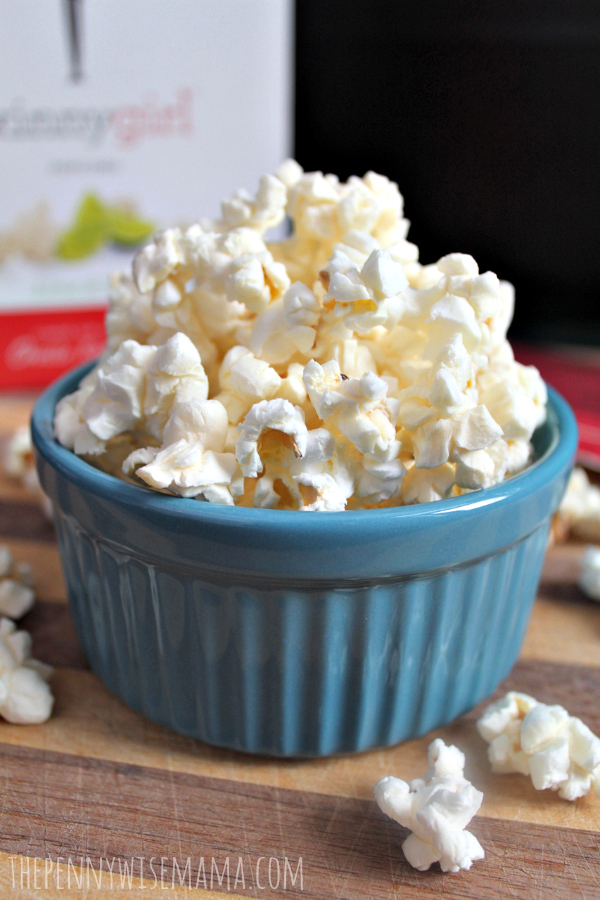 I mean just look at it. Doesn't it look delicious? I may or may not have just popped a bag of Lime & Sea Salt to munch on while I type…Skinnygirl for the win!
Anyway, so back to all things pumpkin.
The Butter & Sea Salt popcorn is amazing by itself, but I wanted to kick it up a notch and create a snack that tastes like my favorite pumpkin bread. Because pumpkin makes everything better.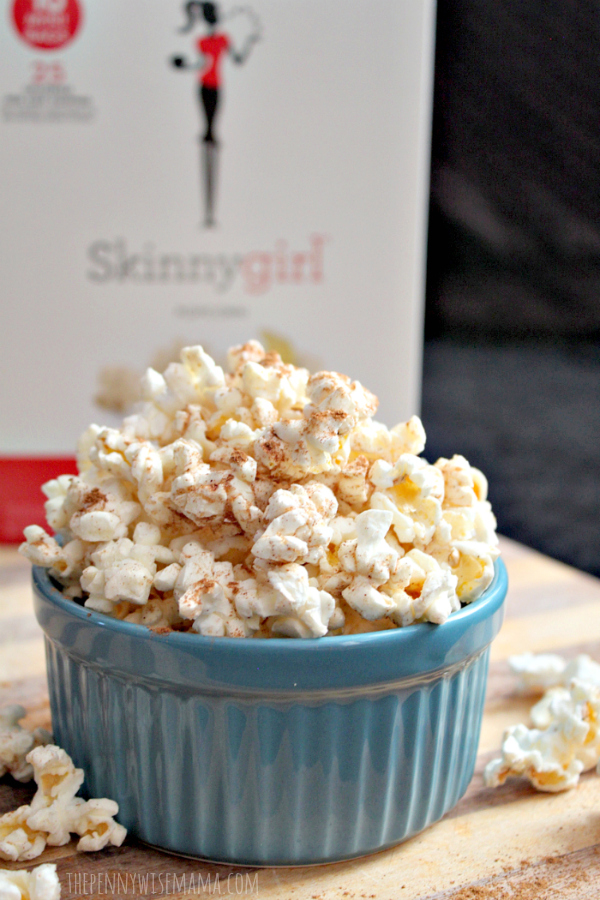 This Pumpkin Spice Popcorn is delicious and really hits the spot if you are craving that not-so-healthy pumpkin or latte. It's ridiculously easy too. In just a few minutes, you have a yummy, satisfying snack that you don't have to feel guilty about. Just beware — it is addicting and you may be bribed into sharing with your other half or littles. But it's always nice to share, right?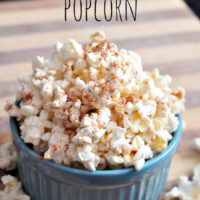 Pumpkin Spice Popcorn
Yield: 1-2

Prep Time: 1 minute

Cook Time: 3 minutes

Total Time: 4 minutes
Ingredients
1 Bag Skinnygirl Butter & Sea Salt Popcorn
1 tbsp coconut oil
1 tbsp brown sugar
1/4 to 1/2 tsp pumpkin pie spice (use more or less depending on your preference)
Instructions
Pop the bag of popcorn in the microwave according to the package directions (about 1½ minutes).
While the popcorn is popping, mix the coconut oil, brown sugar and pumpkin pie spice in a small bowl.
Remove popcorn from microwave and transfer it to a large Ziploc bag. Then warm the pumpkin spice mixture in the microwave for 1 min, stirring halfway.
Add the pumpkin spice mixture to the Ziploc bag and shake until popcorn is evenly coated with mixture.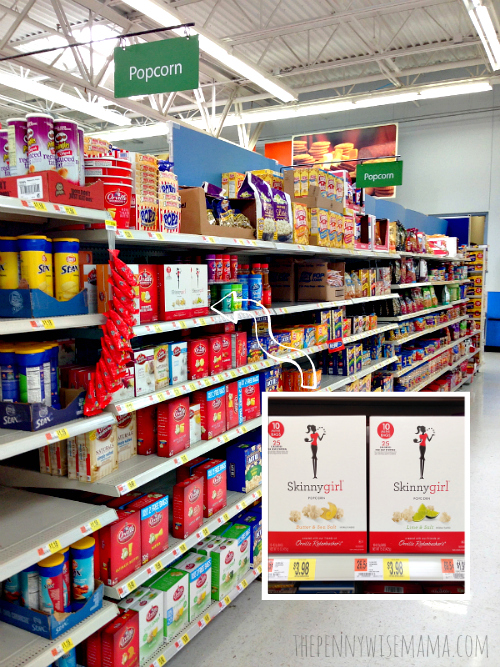 Want to try Skinnygirl Popcorn? I found the Lime & Sea Salt and Butter & Sea Salt varieties at my local Walmart.
This post may contain affiliate links. Read my full disclosure here.