If you've been following me for awhile now, especially on Instagram, you know how much I love Quest protein bars. I had the chance to review them awhile back and ever since I have been addicted to them. My husband and I usually fight over them and then they are gone before we know it! I have liked just about every flavor I have tried, but Cookie Dough has been my all-time favorite. Just recently Quest Nutrition launched an all-new flavor — Cookies & Cream. I love oreos, so I couldn't wait to try the new flavor out!

If you've never heard of Quest Bars, they are protein bars that are high in protein and fiber and low in carbs/sugar. They are also gluten-free. They are the only true low-carb protein bars on the market. For example, the Cookies & Cream Quest Bar contains 21g of protein and 22g of carbs, but 17g of the carbs are from dietary fiber so there are technically only 3g of active carbs. Almost all of a Quest Bar's carbs come from inert fiber which helps keep you full but doesn't skyrocket your insulin levels.
I like to enjoy a Quest Bar after a workout or for an afternoon snack. They always fill me up and give me good energy. You will not find another bar on the market that tastes as good and has the same high-quality ingredients!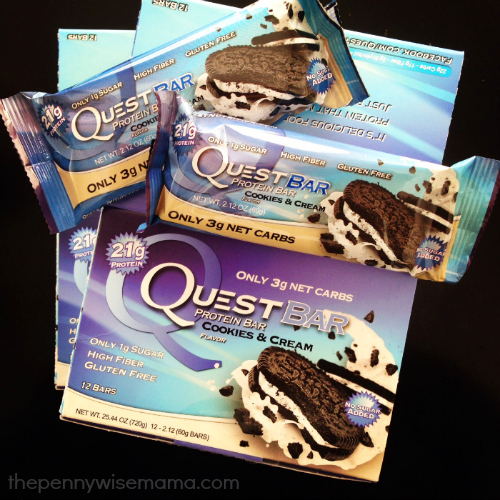 Quest Nutrition was super nice and sent me a couple of boxes of Cookies & Cream Quest Bars to try out. As soon as they arrived, you better believe I was busting the box open to try one out!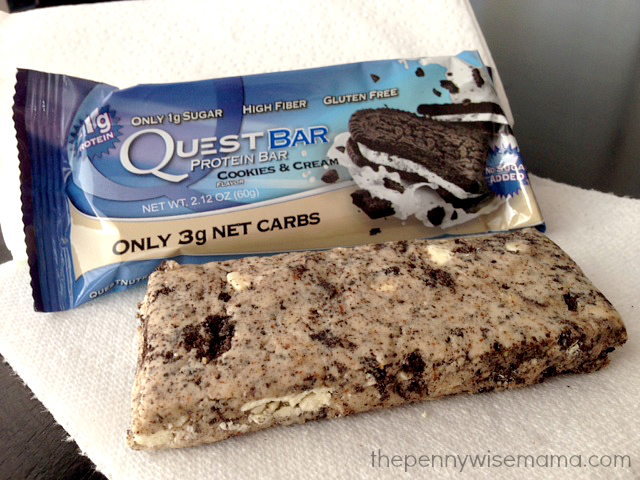 The bars are white with chunks of "cookies" and "cream," so you really feel like you are having a yummy treat. I was definitely impressed with they flavor and have to say that they are very good. They are not super sweet like oreos, but they definitely satisfy my craving for cookies. I haven't done it yet, but I plan to make cookies with the Cookies & Cream and Cookie Dough bars. I have heard that they turn into delicious little cookies!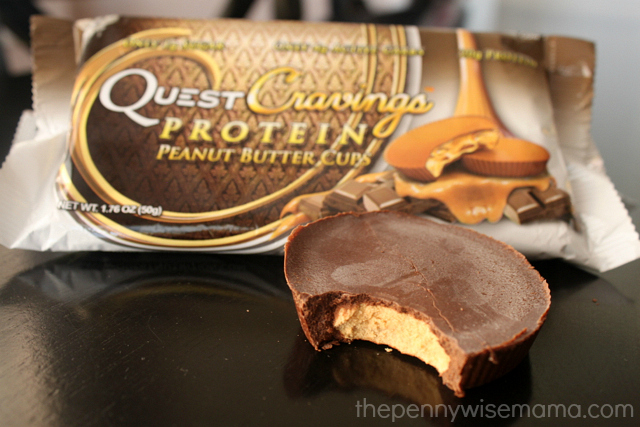 Quest Nutrition is most well-known for their Quest Bars, but they carry other amazing products as well such as Quest Cravings Peanut Butter Cups and Quest Guilt-Free Pasta. I would encourage you to check them out!
Buy It
You can purchase Quest products from the Quest Nutrition website or from places like Amazon.com and GNC. Quest Bars have an approximate retail value of $2.39 apiece, but I regularly find them on sale for around $2.
QuestBar Giveaway
Quest Nutrition wants to give you a chance to try the all-new Cookies & Cream Quest Bar, so they have generously offered to give away (3) prize packs to THREE lucky winners! Each prize pack will contain (1) 12-count box of Cookies & Cream Quest Bars ($24.99 ARV).
To enter, simply use the Rafflecopter form below. All entries are optional, but the more you complete the better your chance of winning. Giveaway ends on 3/16 at 11:59 PM EST. Open Worldwide, 18+. Good luck!