My twin girls just finished learning about oceans in school, so I thought it would be fun to do some ocean-themed crafts. We decided to make these cute little seashell fish and I think they turned out great! Not only are they super easy to make, they are a fun craft for kids of all ages.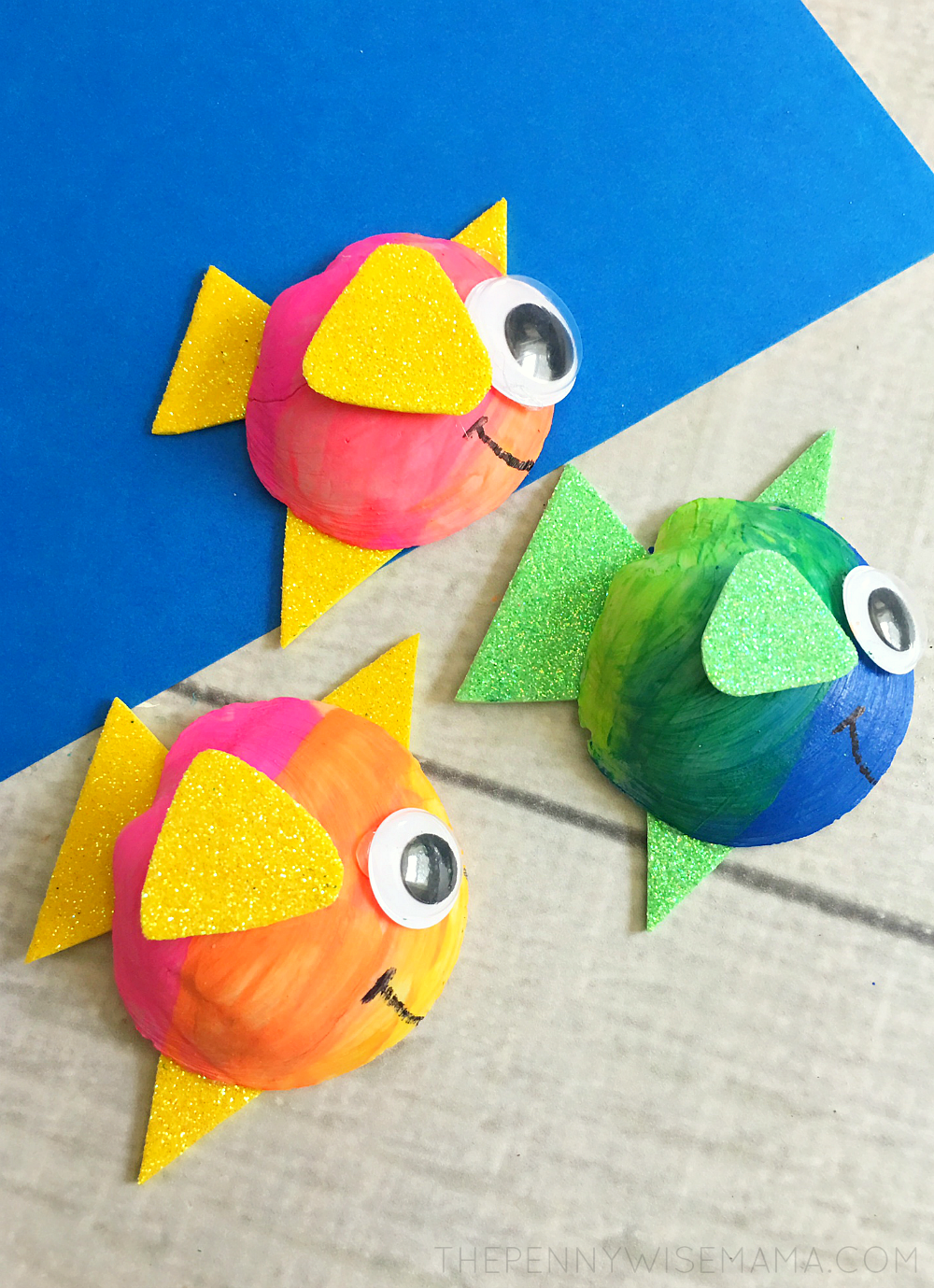 Whether you are a teacher looking for a hands-on craft to go along with your oceans unit, or you are a parent looking for a fun craft to do with your kiddos, these seashell fish are great for encouraging creativity.
Besides the pieces that have to be hot glued, most kids should be able to do this craft on their own with adult supervision.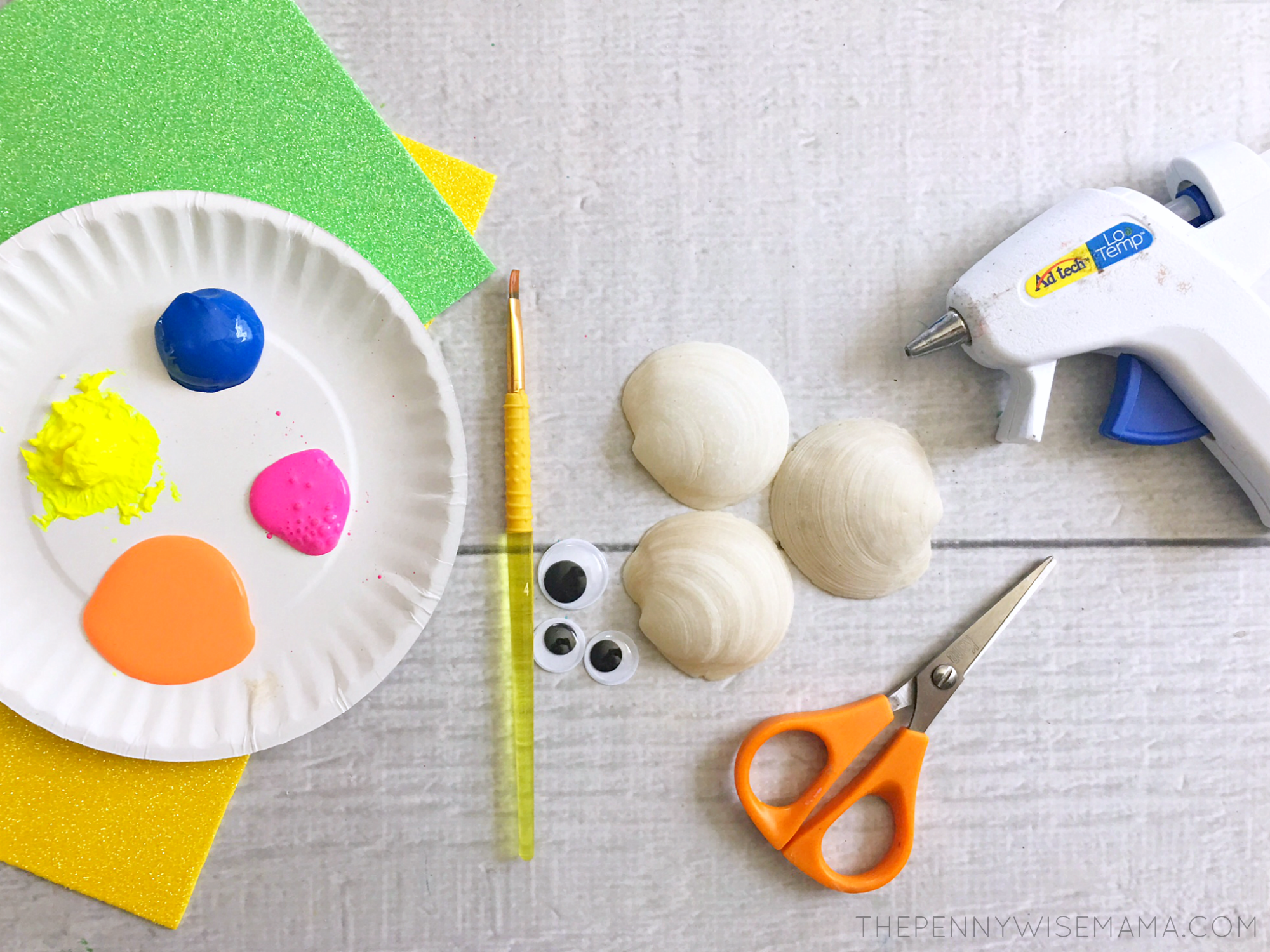 Cute Seashell Fish Craft
Materials Needed:
Seashells
Small googly eyes
Craft paint in a variety of colors
Glitter foam sheets
Paint brushes
Scissors
Black permanent marker
Hot glue/hot glue gun
I found the seashells, googly eyes, craft paint and foam sheets on Amazon. The rest of the items I already had on hand, but you could also find them on Amazon or your local craft store. I prefer to buy what I can on Amazon to save me a trip to the store, plus you gotta love free prime shipping!
Teachers – these items will provide plenty of materials for your whole class!
One Pound Box Natural Clamrose Seashells (1/2
Mini Wiggle Eyes Black Small Plastic Round Moving Googly Eyes for Children School Classroom Arts & Crafts Models (500 Eyes) by Super Z Outlet
Apple Barrel Acrylic Paint Set, 18 Piece (2-Ounce), PROMOABI Best Selling Colors I
Creative Hands by Fibre-Craft Glitter Foam Sheets 5-1/2-Inch by 8-1/2-Inch, 15/Pkg, Primary Colors
Instructions
Step One: Lay out an old newspaper or piece of scrap paper to protect the surface you'll be painting on. Squeeze a quarter-size amount of each color of paint you plan on using on a paper plate (or another flat surface that you don't mind getting paint on).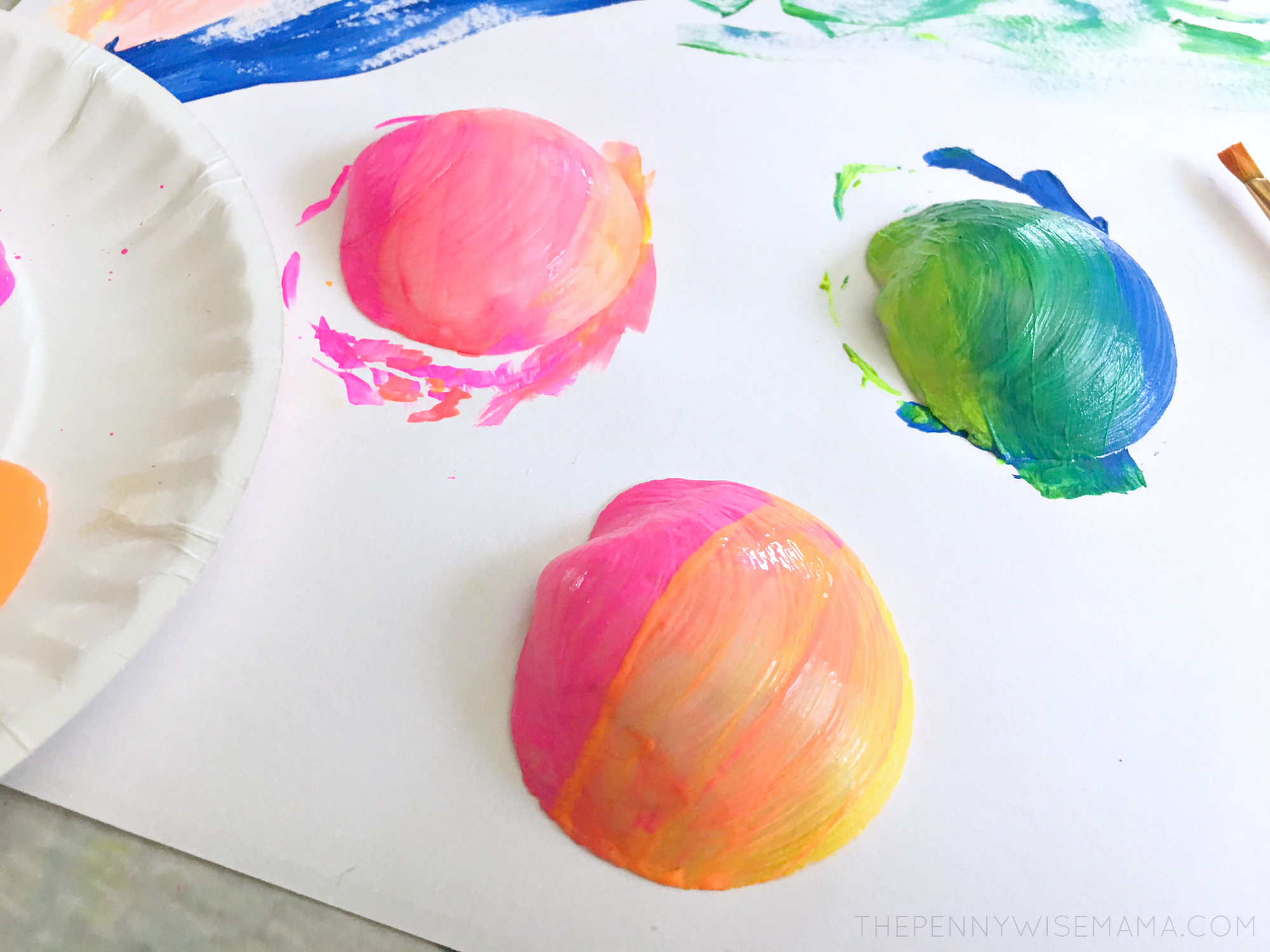 Step Two: Paint each seashell with craft paint and let dry. For added fun, you can create an ombré effect by using 3 different colors.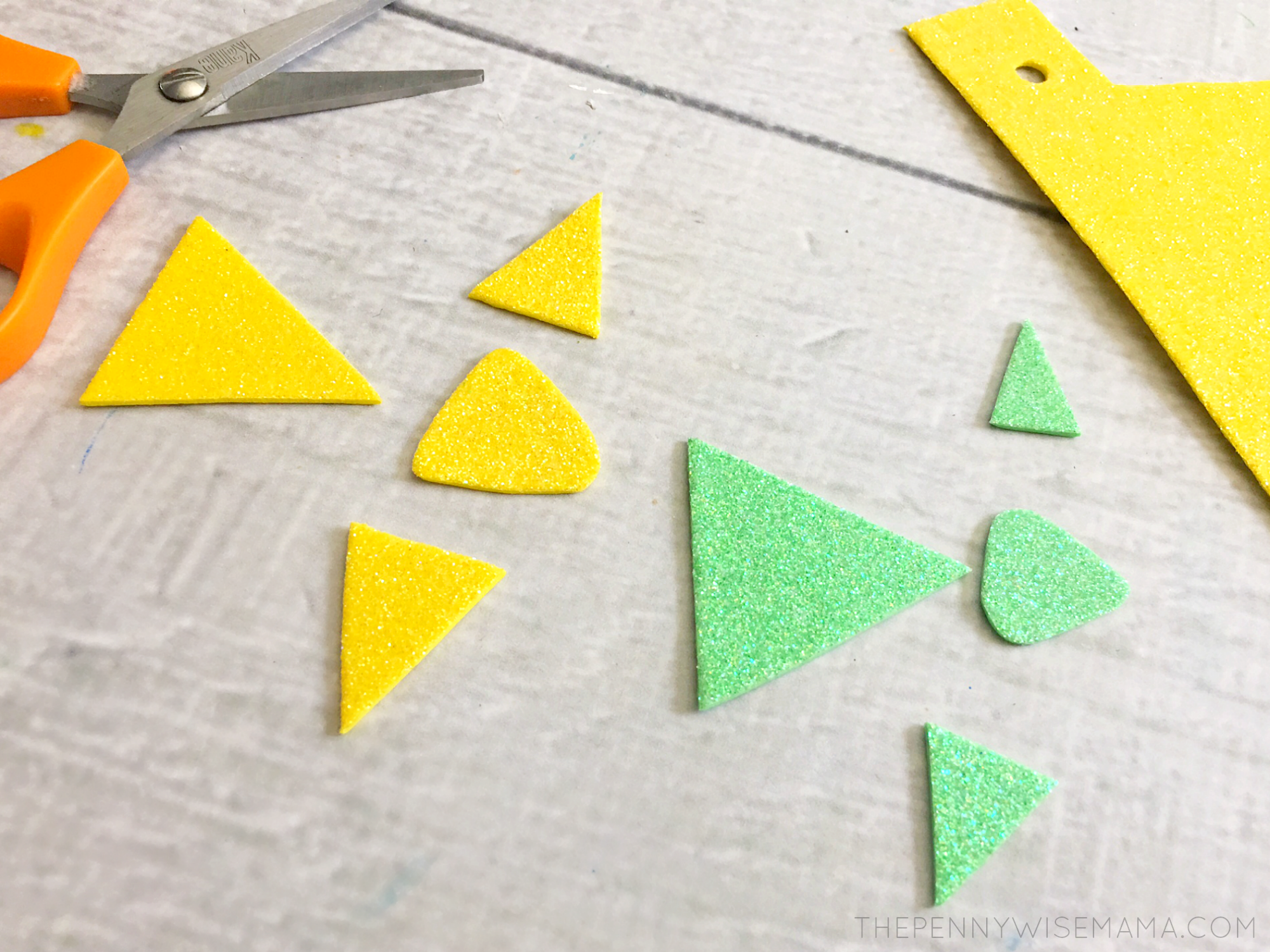 Step Three: Cut out 2 small triangle fins, 1 large triangle fin and 1 medium-sized rounded edge triangle fin for each fish from your glittered craft foam.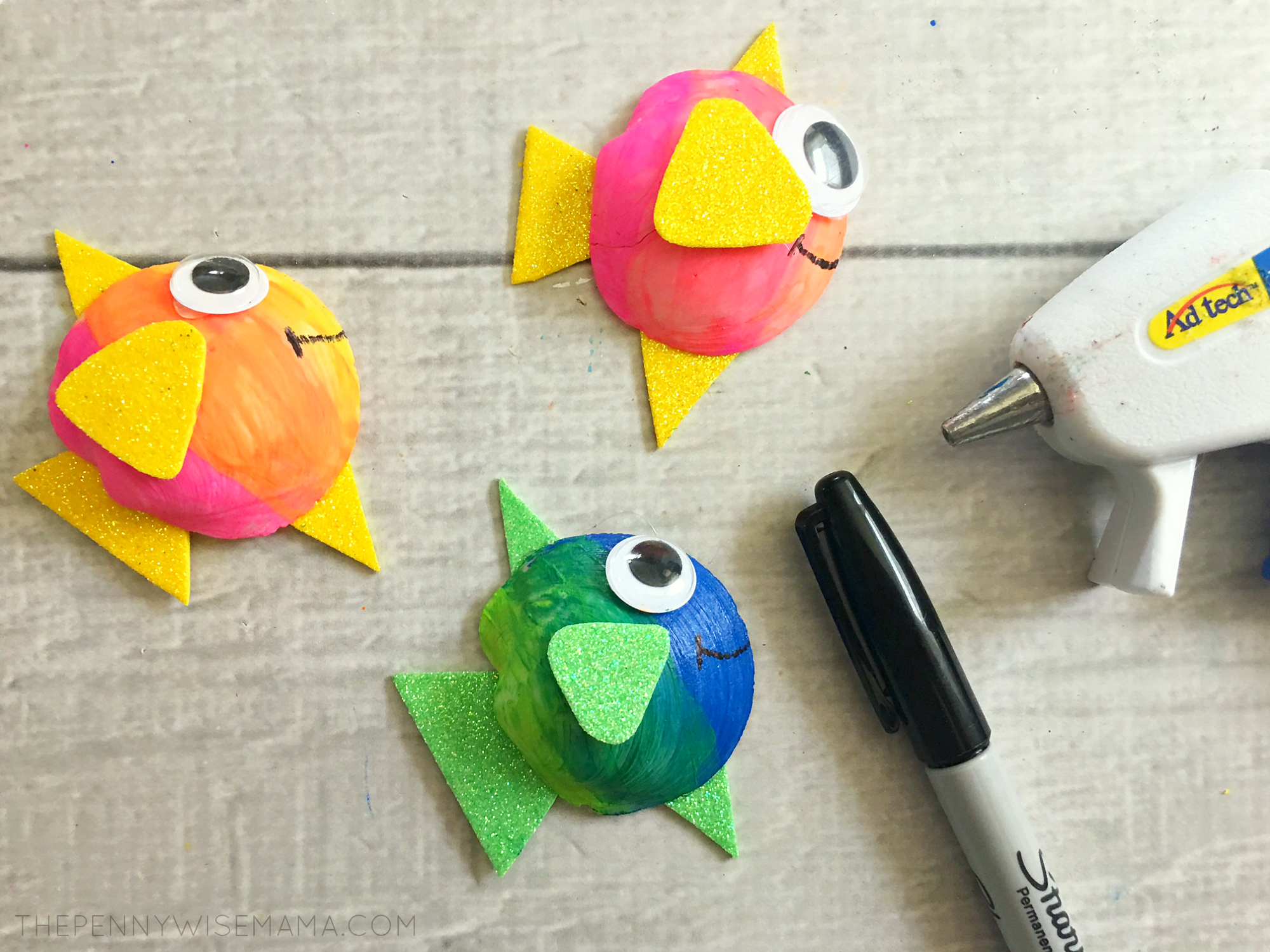 Step Four: Carefully hot glue your largest triangle fin onto the bottom back of your painted shell, the two small triangles onto the back top and bottom, and the rounded triangle onto the top. Then glue one googly eye onto the top right of the seashell right above the top fin.
Step Five: Draw a mouth below the eye with a black permanent marker.
Kids of all ages and ability levels can have fun with this craft. Keep in mind, some kiddos may need help cutting out their fins, and only an adult should use the hot glue gun. As with most crafts, adult supervision is a must.
Get crafty & have fun!