It's been a little over a year since we moved our twin girls into separate bedrooms. It got to the point where they were either keeping each other awake, or waking each other up. They weren't getting enough sleep and were fussy because of it. They have been sleeping much better since we put them in their own rooms. They love having their own space and I think it's great that they are forming their own identities.
Over the course of the past year, we have done little things to make the girls feel comfortable in their own rooms. We bought them new junior loft beds and decorated their walls with wall stickers. Just recently we let them pick out new flannel duvet covers for their beds.
One thing that we really need to work on now is storage space. The girls' rooms aren't overly huge, so I really want to maximize the space that we do have and get them organized in a kid-friendly way. I've started to look for ideas on Pinterest and so far I have found some great ideas!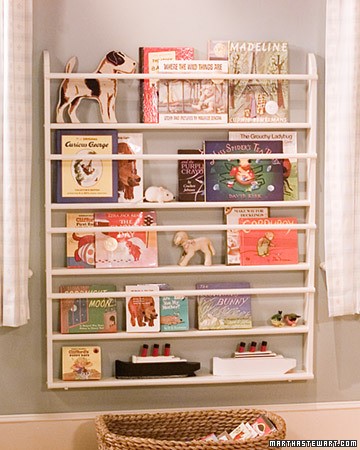 I would love to make a bookshelf like this one to store some of their books. Right now they are in baskets, but we have so many that they just end up all over the floor.
The girls share a dresser right now, but it's getting to the point where we are going to need to add another. As their clothes get bigger, we are able to fit less and less into the drawers. I would like to get a chest of drawers for the bedroom that doesn't have one right now. I think that it would help keep their clothing more organized.
My husband has some time off working coming up, so I think it will be a great time to shop around or create some of the ideas I find on Pinterest.
How do you keep your bedrooms organized? Do you have any tips to share?