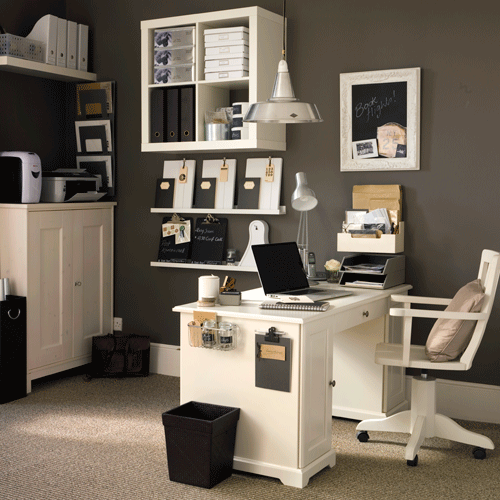 Working from home is a dream for many. The flexibility, the time, and money saved from commuting and working in your pajamas are attractive advantages that come with the territory. But before you can reap those benefits, you've got to set up shop. Setting up a workspace can quickly get expensive. However, there are a few way simple ways you can trim some of the initial costs.
Save with Secondhand Office Furniture
Ideally, you want to designate an area that is private and free from distractions. If you're budget is tight, skip on new furniture for the time being. Thrift stores and craigslist are usually the best bets for finding desks, cabinets and bookshelves. You will come across items that are slightly used or simply need a little TLC. Ask a few friends or family members if they have any furniture they'd be willing to part with. Wait to deal with the aesthetics of your space until after you turn a profit. It will be a nice way to reward your efforts.
Balancing Workspace with Storage
The biggest challenge of a home office is balancing workspace with storage. It's easy for papers to get out of control if you don't have a system in place. Using stackable storage will help free up space. Dollar Tree sells stackable bins in a variety of sizes for a $1. They also come in many different colors to allow a coded system of organization. Dollar Tree also has large magnetic caddies that can hang on the side of your desk or on filing cabinets to prevent loose documents from cluttering up your desk. Make sure to designate a place for all of your work-related things and use labels so you don't waste time searching for anything.
Save with Dollar Tree Direct
You'll most likely be using most of your budget towards technology, so don't pay a lot for office supplies. Buy the items that you will be using regularly in bulk. Start an account with Dollar Tree Direct, a division created by Dollar Tree to serve the needs of small businesses. You can purchase your supplies in bulk online and have them shipped to the nearest Dollar Tree location for free. You can also sign up to receive e-mails to learn of closeouts and upcoming deals.
What are your tips for setting up an effective home office?