This post brought to you by White Cloud. All opinions are 100% mine.
In the past couple of years, my family has made it a point to live a greener lifestyle. We recycle plastic containers, aluminum cans, glass bottles, and cardboard. We try to buy eco-friendly cleaning products when possible. We save energy by washing our clothes in cold water and by turning off lights and appliances when they are not in use. Could we do more? Of course. We all could. What matters is that we are at least making an effort to help the protect environment.
When it comes to buying products for my home, I try to buy green. I know it's healthier for my family. But sometimes it's just not in the budget. That's why I am so excited to see that White Cloud came out with a new innovative, eco-friendly line of products called GreenEarth.
GreenEarth bath tissue and paper towels are made from 100 percent recycled fibers. Yes, those papers you recycle are being put to good use! Sold exclusively at Walmart, GreenEarth products maintain the highest standards of quality while still remaining affordable. Check out the White Cloud GreenEarth products page to learn more.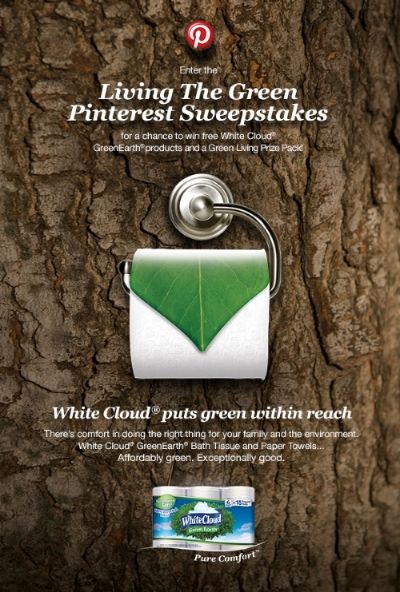 White Cloud wants to give you a chance to share your green living ideas, so they are running a Pin It to Win It "Living the Green" Sweepstakes!
Prizes: 5 winners will receive White Cloud GreenEarth products and a Green Living Prize Pack!
Here's how you can enter:
1. Follow White Cloud Pinterest page
2. Create your own "Living the Green" Pinterest board
3. Repin at least one Pin from the White Cloud "Living the Green" board to your board and include the hashtag #LivingTheGreen in the pin's caption
4. Visit mywhitecloud.com/promotions and complete the sweepstakes entry form
The White Cloud "Living the Green" Pinterest board is full of green living tips and ideas. I encourage you to check it out!
NO PURCHASE NECESSARY. Ends 4/30/13. Click here for Official Rules.
Sweepstakes Rules and Regulations
"Living the Green" doesn't have to mean breaking the bank or sacrificing quality. How do you save money while still living green?