My family recently returned from an amazing trip to the Moon Palace Golf & Spa Resort, an all-inclusive luxury resort in Cancun, Mexico. It was our first time going on a real vacation as a family and the Moon Palace did not disappoint.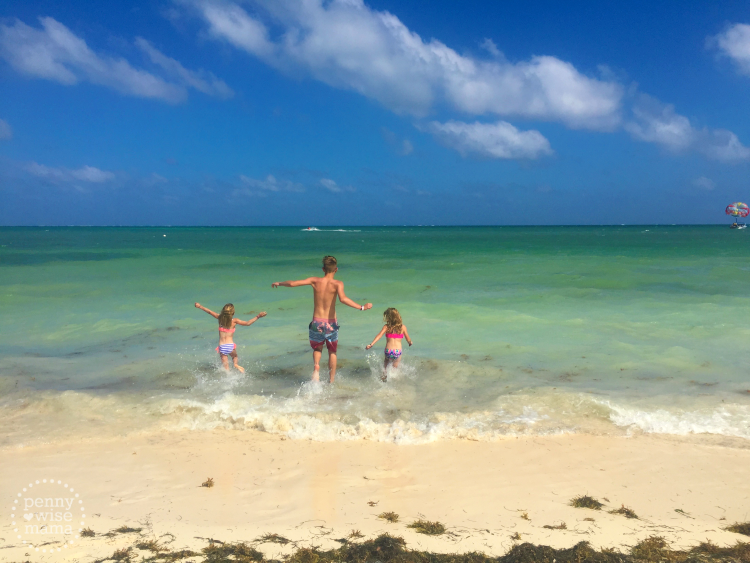 It was the perfect destination for our family of five. We stayed for a total of 6 days and 5 nights and from day one we were so impressed with the immaculate rooms, delicious food, abundance of pools, activities for kids and top-notch service.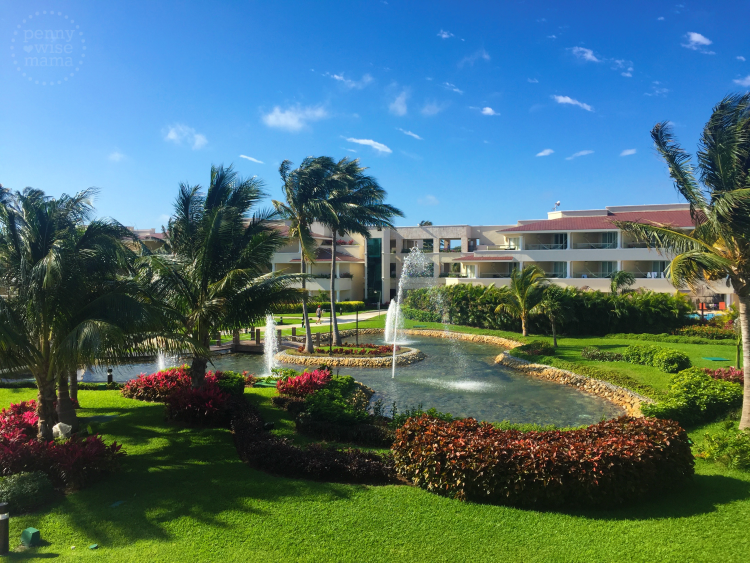 If you're thinking about taking your family on a beach vacation, the Moon Palace is a great place to visit. Ideally located on Cancun's south shore, it's only 10 minutes from the Cancun International Airport and 15 minutes from Cancun Island.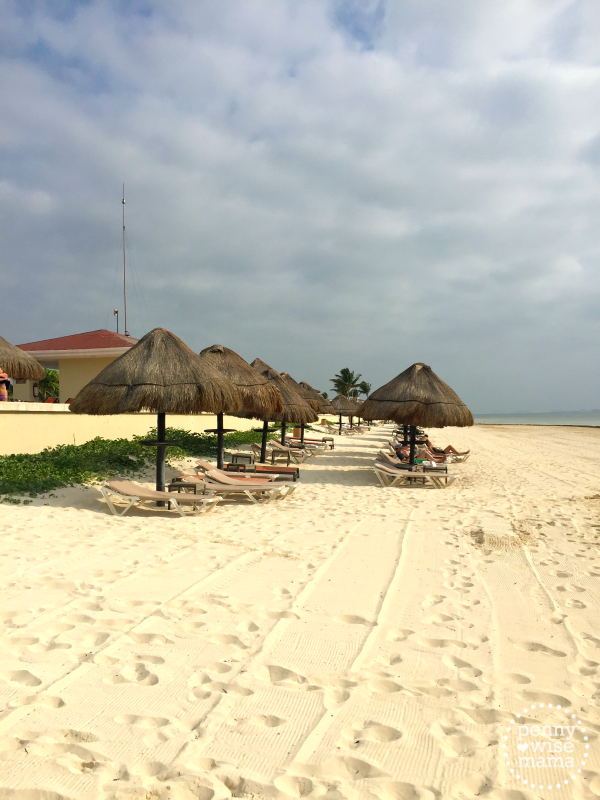 With 123 acres of tropical greenery, nearly 2,000 feet of silky white beach, 2,457 rooms and suites with whirlpool tubs, 17 buffet and a la carte restaurants, a wide variety of bars including swim up bars, two oversized free style pools, one indoor pool, plus six additional pools, six tennis courts, two basketball courts, two fitness centers, miniature golf, the Connection Zone kids club, the Wired teen lounge, Noir night club, and a daily activities program with theme nights, it truly is a luxury resort!
Clean & Well-Maintained
There are so many great things about the Moon Palace, but the one thing that really stands out is how clean the entire resort is. Considering how big it is with three main sections (Sunrise, Nizuc and Moon Grand) and over 2,000 rooms, it's amazing how the staff is able to keep it so clean.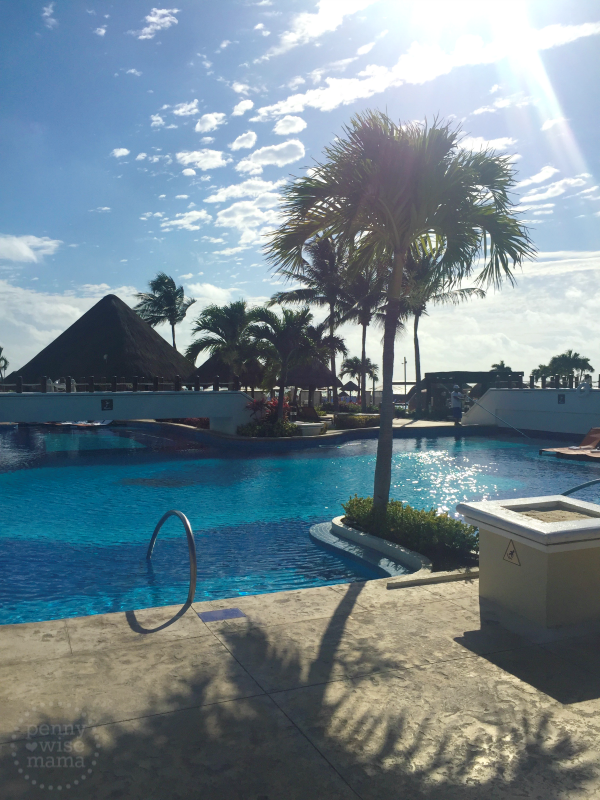 We visited the Moon Palace over Spring Break, so there were more people visiting than normal. Accommodating thousands of people on a daily basis is a huge production and they handled it very well. The staff worked diligently to stay on top of everything.
From the rooms to the pools to the restaurants to the beach, everything was so clean. There were always clean towels, the trash was picked up quickly and the workers constantly mopped up the wet floors and cleaned the stalls of the pool bathrooms. It was quite impressive!
Wide Variety of Delicious Food
We stayed in the Sunrise section, which has a wide variety of restaurants and bars to choose from. There's something for everyone — Asian, Italian, Mexican, Seafood, Steakhouse, Brick Oven Pizza, as well as International Cuisine. We made sure to try every restaurant, and I have to say, everything was awesome!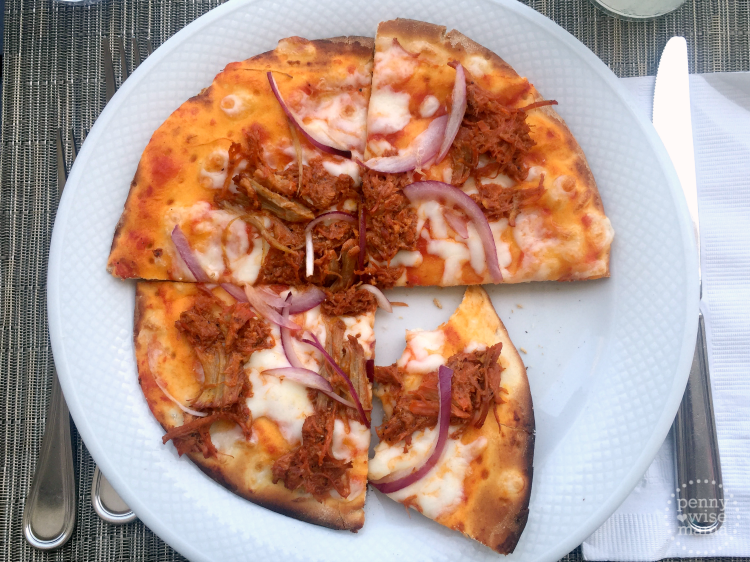 Every day for breakfast the main restaurants have buffets with tons of International food choices. We loved having the chef make us omelettes and the fresh fruit was ripe and delicious.
For lunch they also have full buffets, but you can also order food poolside or pick up a brick oven pizza. Dinner at most of the restaurants is gourmet quality and a la carte, although the Mexican restaurant had a buffet.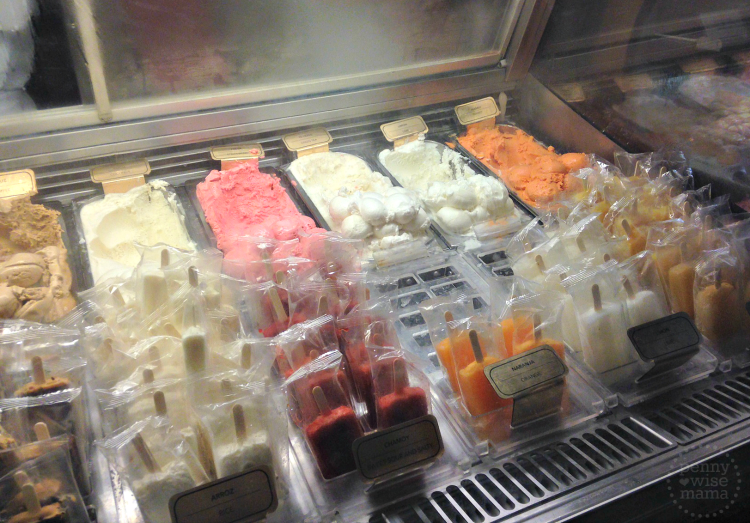 There is also a little cafe that is open 24 hours that offers soft serve ice cream, popsicles, paninis, crepes, salads, wraps, lattes, espressos and these huge chocolate cookies that are to die for. It is a great place to stop for snacks in between meals or for dessert!
We tried every restaurant and while we loved all of them, we liked the Mexican restaurant the best. We definitely ate our fair share, so I'm glad it was all-inclusive! I wish I would have taken more pictures of the food to share with you, but I guess I was too busy eating to think of it!
Besides the food tasting great, another thing to note is the service at the bars and restaurants was fantastic. Unlike other resorts we've stayed at, the wait service is top-notch!
Comfortable, Spacious Rooms
We stayed in a family connections suite, which is essentially two rooms combined. The main room has a king size bed, while the adjoining room has two double beds.
The in-room amenities are awesome. The adults' room has a fridge stocked with soda and beer and there's also a handful of liquor to choose from. The fridge in the kids' room has fun drinks like Jumex, Hershey's chocolate milk and soda.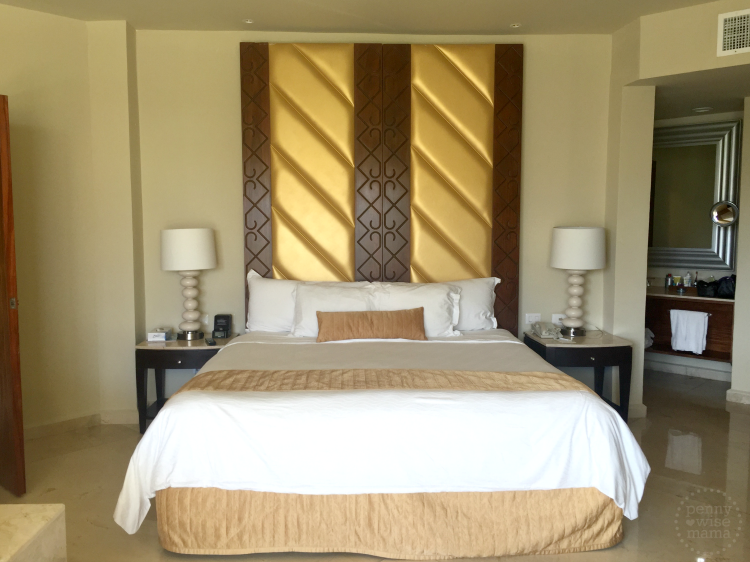 The rooms are clean and decorated nicely. Nothing about them feels cheap! Most importantly, the beds are super comfortable. There's nothing worse than going on a trip and not sleeping well. We slept great from night one!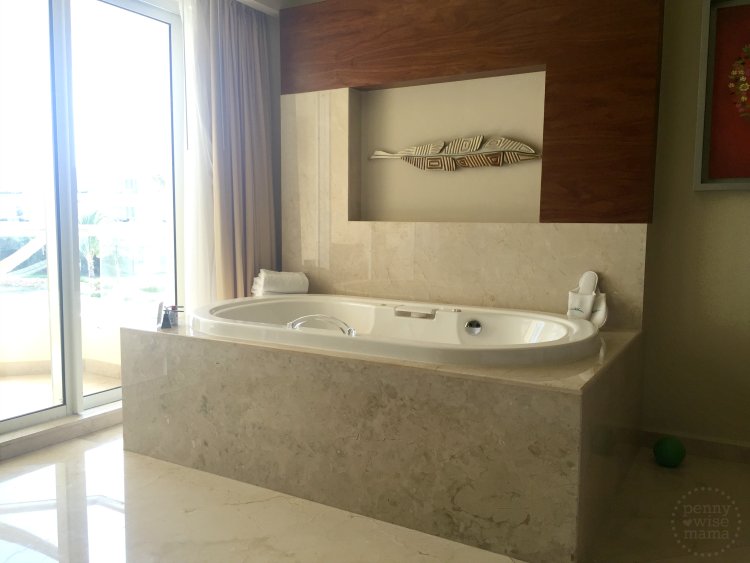 Both rooms have a whirlpool tub, as well as a large shower. I was impressed that our room came stocked with CHI bath products, as well as a CHI blow dryer and flat iron. That was an awesome surprise and really goes in line with the Moon Palace being a luxury resort.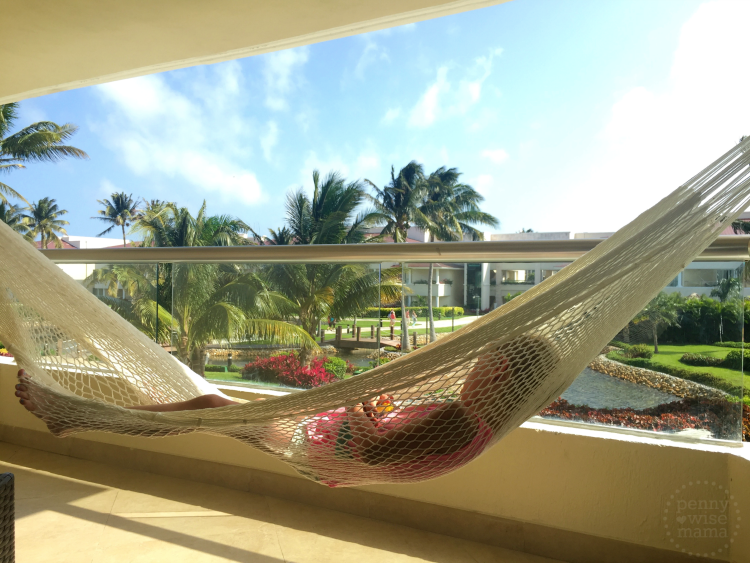 We loved the hammock on our private deck! It was so relaxing!
Another thing to point out is our room was always kept so clean by the housekeepers. They came in twice a day — in the morning to make beds and swap out dirty towels for clean towels and in the evening for turndown service. We never had to worry about having clean towels or sheets!
Fun Activities for the Whole Family
The Moon Palace is a great place to take a family because there is so much to do! The resort is known for its beautiful pools, golf course, spa and nightly shows.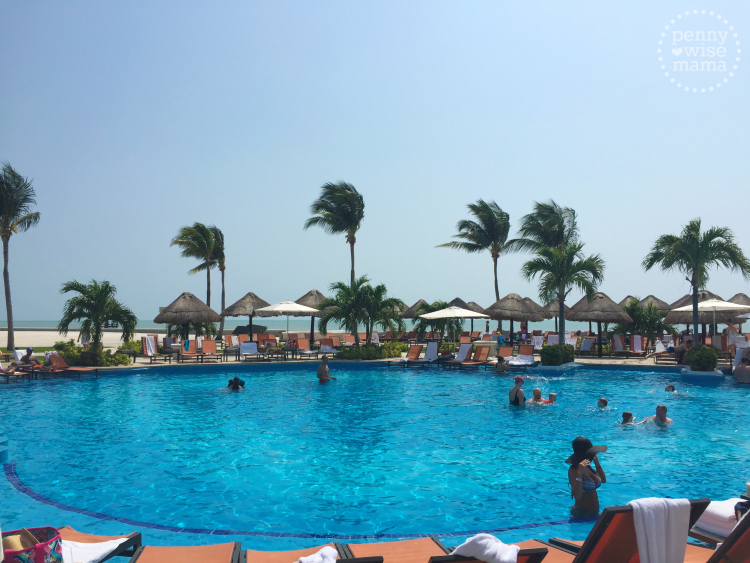 Of course the main thing most people want to do on their vacation is sit by the beach or pool with a drink in hand. This is easy to do at the Moon Palace! My kids love to swim, so they were enthralled by the endless number of pools. There are seven total, but it seems like there are way more than that because they wrap around the bars and connect between sections.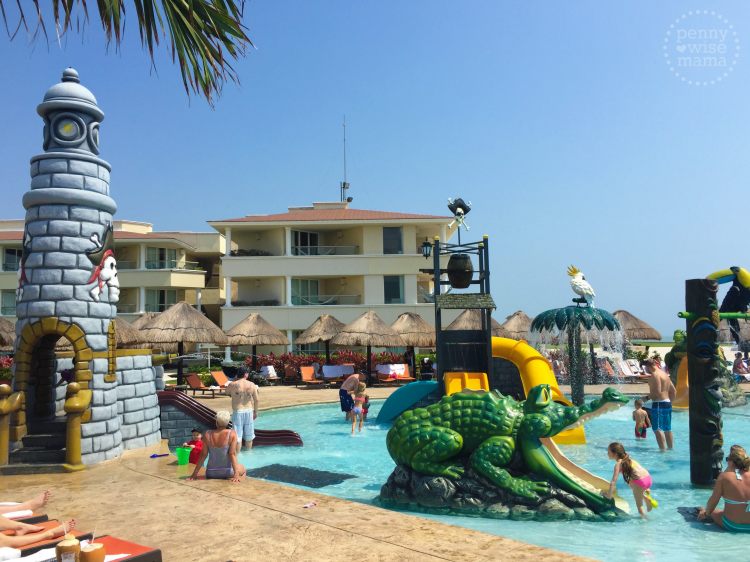 The nice thing is they have pools that are geared more for kids — there's one that has a play area that is perfect for babies and younger kids. My kids loved the pool over in the Nizuc section because it had a big water slide that was really fun. They probably went down it twenty times a day!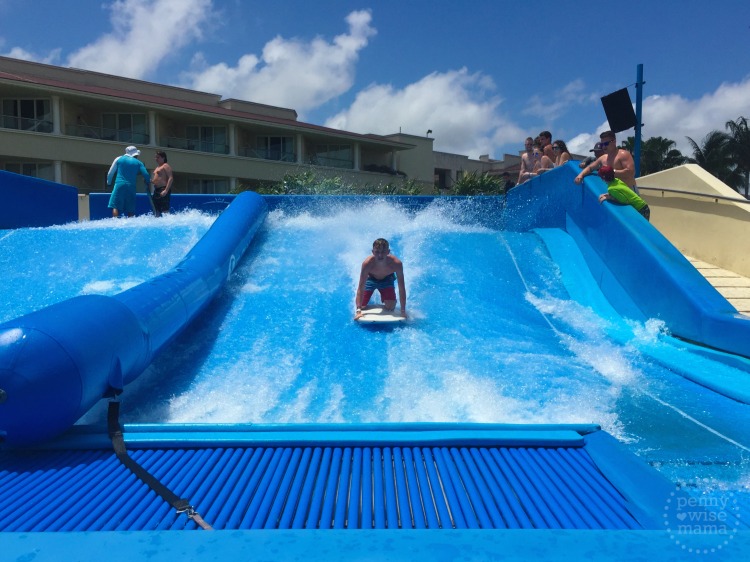 Besides the pool, we spent a lot of time at the FlowRider, a simulated wave machine that provides endless amount of surfing fun. My teenage son and husband had a great time wiping out! We also went to the beach a few times, and if I had it my way, we would have spent a lot more time relaxing there. My twin girls were just too obsessed with the slide!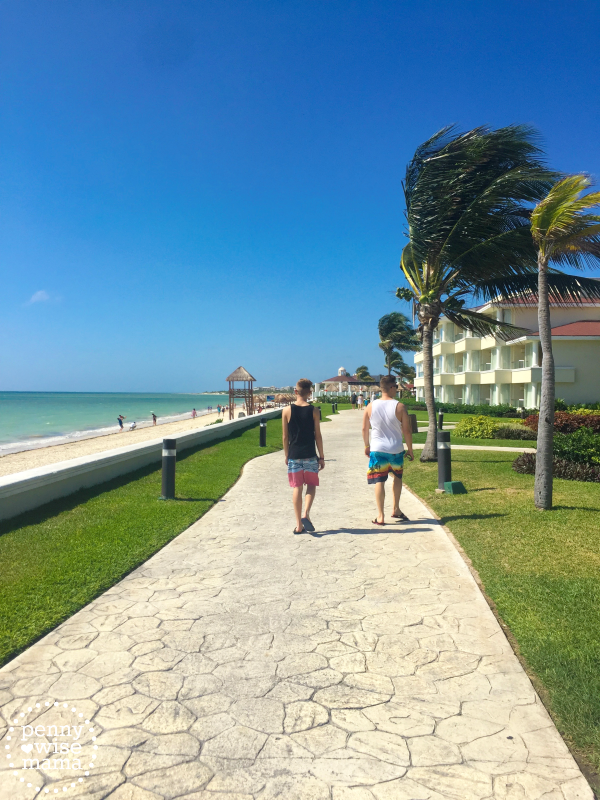 When you want to take a break from the beach or pool, there's a mini golf course, night club, teen lounge, kids playroom and gym. You can even go on a bike ride around the resort, which is really fun and allows you to see the whole resort. The best part is these activities are included with your resort package!
Top-Notch Service
I already touched on this a bit, but I can't stress enough how great the service is. The staff is hardworking, knowledgeable and friendly. Maintaining a resort the size of Moon Palace is no easy feat and they make it look easy. It's a big production each day, between all the food that has to be prepared, towels and sheets to be washed, rooms to be cleaned, pools to be maintained, etc. and they do it very well.
We were so impressed with how smoothly everything went, especially with it being Spring Break. We would love to back again simply because we loved the staff so much!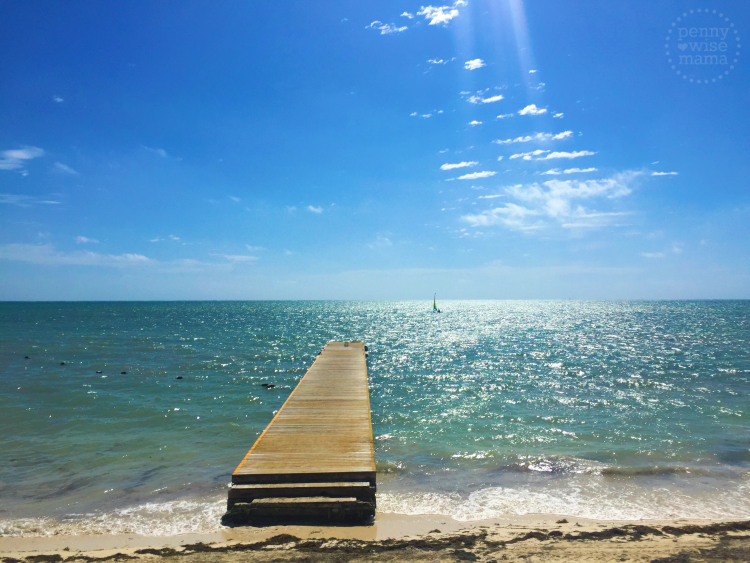 The next time you are planning a family vacation, I highly recommend staying at the Moon Palace. Between the all-inclusive amenities, delicious food, abundance of activities and amazing service, you won't be disappointed. It truly is a one-of-a-kind luxury resort. We can't wait to go back!
Learn more and connect with Palace Resorts on Facebook, Twitter and Instagram.
Have you stayed at the Moon Palace in Cancun?
I partnered with Palace Resorts to bring you this post. All opinions are my own.