Christmas and New Year's Eve are almost upon us, and if you're anything like me, you're busy getting ready for hosting family and friends during one of the most joyous seasons of the year. I've compiled my best tips and tricks for hosting without stressing, and with a bit of planning, shortcuts, and awesome décor, your guests will be poised to have the best celebration ever — and so will you!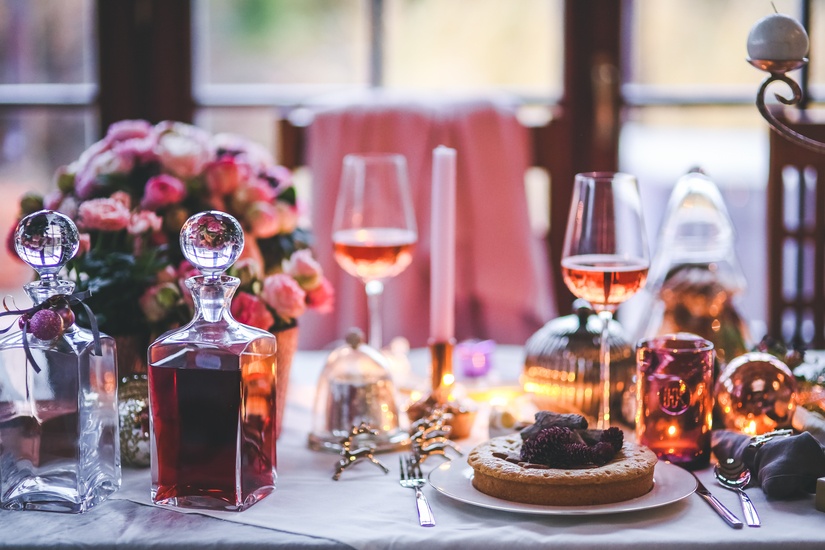 Plan Your Meals Ahead of Time
You can save yourself added stress by planning your menu in the weeks before. This will also help you budget and avoid overspending (or buying those unhealthy non-essentials). Don't wait until the last minute to grab all of your groceries. Head out ahead of time, preferably one or two weeks before and grab all the grocery staples and cleaning supplies you'll need. That way, when it comes time to grab the last-minute, fresh ingredients, you'll have to spend less time in the store.
By planning ahead, you can also make changes and alterations for family members or friends that may have certain dietary restrictions. Whether you have vegetarians in your ranks or dairy-free friends, foresight can make the holiday table a welcoming and delicious place for everyone you love.
Don't feel like you have to get stuck in the rut of serving the staples. As host, you can easily change some of the traditions and invent your own. Whether you switch out the prime rib for a deep-fried turkey, or shirk the plain old green bean casserole for a Brussels sprouts dish you've been dying to try, your guests will enjoy themselves no matter what — and you never know what might become a new favorite for future celebrations.
Décor Duty
Everyone wants their house to look like a winter wonderland before Christmas Eve, but finding the time to dress the house in garland, trim the tree and hang the stockings can be more difficult than expected. To make it easier on yourself, order some festive Christmas flowers as a centerpiece and make your holiday table pop with no effort at all. If you're one of those last-minute planners (don't worry, we all do it), you can even get same-day delivery — talk about a décor lifesaver!
An Extraordinary Prepper
Whatever you can make or do ahead of time, do. If it's cookies, bake them and freeze them. Potatoes? Peel them and have them ready to throw in the pot when the big day comes. This preparation goes beyond the kitchen. If you have guests coming to stay overnight, wash all the sheets and make sure the beds are made in the guest rooms. Have entertainment prepared for your guests, including board games, videos for the little ones, and outdoor games if applicable. If you're providing alcohol at the party, consider buying in bulk from BevMo! beforehand to avoid having to run out to fetch champagne for the honorary toast.
Outsource Your Cleaning
Unless you're a superhero, cleaning, cooking and entertaining guests all at the same time is impossible. Take away one of these tasks in a jiffy by hiring a cleaning service to come both the week before for a deep home cleaning, and a day before for a quick sprucing. The small investment will save you tons of time and your home will look spick and span to even the most discerning relative's eye.
Make Home a Haven
Winter holidays mean chilly weather, so do what you can to make sure your guests feel as comfortable as possible when entertaining. If you don't have a fireplace and want to bring an injection of heat back to the room — along with some living room eye candy — consider an electric fireplace. Lightweight, portable options mean you can move your fireplace from the living room to guest room for constant comfort for your loved ones, and it can provide the perfect glow for those late night family chats. Another inexpensive way to make your home cozier is to throw blankets over the backs of chairs and couches, inviting your family to curl up and get comfy away from the harsh winds of the outdoors.
What are some of your stress-free holiday entertaining tips?