Now that the new year is underway, it's the perfect time to reflect on your relationships, challenges and special achievements. It's also a great time to make resolutions and set goals for areas you want to improve. I see so many resolutions related to eating healthy and exercising (both are super important, don't get me wrong), but what about improving your financial health?
According to a new survey by Capital One Bank, only 34 percent of Americans feel they accomplished some of their financial goals in 2015 — leaving room for improvement in 2016! Before the year slips away, I encourage you to sit down and reevaluate your finances. Decide what needs to change and set goals for the year such as paying off debt, creating an emergency fund, setting up a savings account and planning for retirement.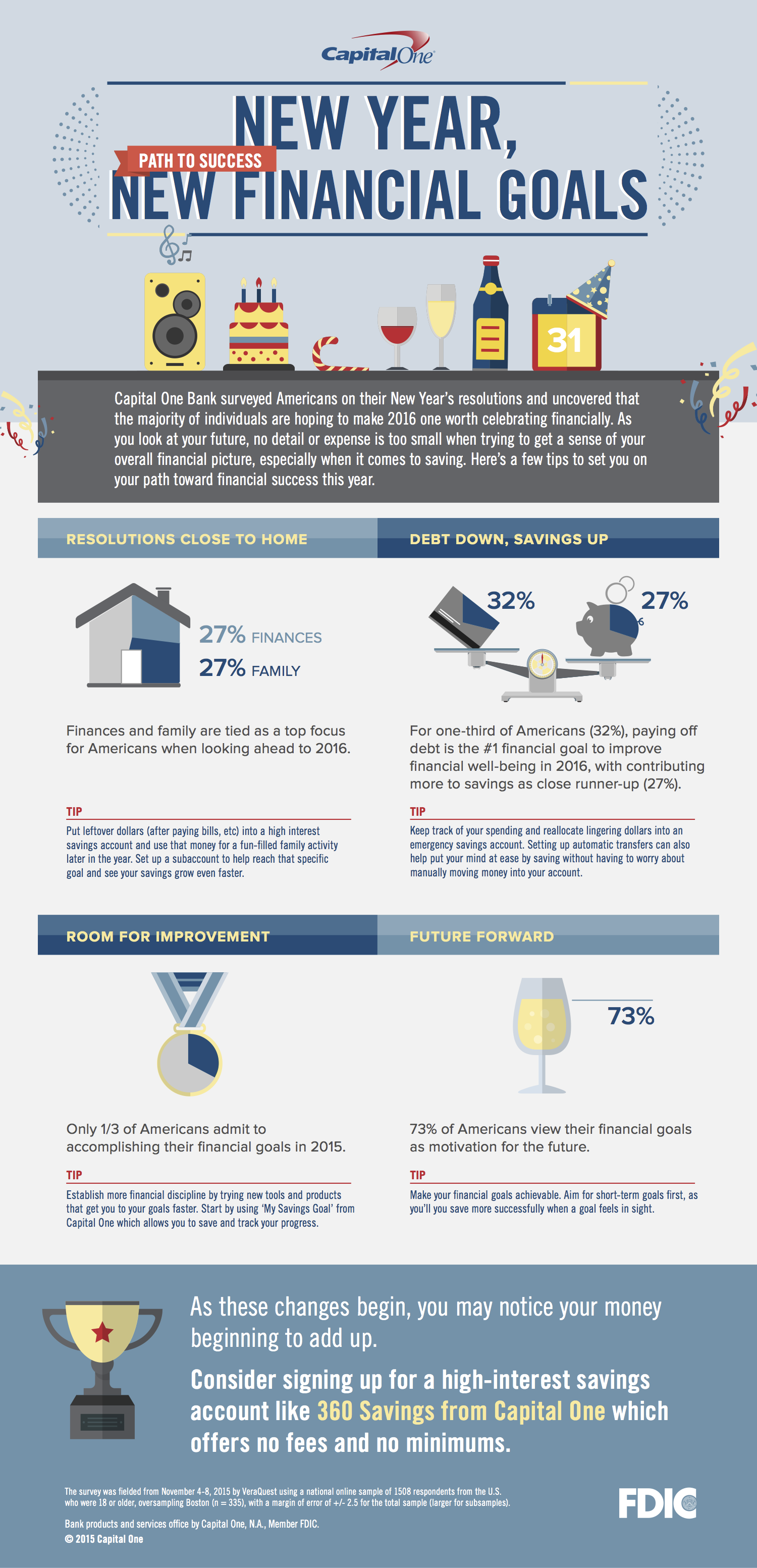 Further stats from the Capital One New Year's Resolutions survey reveal:
Finances and family are the top focus, and of equal importance, for Americans when looking ahead to 2016.
For nearly one-third of Americans, paying off debt is the number one financial goal to improve their financial well-being in 2016, with growing savings as a close second.
The majority of Americans (73 percent) view their financial goals as motivation for the future.
Only one third of Americans feel they accomplished some of their financial goals in 2015, and approximately 20 percent of Americans feel they accomplished none of the financial goals they set in 2015.
Over a third of Americans view a monthly tracker of progress toward financial goals as the most helpful digital tool for achieving their financial goals.
Capital One can help you reach your financial goals in 2016! Consider signing up for a high-interest savings account like 360 Savings from Capital One which offers no fees and no minimums!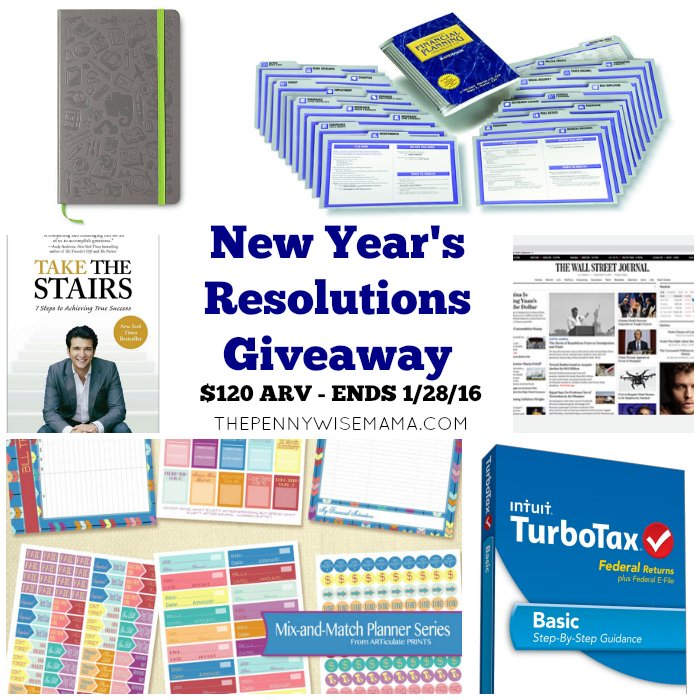 6 Tools to Help You Stick to Your New Year's Resolutions
To help you reach your 2016 New Year's resolutions, I've teamed up Capital One Bank to to give away a New Year's Resolutions Starter Kit. From fun and organizational calendars to digital news subscriptions, the kit will include the following helpful tools to help you reach your resolutions in 2016:
1. Increase Creativity: Carry the portable Evernote 2016 Notebook to jot down ideas on the fly.
2. Focus on Self-Improvement: Inspire yourself to take effective action and achieve true success with a great read: Take the Stairs: 7 Steps to Achieving True Success.
3. Learn to Plan Ahead: Plan your finances with the help of the Financial Goal Calendar, colored pens and bright sticky notes.
4. Get In the Know: Stay up to date on business and finance with a Digital Wall Street Journal Subscription.
5. Make it a Family Affair: Use smart organization strategies to build a financial plan and stick to it in 2016 and beyond with the Home Financial Planning Organizer Kit.
6. Tax Time Checkup: Leverage tools to search for tax breaks and step-by-step guidance come tax time with TurboTax Basic.
The giveaway prize pack has an approximate retail value of $120 and will include:
An Evernote Moleskin Notebook
Take The Stairs: 7 Steps To Achieving True Success
A Financial Goal Calendar, Colored Pens & Bright Sticky Notes
A Free One-Year Subscription to the Wall Street Journal
A Home Financial Organizer Kit
TurboTax Basic
Simply use the Rafflecopter form below to enter to win this awesome prize pack! Enter daily for more chances to win. Giveaway ends on 1/28 at 11:59 PM MST. Open to US residents, 18+. Good luck!
I partnered with Capital One Bank to bring you this giveaway. All opinions are my own.