For the past year I have been obsessed with smoothies. I have my Peanut Butter Oats & Banana Smoothie every morning for breakfast. I just can't seem to get away from it. It's so yummy and I love the energy that it gives me before my workout. I've tried quite a few other combinations and this is my go-to for breakfast. I have been wanting to find a good post-workout recipe as well and have heard lots of great things about green smoothies. Not only are they a great source of vitamins and minerals, they are great for boosting energy. I finally had the chance to make one the other day and it was so delicious! I can't believe I didn't make one sooner!
I was hesitant to make a green smoothie, considering all the fruit and veggies involved. I wasn't sure if I would like it and I wasn't sure how my blender would handle it. I know many people choose to juice their fruits and veggies versus blend them into a smoothie, but I decided to create a smoothie for a couple of reasons — one, I don't have a juicer (that makes it an easy decision) and two, I have read that by creating a smoothie you don't lose any of the nutritional value that you would if you were to juice and remove all the pulp.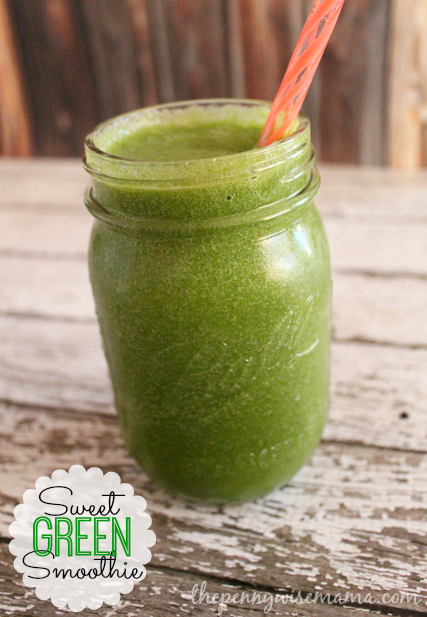 There are tons of green smoothie recipes out there to choose from, but I think you will like this combination that I came up with. It is deliciously refreshing, naturally sweet, and provides long-lasting energy. If you hate vegetables, this is a great way to sneak them into your diet and not even notice! My kids absolutely love this recipe and beg me to make it for an afternoon snack.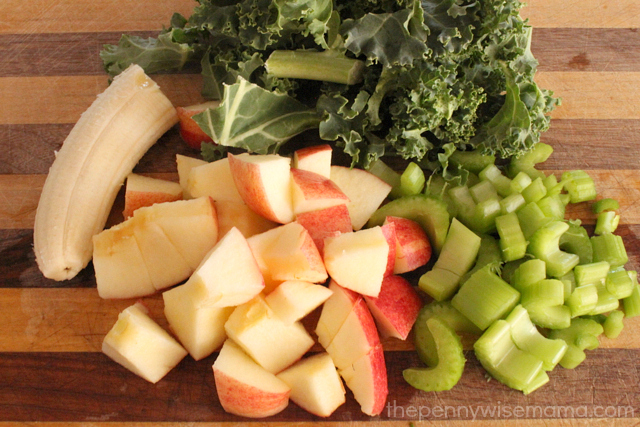 All you need to make this recipe is about two cups of kale, an apple (I recommend gala or another sweet variety), half a banana, one celery stalk, and half a cup of apple juice. Start by washing and cutting up all the fruit and veggies. Then combine them in a blender with the apple juice and one cup of ice. I recommend putting the apple and celery on the bottom and the ice on top. It seems to blend more easily that way.
Once blended to a smooth consistency, pour into your favorite glass and enjoy!


Try out this recipe and then come back and let me know what you think!
This post may contain affiliate links. As an Amazon Associate, I earn from qualifying purchases. Read my full disclosure here.