Last month I shared about the CHILDREN'S HOSPITAL COLORADO "Just Ask Children's" program. If you missed my post, I highlighted how each month Just Ask Children's focuses on a specific children's topic and hosts a live chat to answer parents' questions. I also shared some excellent tips for keeping your kids happy and healthy over the holidays from the pediatric experts at Children's.
This month the "Just Ask Children's" topic is Babies 101. Whether you are a new or seasoned parent, I encourage you to join the live chat on 12/16, especially if you have or will be expecting a new baby. In the meantime, take a look at these helpful tips for caring for a baby from the experts at CHILDREN'S HOSPITAL COLORADO.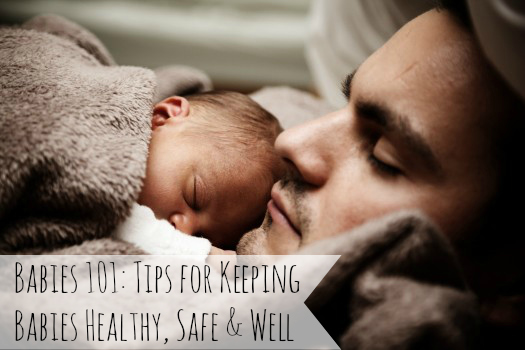 Babies 101: Tips for Keeping Babies Healthy, Safe & Well
Here some essential tips for Infant Sleep Safety we want to share:
Babies should sleep alone in a bed made for babies, not with another child or an adult (known as "bed sharing").
Keep your baby safe in a bassinet at arm's reach and at bed level, not in your bed. This is a safe alternative to bed sharing.
Babies should always sleep on their back.
Use a onesie or sleep sack instead of a blanket to prevent head covering and overheating
Propping babies on pillows is high risk; lay them flat on the back.
Do not use sleep positioners, pillows, crib-bumpers, or blankets in a baby crib.
Consider using a pacifier, these are protective.
Provide a smoke-free environment.
How to calm a crying baby:
Babies cry, sometimes a lot. Not only is it normal, it's healthy. As frustrating or overwhelming as that crying may be, shaking a baby is never an option. Shaken Baby Syndrome (SBS) is a leading cause of trauma death for children under the age of two in Colorado. So when your baby cries, you need a plan and resources.
Comforting a crying baby at night by patting, rocking, and quietly reassuring them to let them know that you are there are helpful strategies for getting babies to go back to sleep on their own. Some people find it helpful to allow them to stay in their crib safely instead of getting them up. Other helpful things include using a "lovey" or special item that calms her down during the day to soothe her.
For tips on how to calm a crying baby, visit calmacryingbaby.org.
Sleep issues:
Set up a quiet routine for bedtime and be consistent.
Put your baby to bed when drowsy but still awake to help him or her learn to fall asleep on her own.
Wait a few minutes before responding to your baby's fussing to see if he/she can fall back to sleep on his/her own.
For older children, according to the Centers for Disease Control and Prevention, elementary school-age kids need 10 to 11 hours of sleep and kids ages 10 to 17 need 8.5 to 9.25 hours daily.
Children using or watching electronics should turn them off at least one hour before bedtime.
Lactation/Breastfeeding:
The American Academy of Pediatrics (AAP) reaffirms its recommendation of exclusive breastfeeding for about the first six months of a baby's life, followed by breastfeeding in combination with the introduction of complementary foods until at least 12 months of age, and continuation of breastfeeding for as long as mutually desired by mother and baby. This recommendation is supported by the health outcomes of exclusively breastfed infants and infants who never or only partially breastfed.
Breastfeeding provides a protective effect against respiratory illnesses, ear infections, gastrointestinal diseases, and allergies including asthma, eczema and atopic dermatitis. The rate of sudden infant death syndrome (SIDS) is reduced by over a third in breastfed babies, and there is a 15 percent to 30% reduction in adolescent and adult obesity in breastfed vs. non-breastfed infants.
According to the CDC, one of the most highly effective preventive measures a mother can take to protect the health of her infant is to breastfeed.
Guidelines for safe storage:

Wash your hands before expressing or handling your milk.
Use only clean containers to store expressed milk. Use collection containers specific for the purpose of storing human milk. Don't use ordinary plastic bags or formula bottle bags for storing milk.
Freshly expressed milk can remain at room temperature for up to 4 hours.
Use refrigerated milk within 48 hours.
Freeze milk if you will not be using it within 24 hours. Frozen milk is good for at least 3 months.
Vaccines:
The flu shot is approved for children 6 months of age and older, including healthy people and people with chronic medical conditions. Parents with babies younger than 6 months of age should ensure everyone who cares for and lives with your baby has had the flu shot.
Whooping cough is one of the most commonly occurring vaccine-preventable diseases in the United States. We can protect infants by continuing to vaccinate them and everyone around them.
The hepatitis B vaccine is recommended for all infants and children. The vaccine preparations available in the U.S. contain a purified part of the virus protein. It cannot cause infection and is very safe.
Vaccines are safe and effective at preventing several infectious diseases when the recommended vaccine schedule is followed
Vaccines save lives and prevent the spread of disease
Not immunizing children puts them at risk to catch a disease that is dangerous or deadly and also puts others in contact with that child at risk. Getting vaccinated is much better than getting the disease.
The vaccination schedule is evaluated each year based on the most recent scientific data available and is approved by the American Academy of Pediatrics, the Centers for Disease Control and Prevention, and the American Academy of Family Physicians

CHILDREN'S HOSPITAL COLORADO is the leader in pediatric expertise. Their experts know that kids are medically and emotionally different from adults and can offer tips for keeping kids healthy, safe and well. Visit the JUST ASK CHILDREN'S TUMBLR PAGE next Tuesday, December 16 from 9 am to 4 pm MST, where their experts will be chatting live and answering all of your baby related questions.
Follow Children's Hospital Colorado
Twitter: @CHILDRENSCOLO
Facebook: HTTPS://WWW.FACEBOOK.COM/CHILDRENSHOSPITALCOLORADO
What are your tips for keeping babies healthy, safe and well?
This is a sponsored conversation written by me on behalf of Children's Hospital Colorado. The opinions and text are all mine.