I received a variety of Brew Over Ice products to help me conduct my review. All opinions and photos are my own.
Coffee is one my most favorite things. I have to have it every morning. It wakes me up and helps me start my day. And thanks to my Keurig brewer, I don't have to wait long for the perfect cup of coffee when I am half asleep. I've been using my Keurig for almost a year now and I can't imagine life without it! It's so easy to use and I love all the varieties of K-Cups there are to choose from. I always have a wide selection of coffee and tea on hand, so I can pick and choose what I want depending on my mood!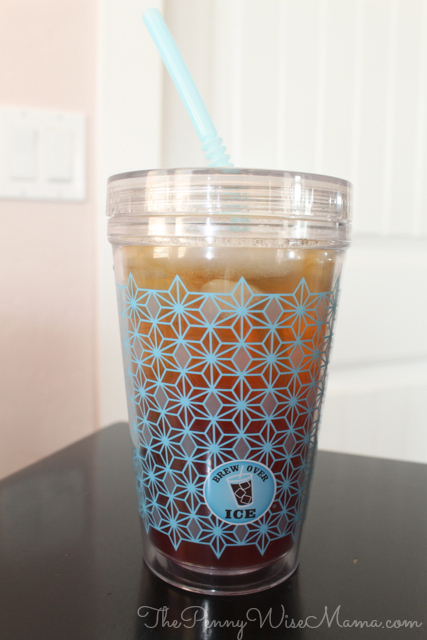 I've tried a lot of different K-Cups in the past year and I have to say that I've really never been disappointed! There's just something about the Keurig — it brews the perfect cup every time. Most days I have hot coffee, but there have been quite a few days this summer where I have had to grab a Brew Over Ice iced coffee or iced tea K-Cup because it is too hot outside to drink hot coffee.
I recently had the opportunity to review a Brew Over Ice Party Pack. It came with a Donut Shop Sweet & Creamy Regular Iced Coffee K-Cup and it was so yummy! If you like iced coffee from the coffee shop, this tastes very similar! The key is to make sure you have a nice plastic tumbler, like the one I received from Brew Over Ice, and lots of ice. If you don't have enough ice, the coffee isn't very cold and gets watered down easily.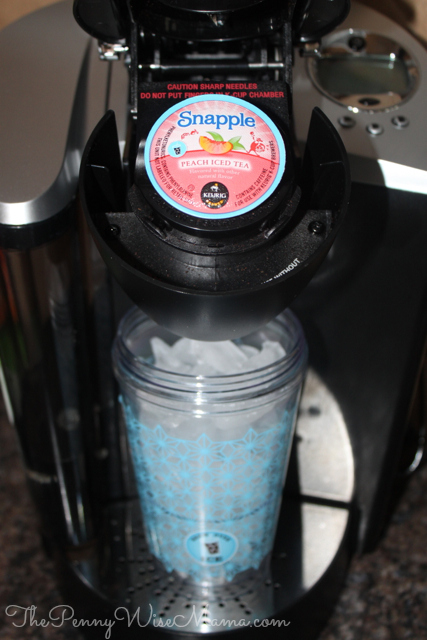 I also had the chance to try a Brew Over Ice Snapple Peach Tea K-Cup and WOW! If you like Snapple as much as I do, you will love the Snapple K-Cup varieties. They taste just like Snapple! Plus, it's so nice to have the convenience to make them at home or work whenever you want. I especially like to make them in the afternoon when I need a little pick-me-up.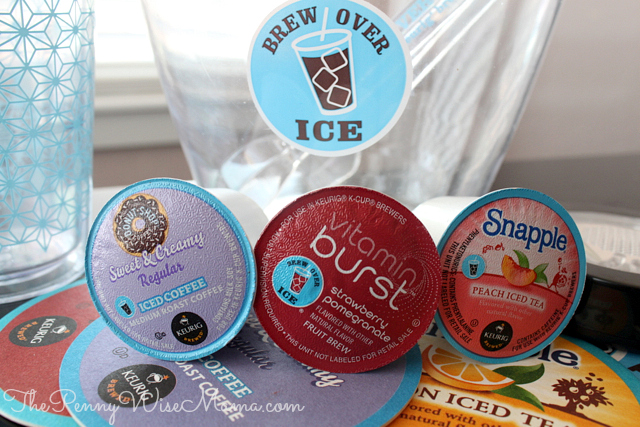 Most days I prefer to have a K-cup with caffeine in it, but there are times when I don't want it, like late in the afternoon. Brew Over Ice Vitamin Burst K-Cups are the perfect option for those times! The strawberry pomegranate is delicious! I haven't tried any of the other varieties, but I am a huge strawberry and pomegranate fan. Not only is the Vitamin Burst caffeine free, it is also high in antioxidant vitamin C and naturally sweetened, containing no artificial colors or flavors.
If you haven't already, I would highly recommend trying Brew Over Ice K-Cups. They are convenient, easy to use, and taste great!
Want to try Brew Over Ice varieties? Print your coupon to save $2 off any Brew Over Ice product! 
Connect With Brew Over Ice
Like Brew Over Ice on Facebook
Follow @brewoverice on Twitter
Enter the Brew Over Ice Sweepstakes for your chance to WIN $10,000!
Brew Over Ice Party Pack Giveaway
One lucky PennyWiseMama reader is going to win a Brew Over Ice Party Pack (like the one pictured above) that contains:
3 Brew Over Ice K-Cup® samples to help you find your favorite icy brew
1 Brew Over Ice tumbler
4 Brew Over Ice coasters
1 Brew Over Ice light-up ice bucket with ice tongs to help keep those cold drinks a-brewin'
To enter, simply use the Rafflecopter form below. Giveaway ends on 9/10 at 11:59 PM EST. Open to U.S. residents only. Must be 18+ to enter. Good luck!