Our living room and kitchen has a whole new look, thanks to Select Surfaces! We recently partnered with the flooring company to install beautiful laminate flooring throughout our main living area. We couldn't be more pleased with the outcome and can't wait to share about it with you. Read on to learn more about our experience!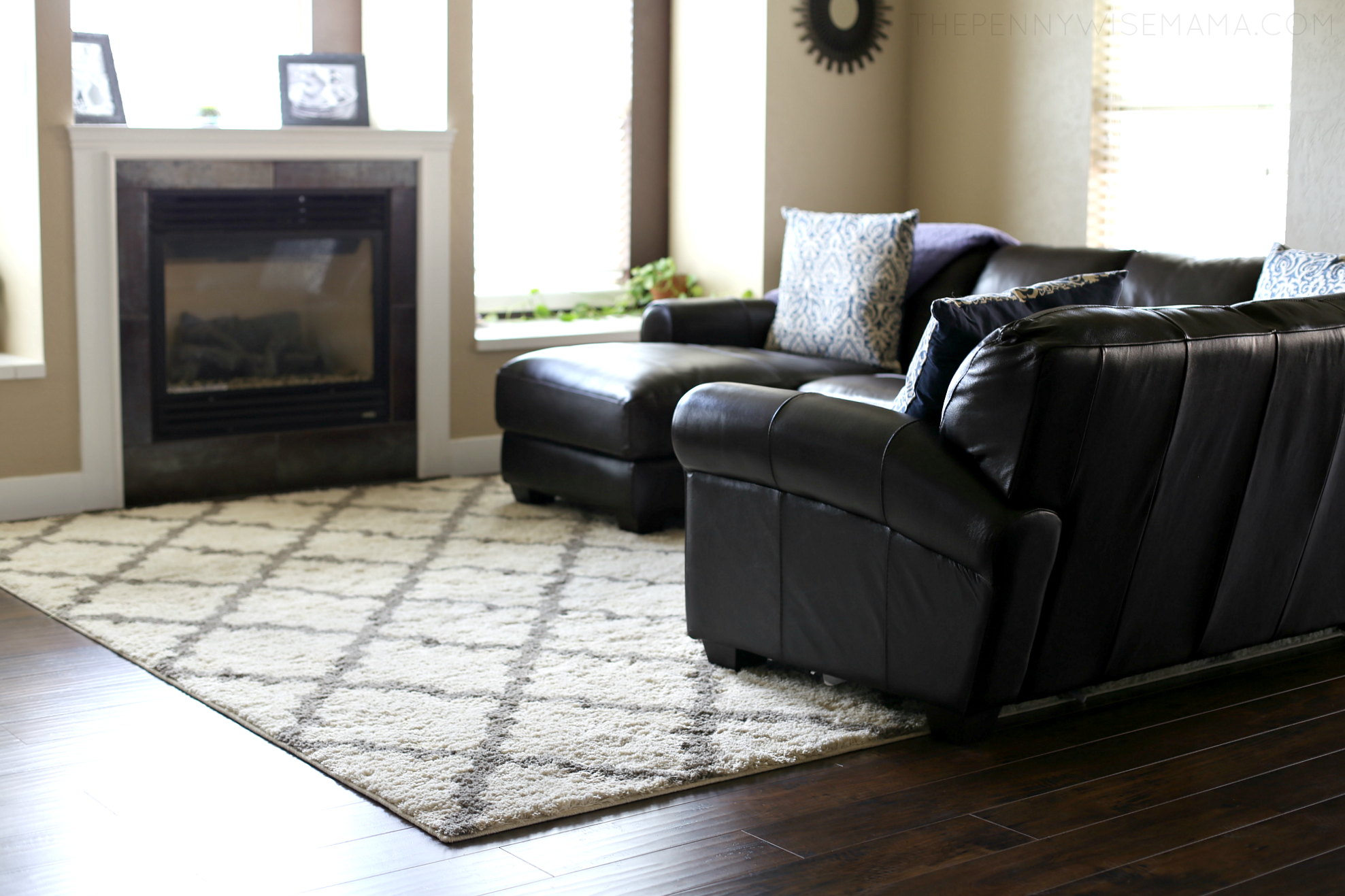 After five years of wear and tear, we decided that it was finally time to update the flooring in our main living area. Our kitchen, dining room and front entryway were finished with solid hardwood floors, while our living room and traffic areas between rooms were carpet. Both surfaces were due for attention. The carpet was worn down and only looked good right after vacuuming. The hardwood floors were starting to show wear and were in need of being refinished.
Here's what they looked like: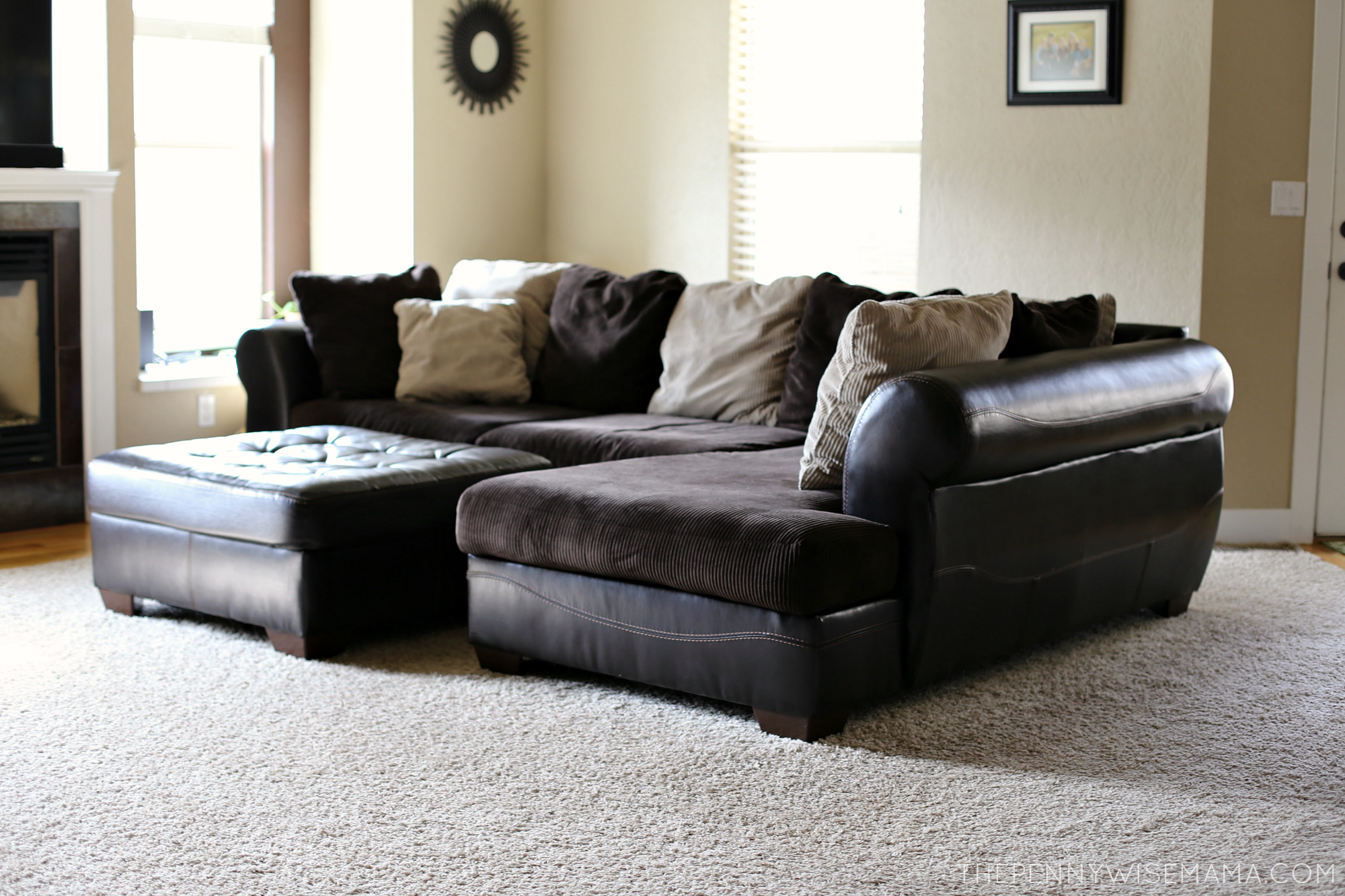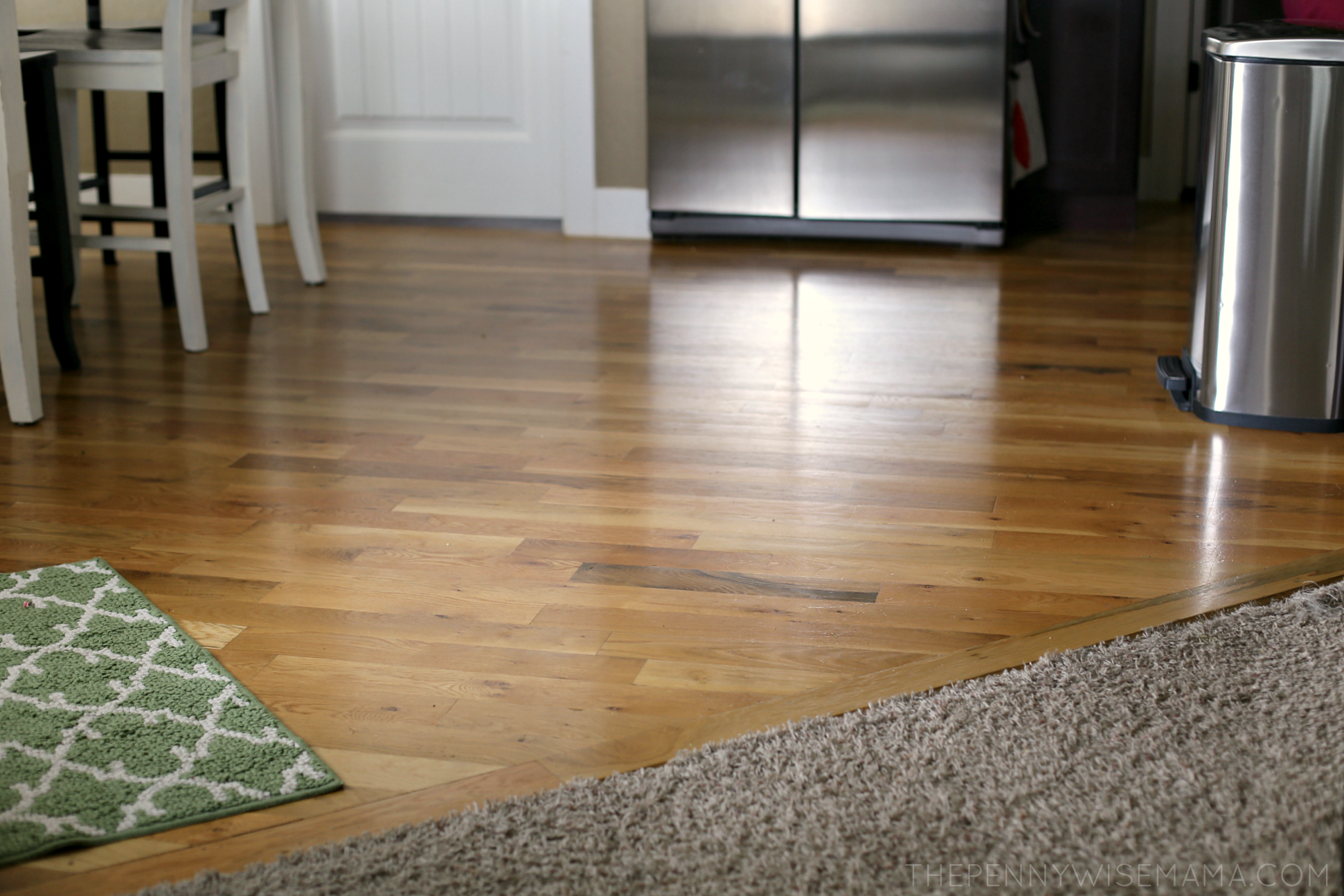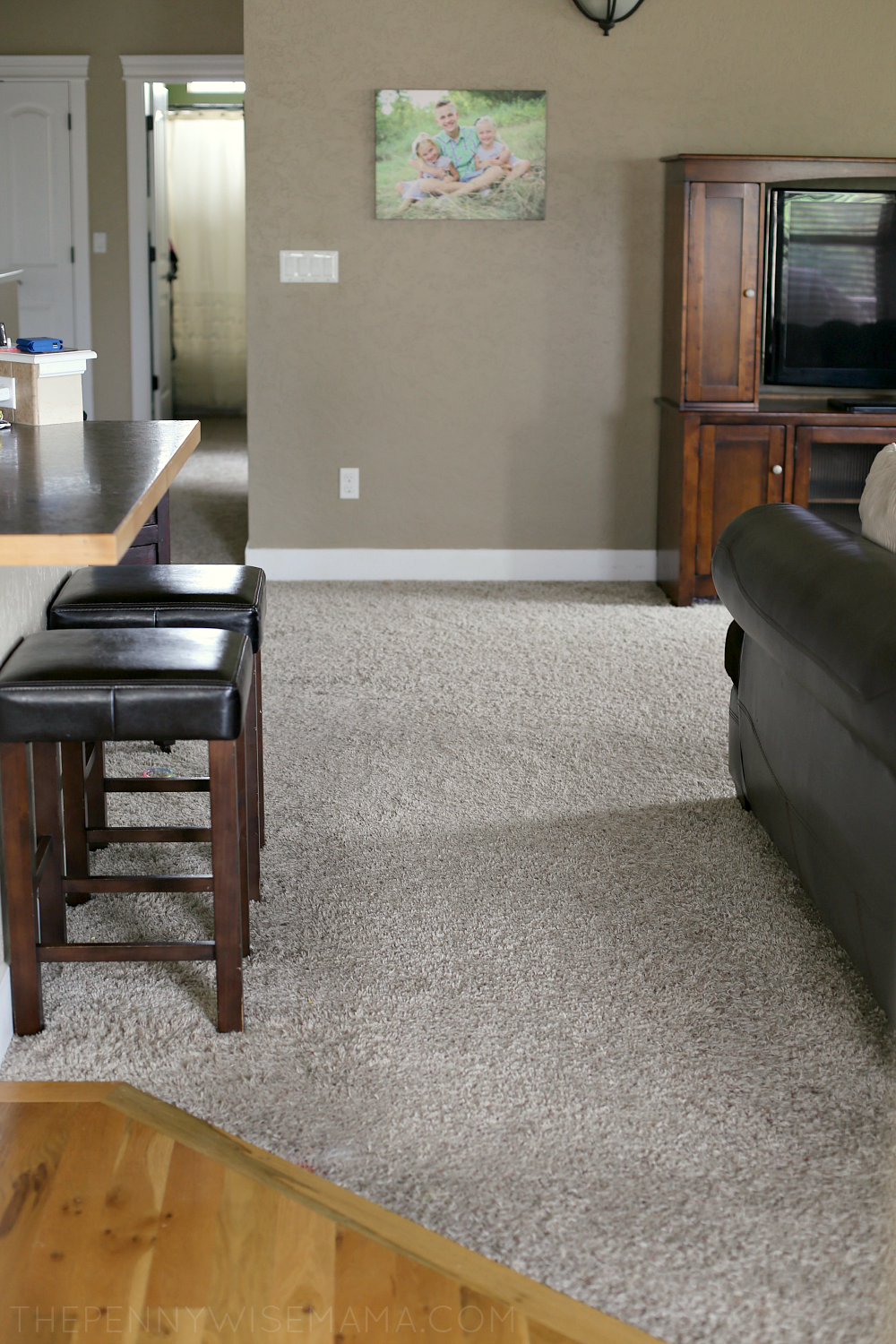 Ewww. Our carpet was so bad!
We were faced with a tough decision — keep our costs low by simply replacing the carpet and refinishing the hardwood floors OR dig deep into our pockets and spend $4,000 to have our current hardwood floors refinished and extended into the living room and hallway? Ultimately, we decided to do neither.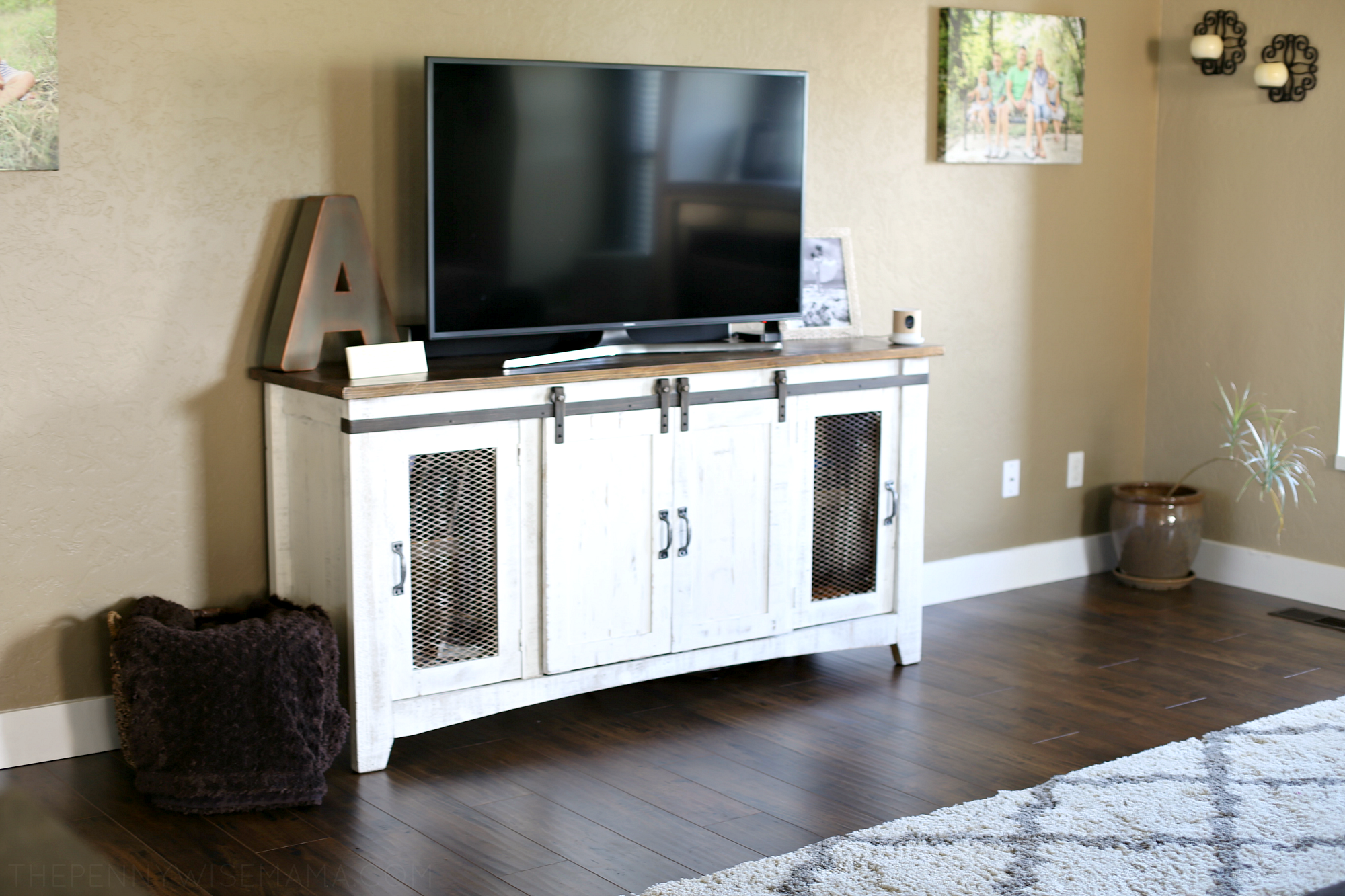 The more and more time we spent researching options, the more we noticed a common theme. Builders and fellow DIYers were choosing laminate flooring. Why? Because it looks like real hardwood, but without the cost. On top of that, it's durable and easy to maintain.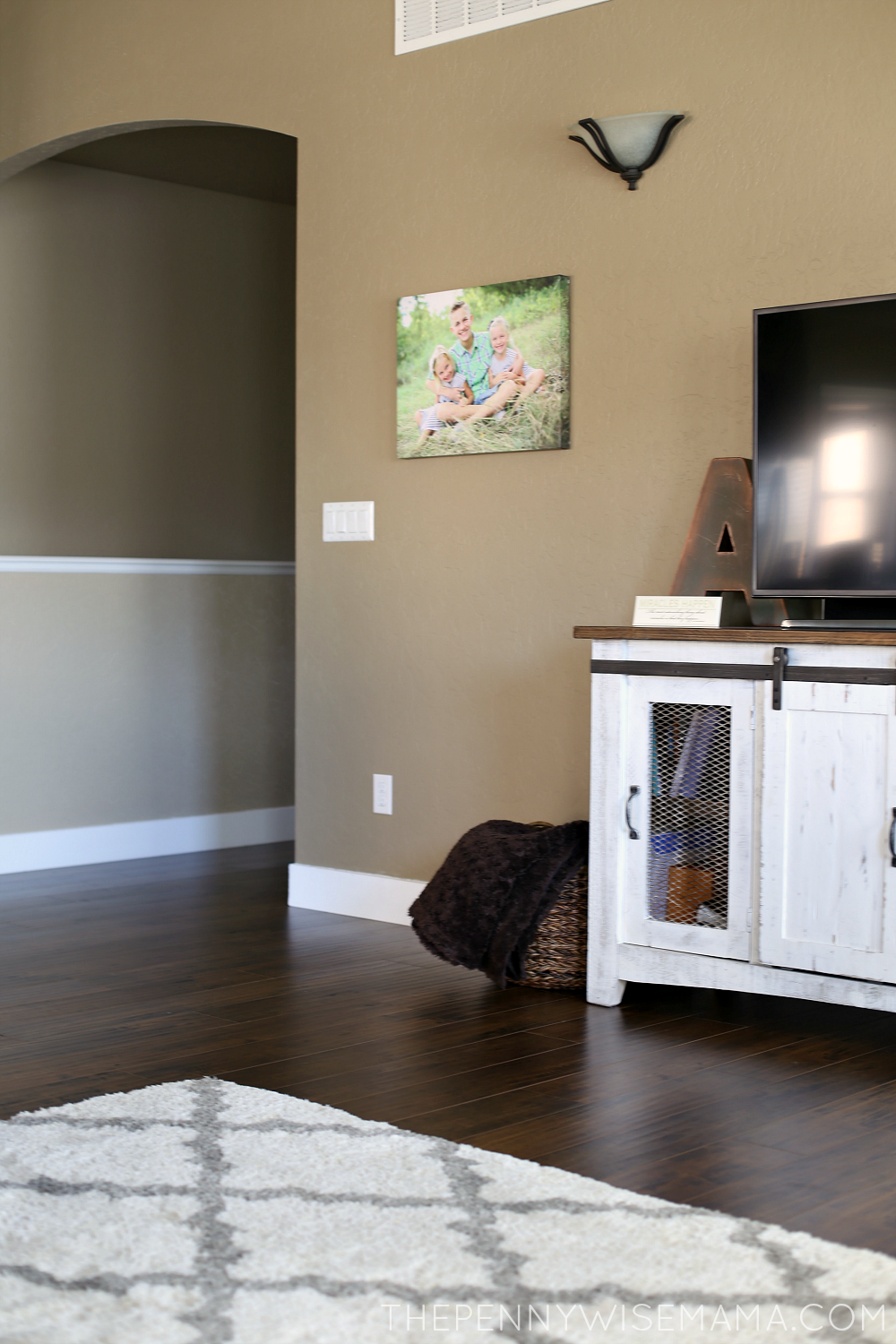 We were skeptical at first, but after discovering Select Surfaces laminate flooring at Sam's Club, we knew it was the way to go. Unlike other laminate flooring we looked at, Select Surfaces' laminate is extra thick (14.3 mm) and comes with an attached foam backer.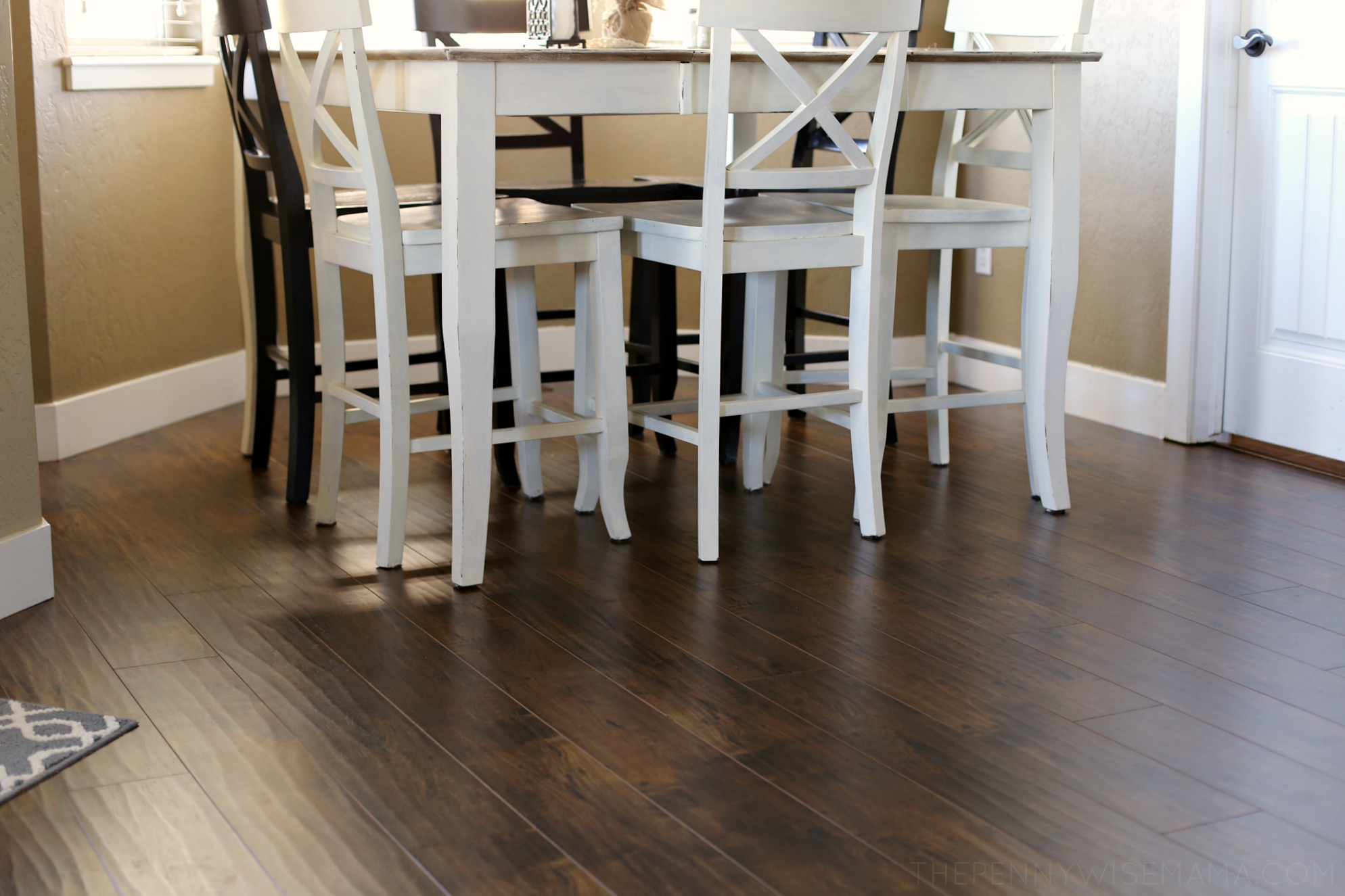 We fell in love with the rich Cocoa Walnut (now called Mocha Walnut), a dark brown color that features a hand-scraped finish and a realistic wood-grain texture. At $1.74 per square foot, we found the price to be unbeatable for the quality, and best of all, it passed the scratch test!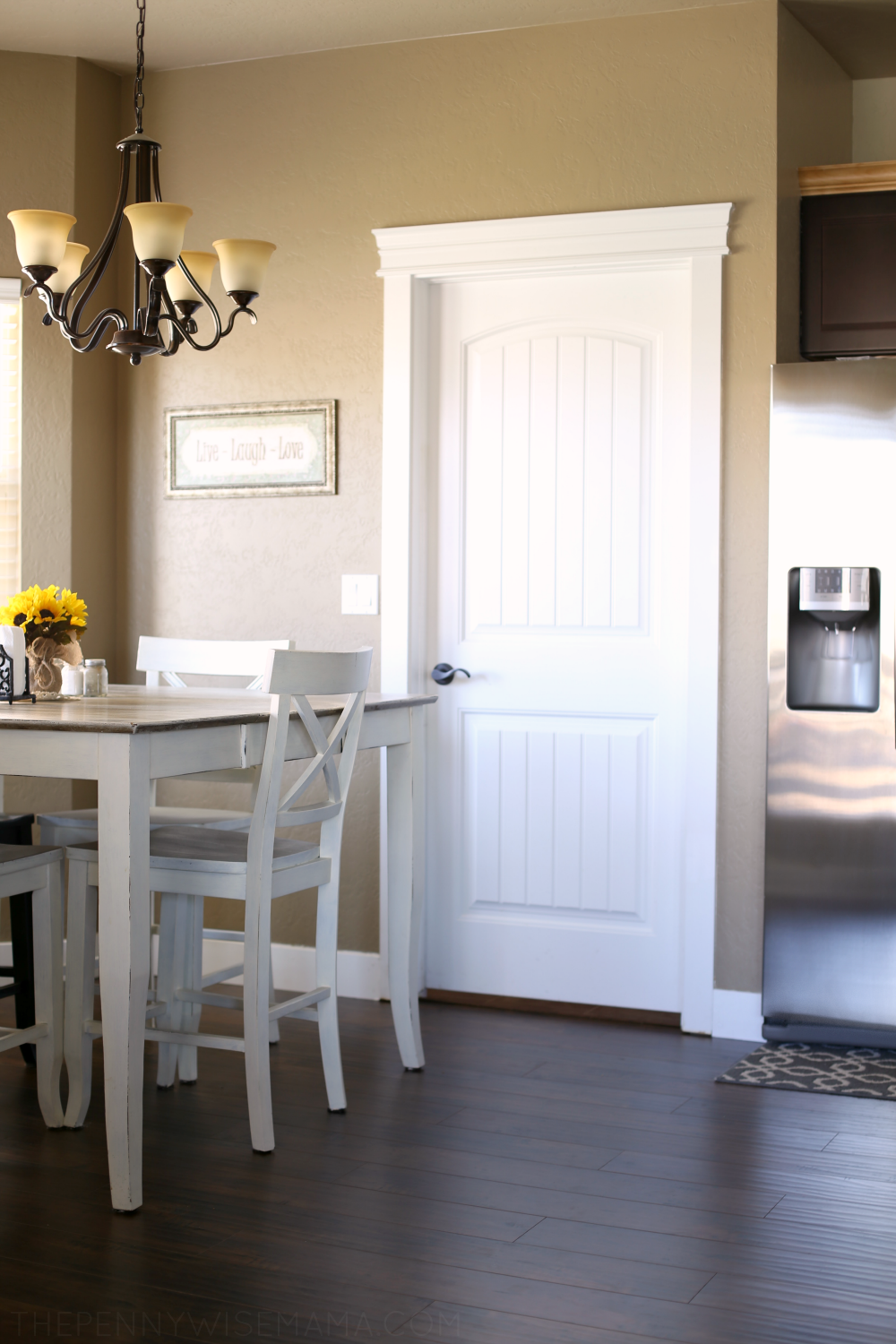 It might seem crazy, but we made the decision to replace both our carpet and hardwood with Select Surfaces laminate flooring. Because we have an open floor plan, it wouldn't have looked right to have laminate up against the hardwood, so taking out the hardwood was the best option. Plus, after running numbers we found that it was going to be much, much cheaper to install laminate throughout.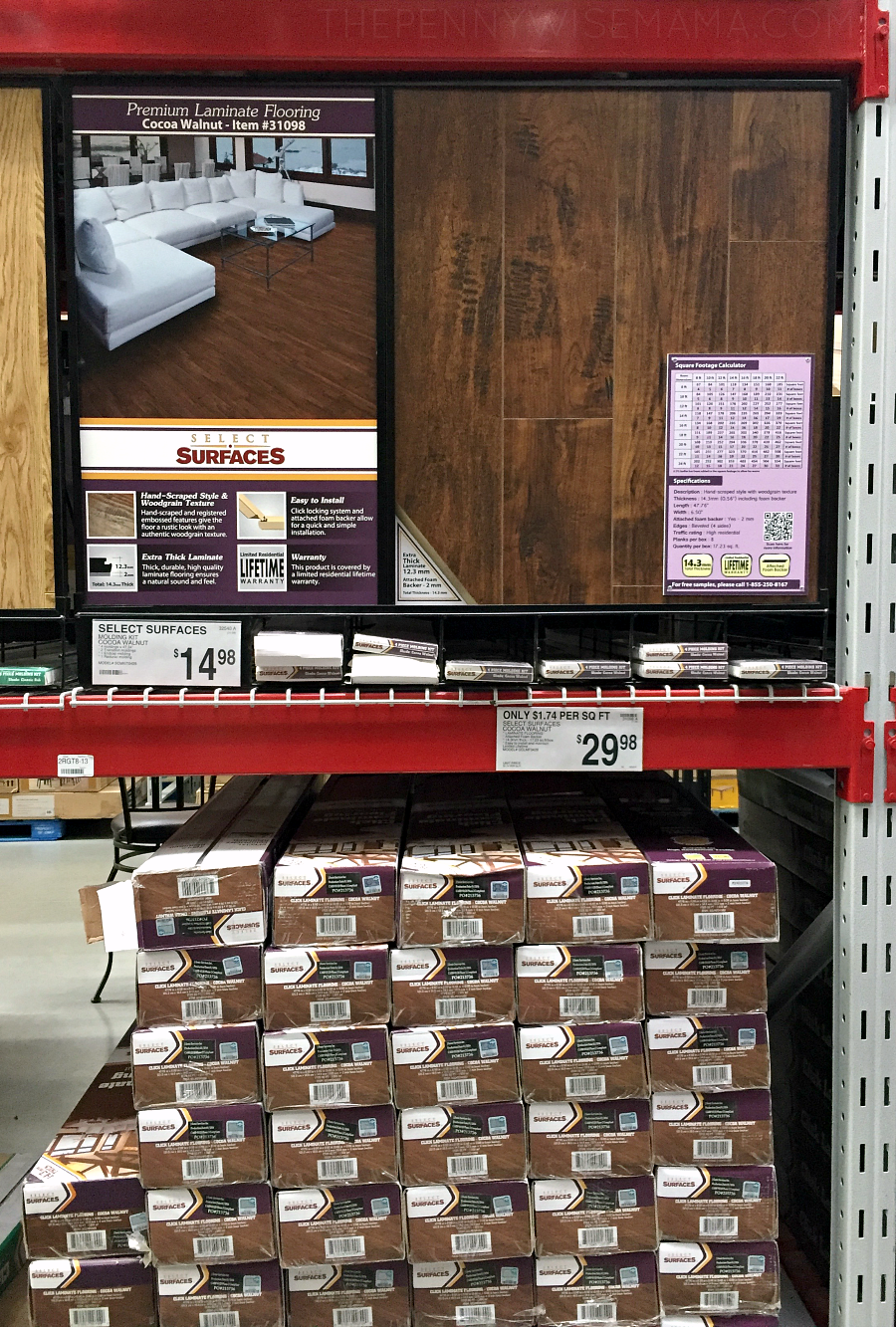 After calculating the square footage needed, we headed to our local Sam's Club to purchase the flooring. We needed roughly 44 boxes, plus 4 Molding Kits, which cost just under $1400. The laminate was on sale at the time so that saved us $70.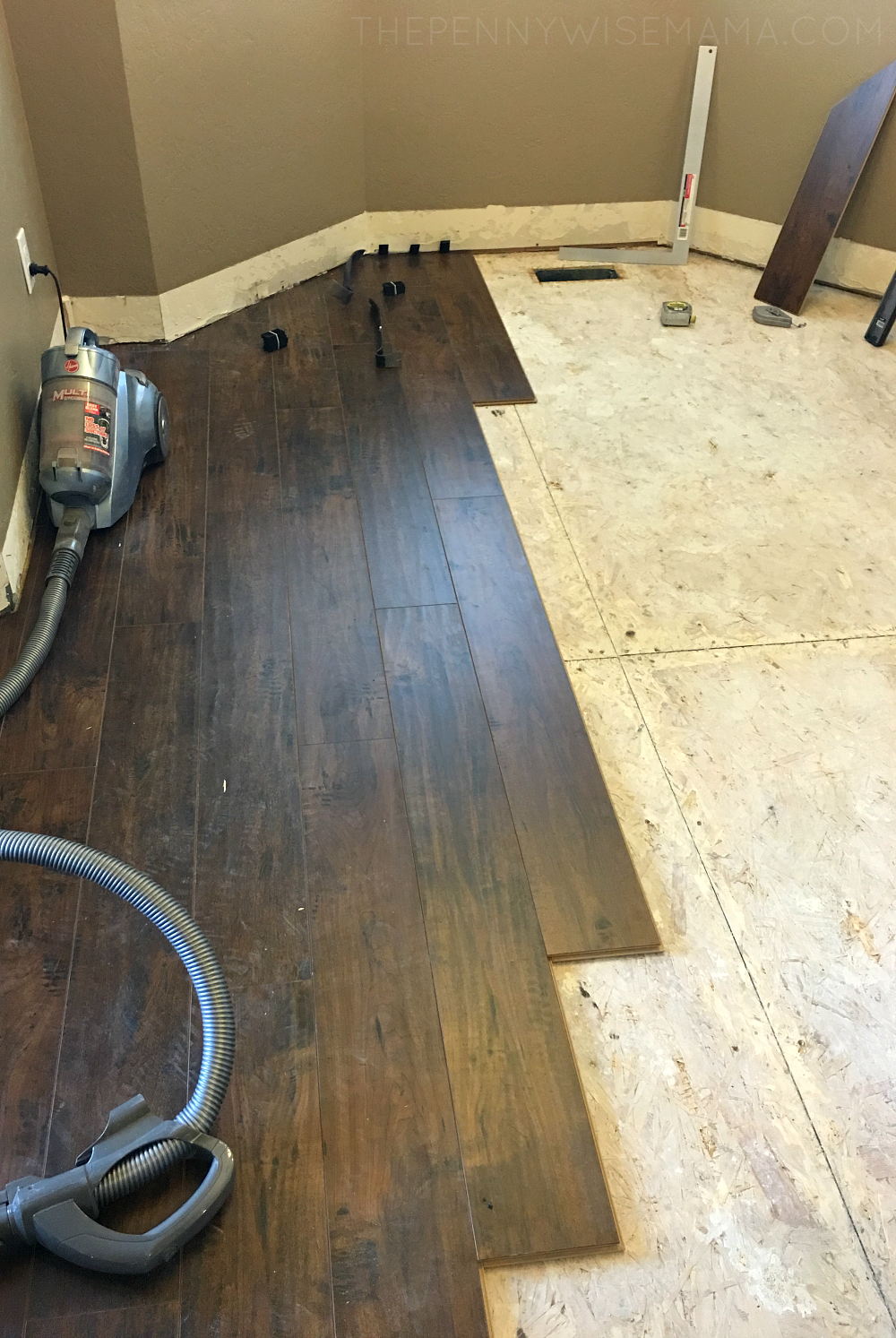 Installation was fairly easy but we did run into some hiccups. All in all, it took us four days to install approximately 700 square feet. I'm sure it could have been done faster, but we were learning as we went and we had to work around our work schedules.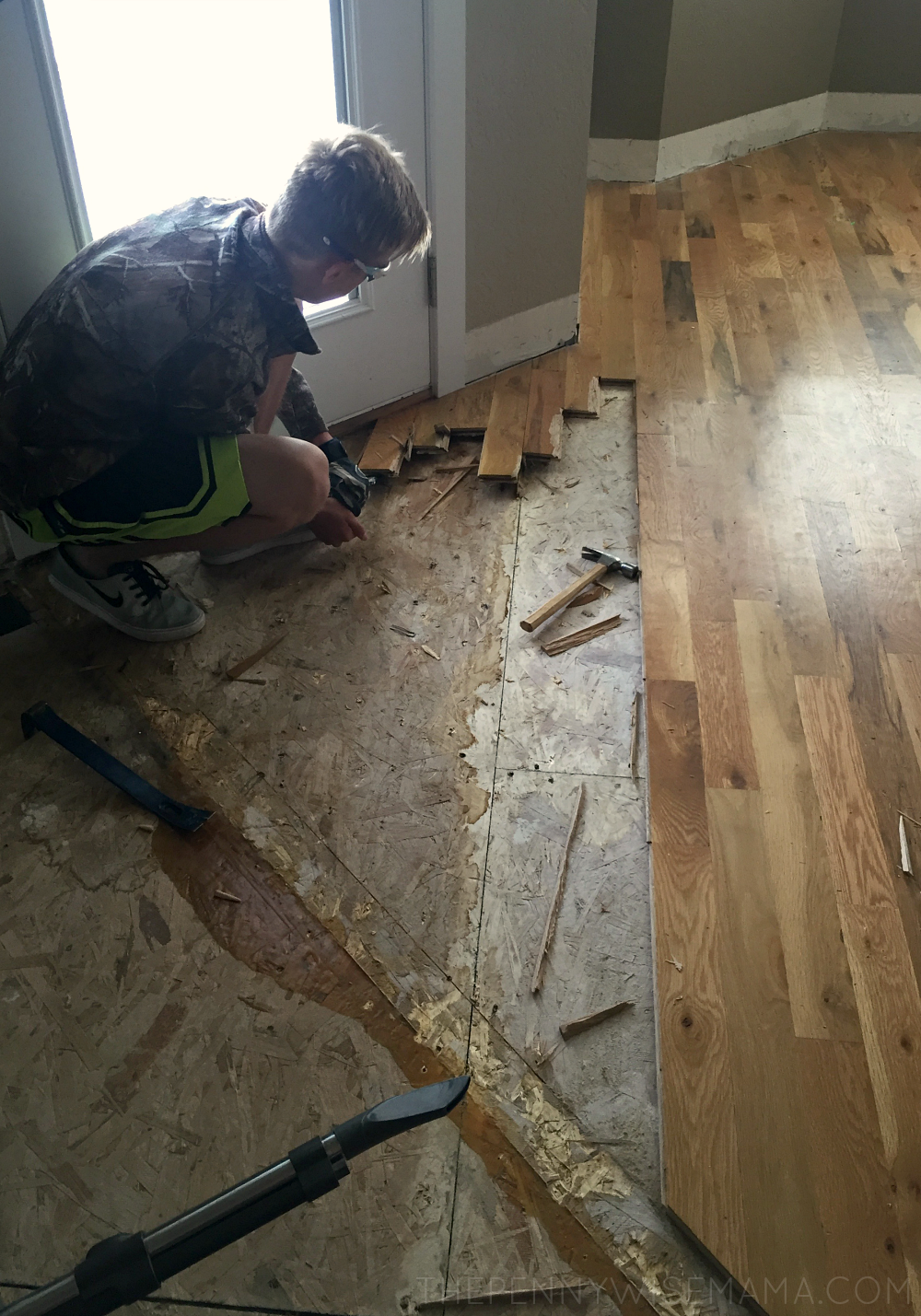 The hardest part of the whole process was cutting out the hardwood flooring in the kitchen. When our house was built, they installed the kitchen cabinets on top of the hardwood. We had to use a saw to cut out the hardwood, which was a bit of a challenge. Once we had it out, we were able to lay the laminate as normal.
Tips for a Seamless Install
Calculate What You Need — Before heading out to purchase supplies, take the time to accurately measure the area where you will be installing the laminate. In addition to laminate, you may also need to buy Molding Kits to seamlessly connect two different surfaces (ex. carpet & laminate). You will want to count all the doorways or rooms that will need moldings. Keep in mind that stair nose molding will have to be purchased directly from Select Surfaces, as it is not available at Sam's Club.
Prep Your Surface — Take your time with prep work. Remove baseboards and ensure all nails, tack strips and staples are removed from the subfloor. Once all the old surfaces are removed, vacuum the floor thoroughly to make sure all the debris is gone. And if you'll be installing the laminate on concrete, it's imperative that you lay down a vapor barrier to prevent moisture damage.
Make Sure Your Surface is Level — A level starting surface is a must for a solid, clean install. Our subfloor was uneven at the seams, so we had to use a sander to level them out.
Allow the Laminate to Acclimate — The laminate should be room temperature at the time of install, so make sure you bring the boxes in and let them acclimate 24-48 hours before installing.
Alternate Patterns & Sizes — The Cocoa Walnut has 7 different patterns, so you'll want to make sure that you alternate them as you lay them down. We found that one pattern tends to dominate most boxes, so it helps to open several boxes at a time and then sort the pieces by pattern. You'll also want to make sure that you cut 3-4 different lengths and alternate the pieces as you lay them down so that they don't look like stairs steps.
I could go into great detail about how to install this flooring, but I'll leave that for the experts. For the most accurate advice, I would recommend watching the installation videos on the Select Surfaces website. We found them to be very helpful!
Final Thoughts
We are more than happy with our decision to install Select Surfaces laminate flooring! We've had it for a few months now and I can't tell you enough how much we love it. It looks amazing and it feels like solid hardwood. We've gotten many compliments on how great it looks (most people can't believe it's not real wood!) and it's so easy to take care of.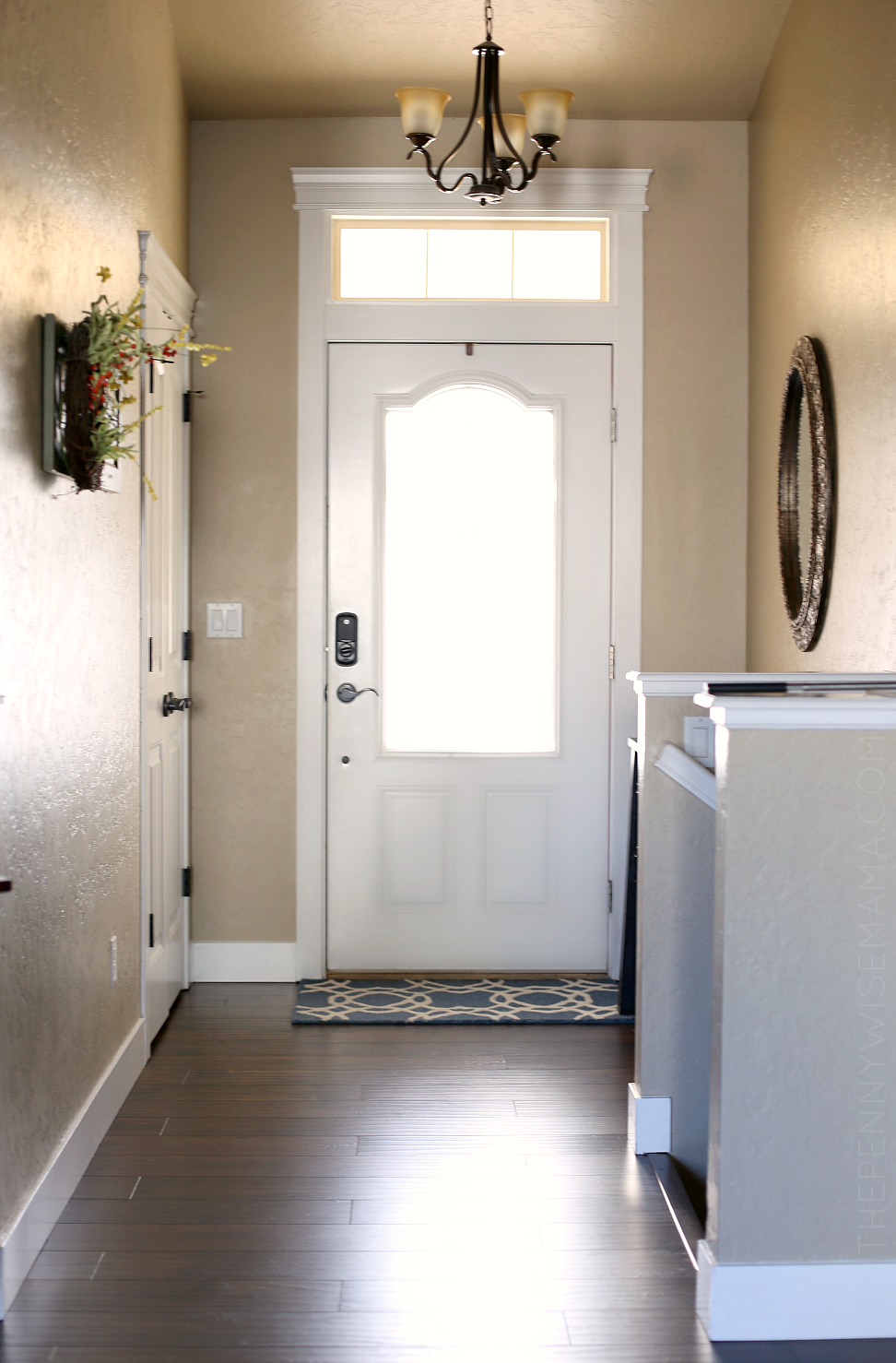 Even though the Mocha Walnut is a darker finish, it's fairly easy to keep clean. I use a dust mop or broom every 1-2 days to sweep up crumbs, dust, etc. As far as washing the floors, you don't want to soak them with water. I have found that using a damp floor mop works the best. We don't have pets, so that helps them stay cleaner longer. Also, we haven't had any issues with scratches or dents, but you do have to be very careful about water. Make sure you wipe up spills immediately or the water will warp the floors!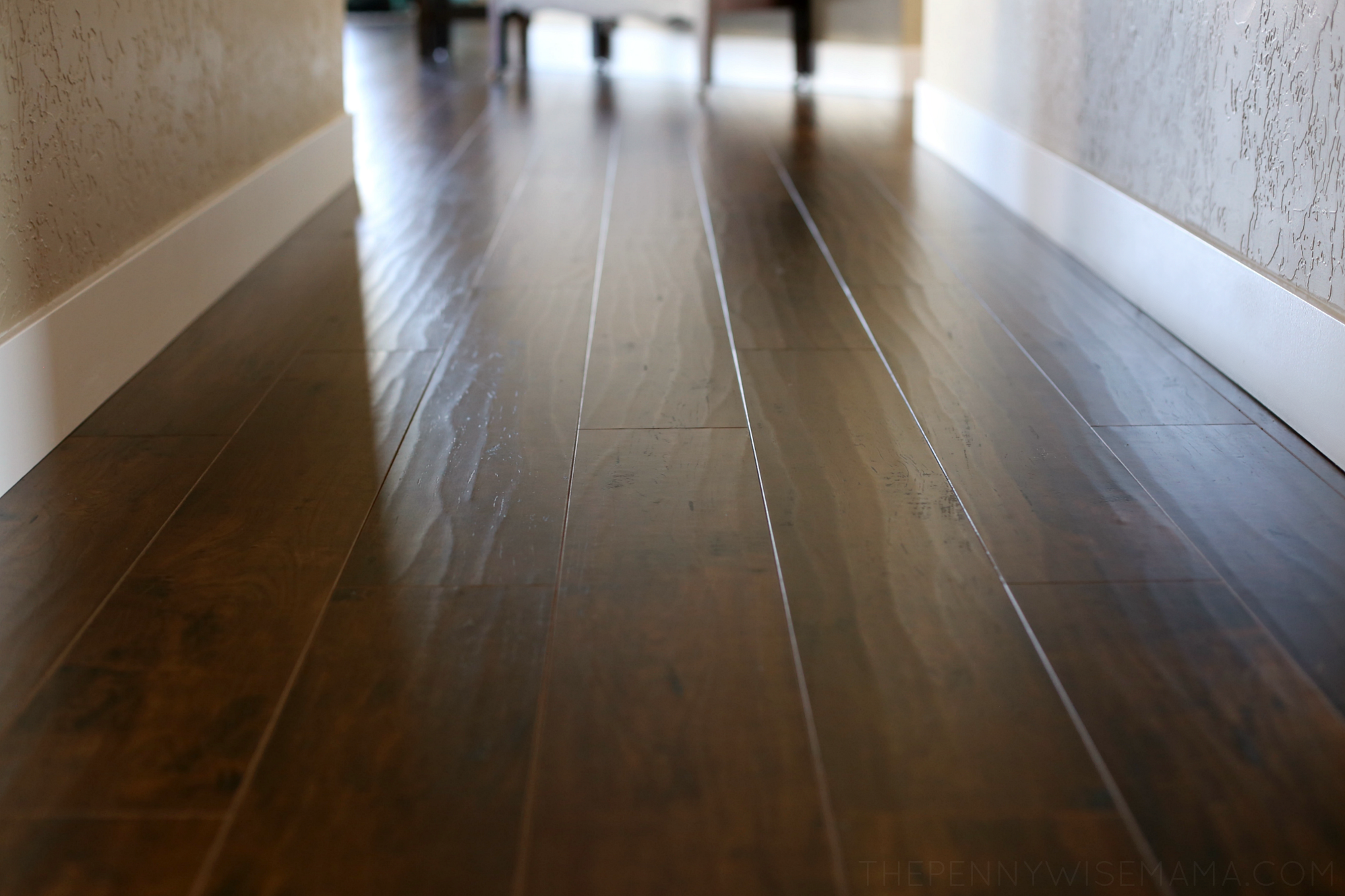 If you are debating between hardwood or laminate flooring, I would highly recommend going with Select Surfaces laminate flooring, available at Sam's Club. You will not find a more affordable, better quality laminate!
Purchase Select Surfaces Laminate Flooring
You can purchase Select Surfaces laminate flooring at your local Sam's Club or directly from the Sam's Club website. I would suggest checking out the website to see what your store has available before heading out to shop. The good news is you can order online and select store pickup or you can have it shipped to your home for free if your local store doesn't carry the color you want.
Have questions about my experience? I'm happy to answer any that you might have in the comments section below.