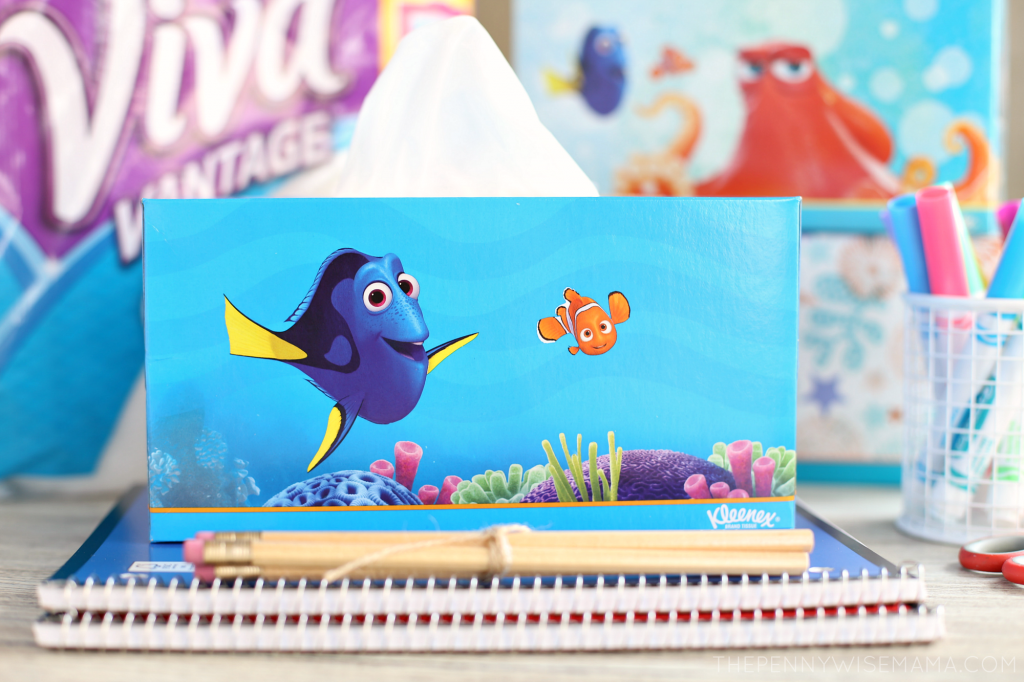 It may still be summer, but kids across the nation are beginning to head back to school. My kids started this week, and even though it has been a big adjustment, they are loving it. This past weekend we finished off all of our back-to-school shopping and it was surprisingly stress-free. We had fun picking out all of our school supplies and we spent less than expected. As you prepare to send your kids back to school, make sure you check out these tips to help you save, plus see how you can earn Double Box Tops for your school!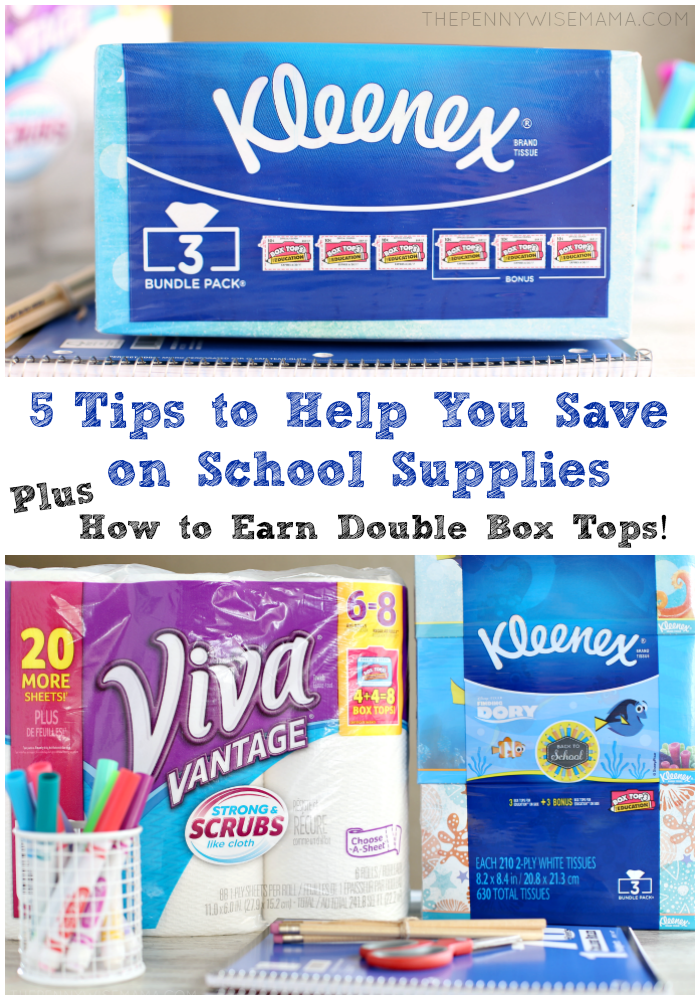 5 Tips to Help You Save on School Supplies
1. Only Buy Items You Need
Many schools will ask you to buy optional supplies, but if money is tight, skip these items. As a former teacher, I can honestly say that no one will give you a hard time if you don't bring in every item on the list. Also, while it's tempting to buy folders, notebooks, etc. with favorite TV/movie characters on them, they are more expensive. Skip these and save money by buying generic/store brands instead.
2. Use Coupon Apps or Clip Coupons to Save
Many retail stores now have their own coupon apps that make it easy to save money. Search the App Store or GooglePlay for your favorite stores to see what apps they have available. Or you can always clip coupons the traditional way. The Sunday newspaper is the best place to find paper coupons to use on your purchases.
3. Comparison Shop
You don't have to go to several different stores to get the best deals. Many stores like Walmart will price-match. The easiest thing to do is look up prices online or use the weekly store ads to find the best deals and then shop at one store and have them match prices. Just make sure you check your store's policy before heading out.
4. Shop Clearance for the Next Year
It seems crazy, but the best time to buy school supplies is after school has already started. Depending on your area, you'll find that many stores will start to discount items within a week or two of school starting. Around here we see items marked down to clearance the beginning of September. Prices will typically be about 10% off at first, but if you wait a bit you will see them climb to 75% off. I watch for items to hit 50-75% off and then I buy them and save them for the next year.
5. Buy in Bulk
Nowadays it's not uncommon to see plastic baggies, disinfecting wipes, facial tissues and paper towels on school supply lists. If your school requests any of these items, it's almost always cheaper to buy in bulk. Even if you don't need that large of a quantity, you can use the items at home or save them for the following school year. Walmart's everyday low prices make it a great place to stock up on these types of items.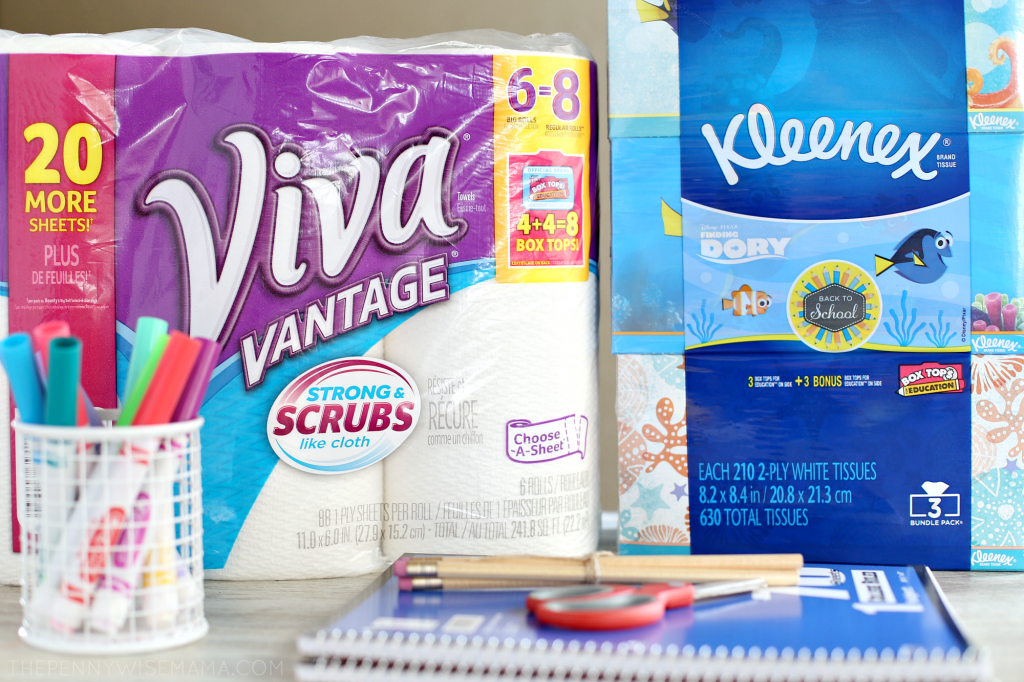 Our school requires that students bring in boxes of tissues and paper towels, so I was happy to find some great deals on Kleenex, Scott and Viva products at Walmart. Not only are these products great for classrooms (love the 3-pack of Dory Kleenex), they have Double Box Tops!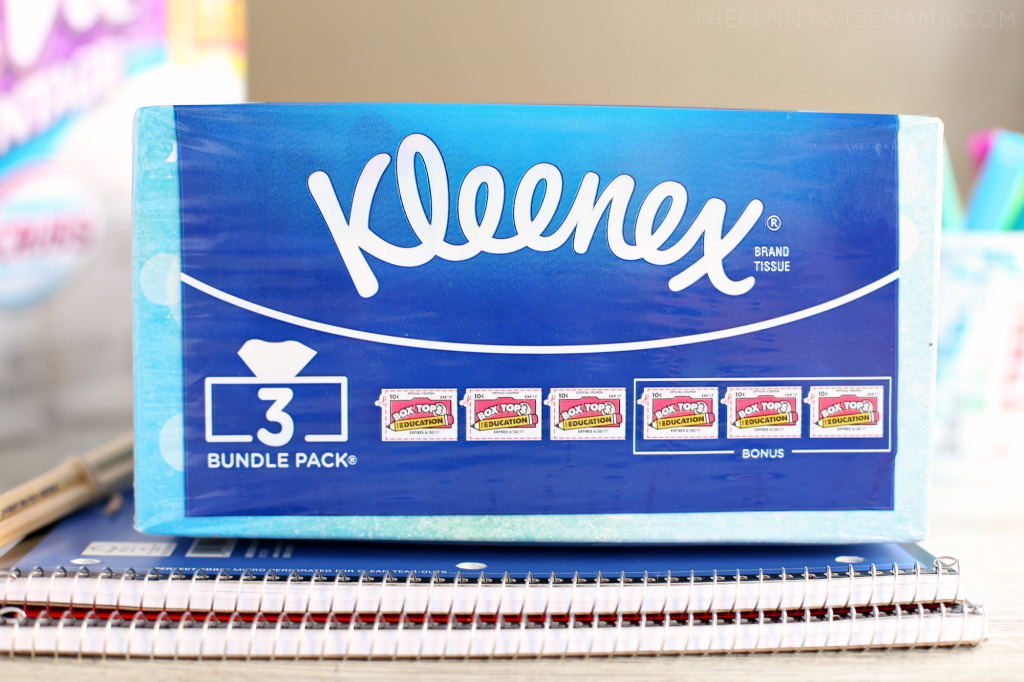 We have seen firsthand how much the Box Tops for Education program can help your school. It has helped our kids' charter school purchase books, computers and everything in between. It has even helped our school raise enough money to get a new playground! This is huge, considering our school relies heavily on fundraising to purchase the items needed to help make our school be the best that it can be.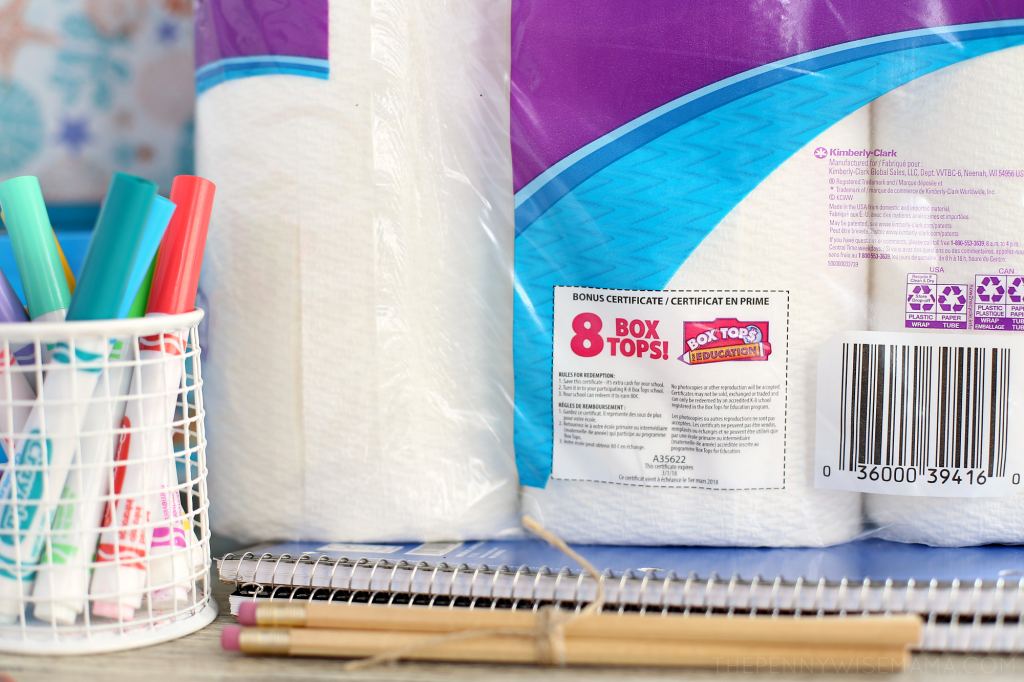 I don't have a lot of time to volunteer at school, so I love being able to help contribute from home by clipping Box Tops. They are on so many products that we use and it's so easy to clip them and send them in throughout the year. It's nice knowing that something so simple benefits our school in a big way!
Box Tops for Education has been helping schools across the nation since 1996. I encourage you to shop at Walmart and earn Double Box Tops for your school by purchasing these Kleenex, Viva or Scott products.
Back to School Gift Card Giveaway
Back-to-school shopping can add up quickly! To help make it a little easier on you, we are giving away a $25 Walmart e-gift card to one lucky reader. Simply use the Rafflecopter form below to enter. Giveaway ends on 8/31 at 11:59 PM MST. Open to U.S. residents only. Good luck!