This post is brought to you by Good Food Made Simple and The Motherhood. Opinions and experiences shared here are all my own, and I hope you enjoy them.
It's been a year since I made it my New Years resolution to live a healthier lifestyle. Call it cliché, but I knew it was time to make a change. I was gaining weight and had no energy. I was just doing what I had to do to get by. I knew I needed to get back in the gym and start eating healthier. I started researching and discovered the "Eat Clean Diet," which really is more of a lifestyle change than a diet. I knew it was exactly what I needed to do and I came to realize that I would not only need to change my eating habits, but those of my family as well. I started making meals that were fresh and natural and did my best to avoid using products that were filled with preservatives and other additives as much as possible. It was an adjustment at first, but we quickly adapted when we began to look and feel so much healthier.
Over the past year, I have really come to enjoy eating clean. I think a lot of people assume that clean meals are boring and have no flavor. That really just isn't true. With the help of natural herbs and seasonings, you can create delicious meals that the whole family will enjoy. While I choose to make most of our meals from scratch, there are times when we are in hurry and I don't have time to cook. It has been hard finding pre-made meals to rely on in these times of need, considering that most frozen or prepackaged meals have preservatives and additives in them that aren't so healthy.

Thankfully, I recently learned about Good Food Made Simple (GFMS), a company that makes all-natural, CLEAN food. The great thing about the products is they are conveniently microwavable, while still being free of hydrogenated oils, artificial preservatives, flavors, colors or sweeteners. GFMS products include several varieties of frozen oatmeal, egg patties, breakfast burritos, breakfast bowls, mac 'n cheese and entrée burritos.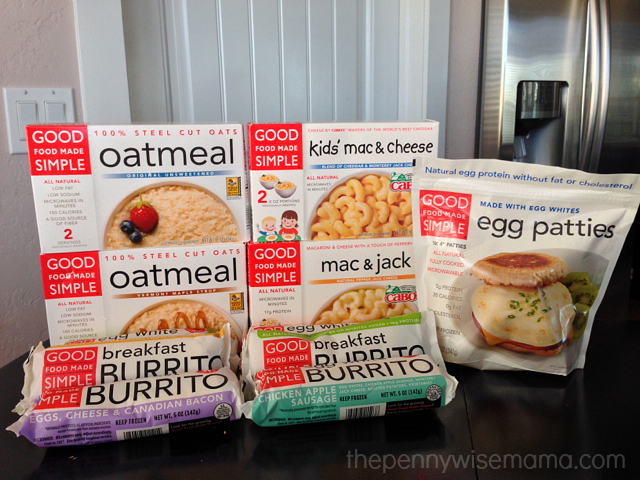 I have had the chance to try out several GFMS products and I have been super impressed. Everything has been delicious, which is not always the case when it comes to frozen foods. My husband and I have been fighting over the breakfast burritos (the Egg, Cheese, & Canadian Bacon is amazing) and the Vermont Maple Syrup Steel Cut Oats has become one of my favorite post-workout meals. The Mac & Jack is also super yummy, especially when you are craving comfort food.

This fall, Good Food Made Simple is launching "Eat Clean, Eat Simple," a national campaign that challenges you to take control over what you are putting in your body simply by reading ingredient lists on packaged foods. Many people are often confused and misled by what they read on labels, leading them to "eat anything" whether bad or good. Eat Clean, Eat Simple will educate you on what to look for when reading labels so you feel comfortable that you are eating good, all-natural, wholesome ingredients.
According to a national survey conducted by Good Food Made Simple:
People are not reading – or understanding – ingredient lists. Only thirty-five percent of Americans always read ingredient lists before purchasing packaged food. Of those people, only half of them do so to make sure that all of the ingredients are clean (no preservatives, no additives, no hydrogenated oils (a source of trans fat), no artificial colors, flavors or sweeteners).
It's clear that people don't always understand what's in their food because despite eighty-seven percent of respondents stating that clean food products are important to them, fifty-seven percent of these respondents report having purchased a leading macaroni and cheese product that is filled with preservatives and additives in the past two years.
It's simply expected that preservatives and additives are in our food. Sadly, fifty percent of respondents say they would expect to find additives and/or preservatives – such as Calcium Carbonate, Guar Gum, Caramel Color and Vitamin A Palmitate – in instant oatmeal.
People need to make time and become educated when it comes to what they are eating. Forty-one percent of people say they only sometimes read ingredient lists because they don't have time. Just over one in five say it's because they don't understand most of the ingredients.
Studies have shown that even a small amount of trans fat can result in an increased risk of coronary heart disease. Yet, when asked if they would buy a product with trans fats, only eleven percent of people say never and thirty-four percent say sometimes.
Get involved with Eat Clean, Eat Simple by visiting Good Food Made Simple, which will feature:
Unacceptable Ingredient glossary – a resource for consumers as they read labels
Eat Clean, Eat Simple food myth of the week
An ingredient quiz
Coupons and a chance to win a "Clean Supermarket Sweep" – a grocery-shopping spree with a food expert to guide label reading and clean food purchasing.
For more information, visit GoodFoodMadeSimple.com, Facebook.com/GoodFoodMadeSimple or follow @GFMSimple on Twitter.
Do you pay attention to labels? Is "eating clean" a priority to you?