Awhile back I had the opportunity to try out the Zabada Floor Cleaner, an amazing mop that gets your floors shiny and clean without the use of chemicals. I absolutely love it, so I couldn't wait to try out some of Zabada's other cleaning products. If you're not familiar, Zabada is a premium line of chemical free, cost efficient and environmentally friendly microfiber cleaning products. Unlike traditional cleaning products, Zabada products remove 99% of harmful bacteria just by using water.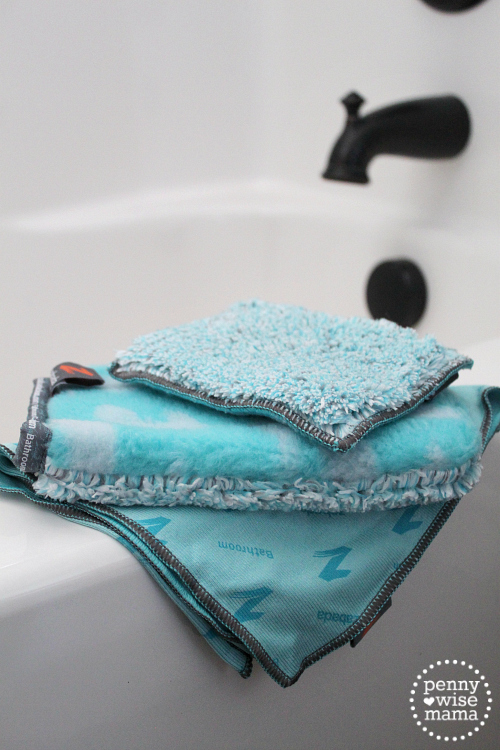 I recently put the Zabada Bathroom Glove, Bathroom Handy and Bathroom Marvel to the test. After using them to clean our bathrooms, I couldn't believe how well they worked. Without much effort, the countertops and sink were completely free of any dirt, grime or soap scum, and to my surprise, the bath tub and tile wiped clean with one swipe. Everything looked clean and shiny in less than 10 minutes! It still amazes me how well they cleaned without the use of chemicals.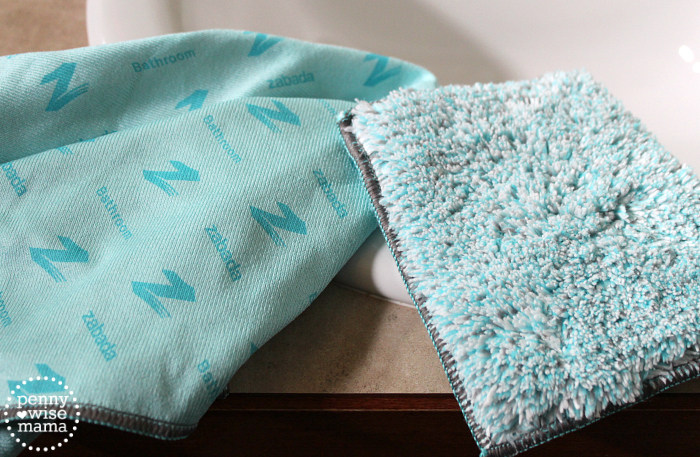 Besides working great, the Zabada bathroom products are also super easy to use. Just wet the Glove or Handy, squeeze out any excess water, wipe the surface until it's clean and then dry it off with the Marvel.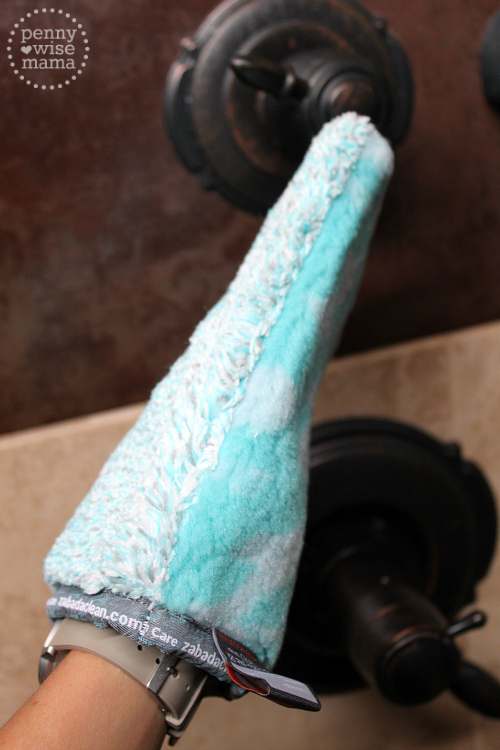 The Glove is best for large surfaces such as your shower or bath tub, while the Handy is best for small areas such as your toilet or countertop. The Marvel towel is used to dry and shine surfaces after they have been cleaned.
How Do Zabada Products Work?
While the water goes to work on loosening the dirt, Zabada's ultra-fine and unique thick-pile fibers replace the whole yucky chemical process to achieve an unbeatable result — removing up to 99% of bacteria. Without getting too nerdy, it's a deep-cleaning mechanical process that shaves off and traps the dirt, grease and bacteria deep in the fiber, and only releases them when the fibers are washed.
Here's just a brief list of what Zabada can do for you — and the environment:
Reduce solid waste by 50% (each product lasts 2-3 years)
Reduce water consumption by 20%
Reduce energy use by 30%
Reduce air and surface pollutants
Lower potential health risks
Zabada has a wide selection of microfiber cleaning products to help you clean your entire home without chemicals. If you are interested in learning more about Zabada products, check out the Zabada website. Hurry — right now you can save 50% sitewide!