Homemade scented playdough is so easy and fun to make. If you've never made it before, you are really missing out, especially if you have little ones at home! Playdough is an amazing sensory experience for kids (and moms too!). It works great as a calming activity and it's wonderful for building fine motor skills in little hands.
Simply provide your child with themed cookie cutters, a rolling pin, and a plastic knife and he or she will likely enjoy a couple hours of imaginative fun. While regular playdough will do, you can make it a little more fun by creating scented playdough that is safe for the whole family to enjoy.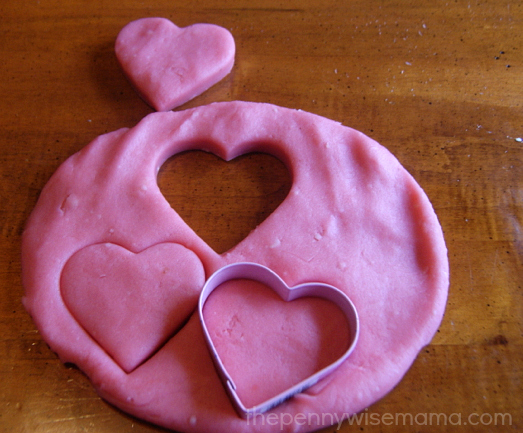 There are tons of playdough recipes, but this particular one can be made with delicious scents like strawberry, pink lemonade, or grape (for pretty Valentine's Day colors) or any other scent you like. To make it we are going to be using Kool-Aid, a pretty inexpensive ingredient that gives you a ton of options. This go round I used pink lemonade (can we say yum?!). I recommend making a double or triple batch to break down into smaller portions. Then drop in a clear cello bag with a heart shaped cookie cutter for a fantastic homemade Valentine!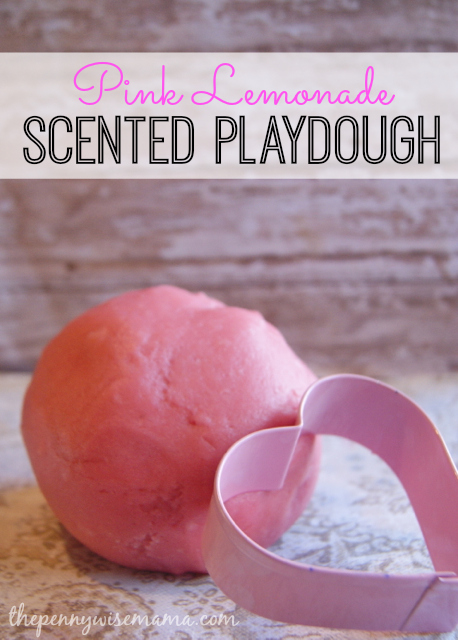 Homemade Scented Playdough
Ingredients:
1 cup all-purpose flour
½ cup of salt
1 Tbsp. cream of tartar
1 cup water
1 Tbsp. vegetable oil
1-2 packets of flavored Kool-Aid
Directions:
Combine flour, salt, cream of tartar, and Kool-Aid in a medium pan over medium-high heat, stir in water and oil.
Continue stirring mixture until it begins to solidify and pull away from pan — this takes about 5 minutes of cooking, stirring constantly.
Flip playdough out of pan and onto counter, allow to cool until it's comfortable enough to handle.
Knead playdough for a minute to further mix.
Store in an airtight container in a cool, dark place. If playdough becomes dry, simply add a tiny bit of oil to it and work it in until it softens up.
Have you ever made scented playdough? What scent is your favorite?