As most of you know, my journey to live a healthier lifestyle started a few months ago. I've been trying my best to eat clean, exercise, get better sleep, and drink more water. I have been happy with the results. I feel better and I have lost weight. But it hasn't been easy, especially when it comes to eating healthy.
With three kids, including twin toddlers and an active tween, I am constantly on-the-go. I don't always have time to cook amazing, healthy dinners. Sometimes we have to go from one activity to another and there just isn't time to make a full meal. It's so easy to resort to eating out or getting fast food, but with that comes extra fat and calories. It can become a habit that's hard to break. I've realized that I need to be better about planning ahead, so I've been making more meals in my slow cooker. I've also purchased healthy frozen meals that we can quickly microwave for on-the-go meals.
I was recently invited to try Healthy Choice frozen meals, so the other day I headed to Walmart to purchase some. I quickly found them in the frozen food aisle. I was instantly drawn to the Healthy Choice Top Chef Café Steamers. They boast low calories and a balance of protein and carbs. Plus, they are affordable. They are only $1.74 after using the Healthy Choice Top Chef Steamers $1 off coupon (get yours in my sidebar →). I ended up choosing the Crustless Chicken Pot Pie, as well as a few others. I figured they would be perfect for quick and easy meals.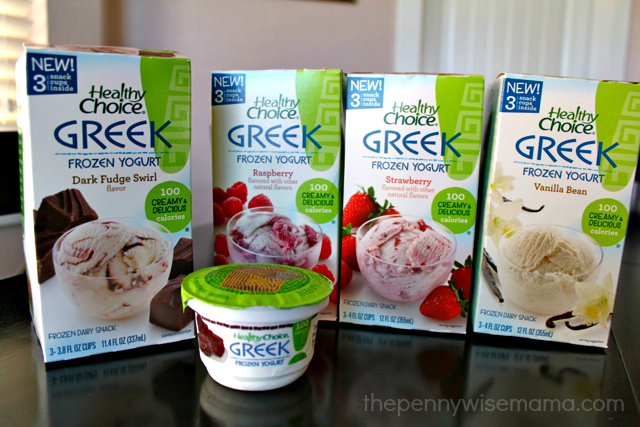 Next to the frozen meals I noticed a new dessert — Healthy Choice Greek Frozen Yogurt. I love frozen yogurt and with only 100 calories per cup, I couldn't resist buying some to try! Check out my Google+ Album to see more photos from my shopping trip.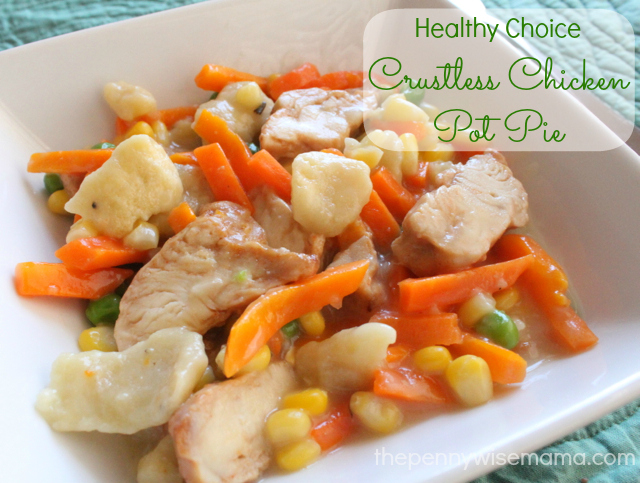 The other day I wasn't feeling motivated to make a healthy lunch, so I decided to try the Healthy Choice Crustless Chicken Pot Pie. It was super easy to make. I simply placed the steamer bowl int the microwave for 4 minutes, stirred the meat and veggies into the sauce, and it was ready to eat! I'm not gonna lie, I was a little unsure whether or not I would like pot pie without the crust, but I was pleasantly surprised. It was delicious! The chicken was moist and the veggies were crisp. The dumplings and sauce made it even more yummy. I love comfort food and this satisfied my craving while still being healthy.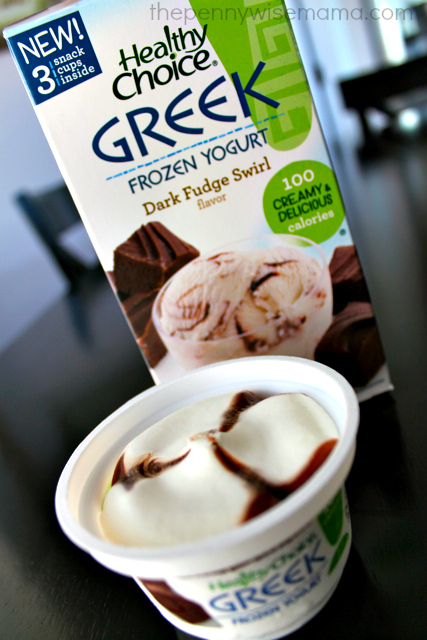 I'm not much of a sweets person, but I do love ice cream and frozen yogurt. Staying away from them has been hard the past few months. It's great to know that Healthy Choice Greek Frozen Yogurt is not only yummy, but also healthy. The other night I tried the Dark Fudge Swirl and it was really good! It's a little more dense than regular frozen yogurt, so I didn't need to eat as much to feel satisfied. With only 100 calories per cup, I don't have to feel guilty eating them on occasion!
There's really no excuse for not making healthy choices. We are all busy. We all have obstacles that get in the way. Whether it's a demanding job, kids to raise, or extracurricular activities we all have something that gets in the way. We have to be proactive about our health if we want it to change for the better. Sometimes it's just a matter of conquering our own self-doubt. We have to want to change!
Want to live a healthier lifestyle? Start by making healthy choices!

Drink more water. Water helps the body function at an optimal level and can actually encourage weight loss.
Get active. Join a gym, take a walk around the neighborhood, or chase your kids around the yard. Any exercise is better than none.
Form better sleep habits. Try to get at least 6-8 hours of sleep at night. Your body needs the rest to function properly.
Eat healthy. Try to eat a diet that consists of fresh produce, lean meat, complex carbs, and healthy fats. Simply changing the way you eat can improve your energy levels and encourage weight loss.
Connect with Healthy Choice:
What are your tips to living a healthier lifestyle?
I am a member of the Collective Bias® Social Fabric® Community. This shop has been compensated as part of a social shopper insights study for Collective Bias® and ConAgra Foods #cbias #SocialFabric. All opinions, ideas, and photos are my own.