After you get the exciting news that you're expecting a baby, it's time to start getting the nursery ready. If you're looking for nursery ideas, whether it's transforming an existing room or building a nursery suite, you can get started here.
Choosing the Right Room for Your Nursery
You can bet you'll spend a lot of time at night going in and out of the nursery, so you want to be sure it's close to your room. If you already have a room that's in close proximity to yours, you're in good shape. If not, you may be looking at more drastic remodeling for a nursery.
For example, you may have a space that's big enough to be a room but just not walled in. If all of your bedrooms are already in use or are a considerable distance from your own, you may even consider building a nursery as an addition on your home. In either case, you'll want to engage the services of a contractor to help you design and build a functional nursery suite.
Whether you're turning the spare bedroom into the nursery or building a nursery addition, the end result will need many of the same basic elements.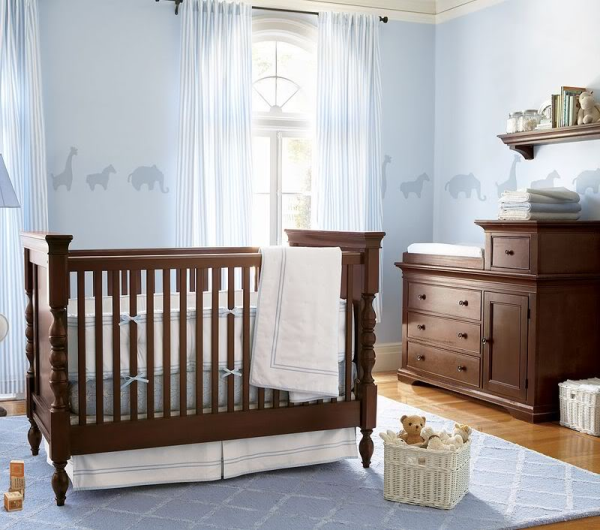 Start remodeling your nursery by setting up the crib away from windows and air vents for safety. Then, use this quick nursery checklist to ensure you have everything you'll need for a comfortable, practical nursery:
A changing table stocked with diapers, wipes and clothes
Rocking chair or glider
Storage space (bins, chest or closet) for toys, pacifiers, teethers, blankets and burp cloths
A lamp with low lighting for overnight diaper changes
A brighter light to fully illuminate the room
An area rug or carpet with a cushioned pad for baby to play on
A dresser
If you're building a nursery or willing to make more extensive renovations when remodeling for a nursery, these items would be great additions to make it an even more convenient and functional space:
Built-in shelves for displaying keepsakes and photos or storage
A mini-fridge for storing milk or formula
A bottle warmer
A small sink for making formula or washing off bottles, pacifiers and teethers
Handling the Cost of a Nursery Remodel
If you're considering building a nursery or undertaking major room renovations, you can end up spending thousands of dollars. To help absorb this cost while still keeping your finances in order, consider using your home's equity. When you apply for a home equity loan or a home equity line of credit, you can find competitive interest rates that can put your dream nursery within reach.
So, armed with your financing, an understanding of what you'll need in the room and your imagination, go get started! Baby will be here before you know it.
Sponsored content was created and provided by RBS Citizens Financial Group.