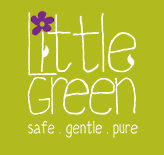 I am very picky about the bath and body care products that I purchase for my kids. They all have sensitive skin, so I have to be careful about the products we use. This usually means buying products that are natural or organic, which isn't always cheap. Over the last few years, I have been searching for products that are not only pure and safe, but also affordable. And I am happy to say that I finally found that in Little Green products!
Little Green is a collection of bath and body care products for babies and kids. The products are dermatologist tested, hypoallergenic and free of both parabens and sulfates. The products are affordable, ranging from $6 for shampoo & body wash to $16 for conditioning hair detangler.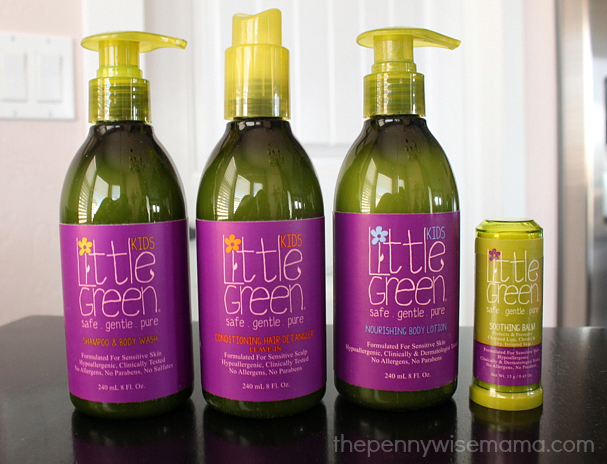 Little Green sent me their kids Shampoo & Body Wash, Conditioning Hair Detangler, Nourishing Body Lotion, and Soothing Balm to try out. I was instantly drawn to the attractive and functional packaging. I couldn't wait to try them out on my three-year-old twin girls!
The Little Green Shampoo & Body Wash lathers and suds up well. You don't need to use a lot, which is great. The smell is light and sweet — perfect for all ages. In my opinion, a lot of shampoo & body wash combos don't seem to work very well for hair, but the Little Green combo works great thanks to the added Vitamin B5 and Vitamin E that cleanse hair without over drying. After using it with the Nourishing Hair Detangler, my girls' hair is soft, beautiful and shiny!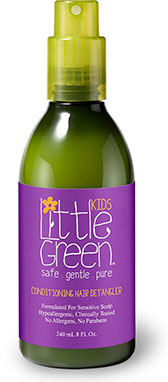 The Conditioning Hair Detangler not only works well as a leave-in conditioner, but also as the perfect bed head detangler. It goes on light and conditions well. You don't need hardly any and it leaves hair feeling soft and smooth. Silk Proteins, Vitamin B-5 and Aloe also help strengthen and protect hair against sun, salt and chlorine.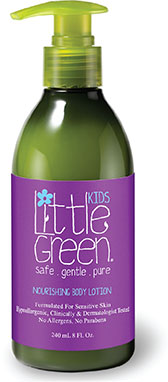 The Little Green Nourishing Body Lotion is my favorite of all the products we received. It contains an infusion of Vitamin E, Olive Oil, Shea Butter, Aloe and Oat Extract penetrate deep into the skin to prevent dryness and lock in moisture. It is thick, yet goes on smooth, leaving skin feeling light and moisturized. Similar to the Shampoo/Body Wash, the smell is light and sweet. The best part is it is gentle enough for my girls' sensitive skin. I love it so much that I have been using it myself!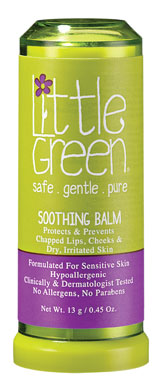 The Soothing Balm is wonderful for treating dry, chapped skin. It is formulated with Beeswax and Jojoba to moisturize and nourish and Avocado Oil and Evening Primrose soothe and protect against summer and winter skin conditions. One of my girls is sick right now and the area under her nose is so red from having a runny nose. The Soothing Balm has been very comforting and has quickly started to heal the area. I am looking forward to trying it this winter when my kids get chapped lips and dry patches.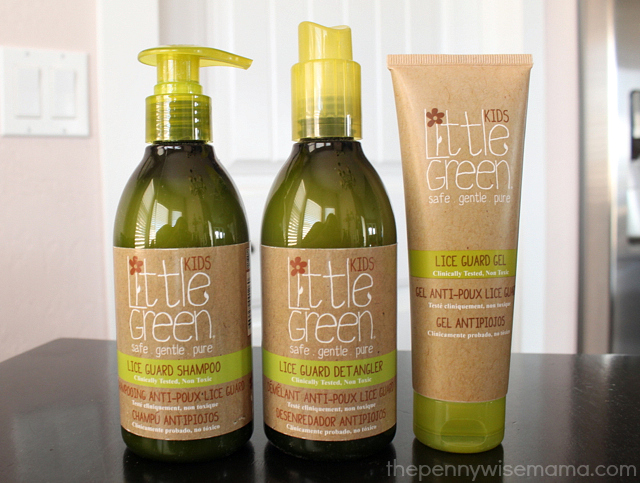 Little Green also sent me their Lice Guard System, which includes Lice Guard Shampoo, Lice Guard Gel, and Lice Guard Detangler. The products are formulated with a proprietary blend of Tea Tree, Neem, Rosemary, Peppermint, Lavender, and Eucalyptus oils that are known to effectively repel head lice. I haven't tried the products yet, but l am glad I have them on hand now that my kids are back in school when lice tends to pose more of a problem.
I am so glad that we discovered Little Green products! I love everything that we have tried and can't wait to order more. If you are looking for bath and body care products for kids that are not only gentle and safe, but also affordable I would highly recommend Little Green!
Buy It
Little Green products can be purchased directly from the Little Green website and Amazon.com.
Little Green Giveaway
One PennyWiseMama reader is going to WIN a set of Little Green products! Winner will choose to receive a set of products from the baby OR kids line ($30 value). The baby products will include baby Shampoo & Body Wash, Nourishing Body Lotion, and Cradle Cap Care. The kids products will include kids Shampoo & Body Wash, Nourishing Body Lotion, and Conditioning Detangler.
To enter, simply use the Rafflecopter form below. Giveaway ends on 11/13. Open to U.S. mailing addresses only. Must be 18+ to enter. Good luck!