When planning your next great family getaway, Malta is a great option to consider. While Malta flights are generally easy to find, it would still be best to book in advance to make sure you get the best deal. During your stay in Malta, there are many great sites to see. A visit with your children to Popeye Village is highly recommended.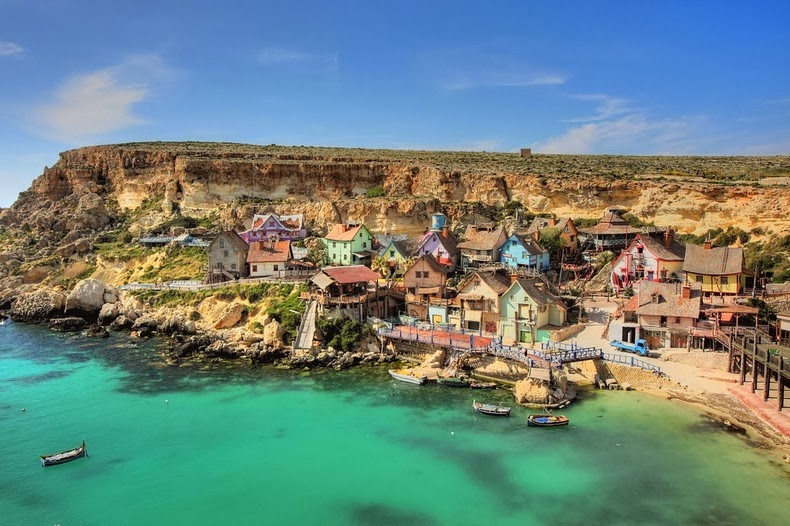 What is Popeye Village?
If you are not familiar with Popeye Village, then bear in mind that it was built as a film set in 1980 for the production of the classic musical feature film Popeye and is now a theme park for children of all ages.
Where exactly is Popeye Village?
Popeye Village is located on the northwest coast of Malta. As Malta is a relatively small island, access is easy. Parking is available or frequent busses can drop you nearby. Taxis are plentiful and reasonably priced.
What is the main thing to do?
Popeye Village boasts a variety of activities to keep everyone happy all day long. Animation teams are dressed to play the characters and will encourage your participation in a range of song and dance routines. Popeye, Olive Oil and Bluto will come and say hello and will guide you through your visit.
What else is there to do?
There are many other activities to do around Popeye Village. Some favorites include boat rides and water trampolines, silversmith demonstrations and a wine tasting experience. There is also a massive 'jump up' area with soft play to allow children to burn off excess energy!
What should we bring?
Swimwear (if you are planning to take part in wet activities), sunscreen and water bottles should be packed.
Whatever time of year you visit, Popeye Village makes a great day out. Popeye Village hosts additional special events on key dates throughout the year, so if you are visiting at Easter, Halloween, Christmas or even on Valentine's Day it is worth checking ahead what additional features will be included. Otherwise, just pack up your bags and take your kids to Popeye Village where you will make memories that will last a lifetime!