Now that we are a couple of months into the new year, how are you doing with your resolutions? I hope you have stuck with them! If you made it a goal to live a healthier lifestyle, you may have found it challenging to change your diet and routine. It's never easy to break bad habits, but the lifelong rewards are so worth it!
I've been on a healthy eating kick for quite a while now, but the holidays definitely made it difficult to stay on track. At the start of the new year, I decided it was time to make some changes to my diet and fitness routine. I wanted my whole family to be on board, so we all went to Kohl's to buy some kitchen items to make eating healthier a little easier. There were so many great products to choose from, so it made it hard to narrow it down to just a few. I was really drawn to the quality and usefulness of the Food Network collection, so that's the brand I decided to go with for all the items I purchased.
Here are my favorites!
Food Network Collapsible Produce Keeper

This handy produce keeper is perfect for keeping leafy greens, broccoli, cauliflower and asparagus nice and fresh. It's dishwasher-safe and doubles as a colander. I had no idea I was going to love this as much as I do. It has kept asparagus fresh in my fridge for two weeks!
Food Network Stainless Steel Steamer

For years I have wanted a steamer basket, so it's great to finally have one! This one is made well and is great for steaming fresh veggies. It's dishwasher-safe and doubles as a colander. I love that it's collapsible for easy storage.
Food Network 7-Piece Container Set

My husband works away from home most days, so it's important that he packs a healthy lunch. This container set is great for organizing his food and he loves that the ice pack keeps his food chilled. It's non-toxic, microwave and dishwasher-safe.
Food Network Stainless Steel Magnetic Measuring Spoon Set

It's about time I have a nice (and complete) set of stainless steel measuring spoons! These ones are dishwasher-safe and the best part is they are magnetic.
Food Network Collapsible Measuring Cup Set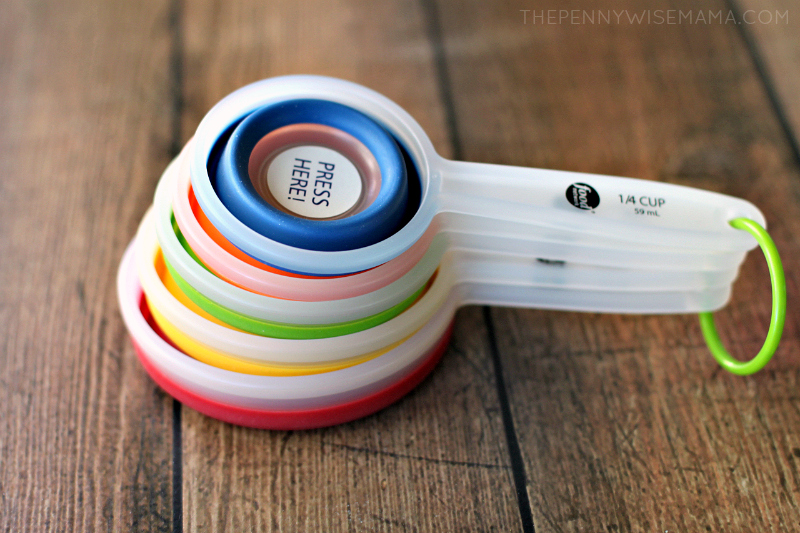 It's so hard to keep the kitchen organized, so I appreciate that these measuring cups are collapsible for easy storage. They are dishwasher-safe and I love that they come in fun, bright colors.
As you start (or continue) your healthy eating journey, make sure you take a look at all the awesome Food Network items available at Kohl's. Shop online or in-store and don't forget to search for promo codes or coupons before you shop to save even more on your purchase!
What kitchen items encourage you to stay on track and eat healthy?
Kohl's provided me with a gift card to facilitate my post. All opinions are my own.