I participated in an Influencer Activation on behalf of Influence Central for Johnson & Johnson and Target. I received a gift card to facilitate my review as well as a promotional item to thank me for my participation.
It's no secret that I am totally obsessed with Target. I find a way to escape there any chance I get. My husband will never understand, but there's just something about it that is dreamy and exciting. From the fun surprises in the dollar section to the adorable kid's clothes to the wide selection of shoes and items for my home, there is just so much to love. I could get myself into some serious trouble there, but thankfully I am disciplined with my spending and the Target Cartwheel App helps me save a ton of money!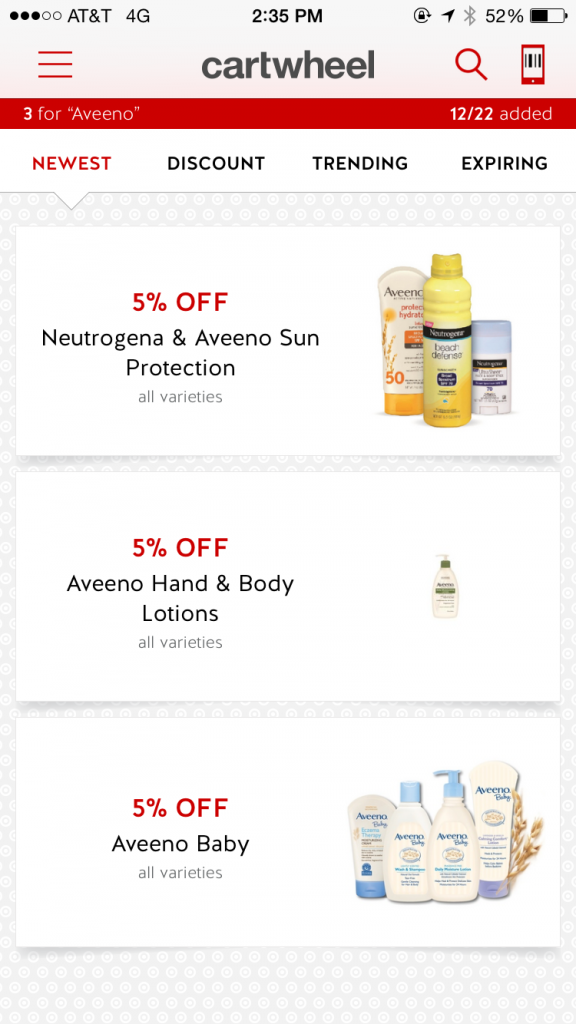 Cartwheel by Target is a mobile savings app that is loaded with valuable coupons to help you save money on the things you already plan to buy. I use it every time I shop at Target and usually save between $5-$20, simply by adding coupons to my personalized Cartwheel barcode. On top of that, I save an additional 5% just by using my Target Red Card. My husband can't argue with that!

The best part about the Target Cartwheel app is it is super easy to use. You can search for specific items, browse by category, or use the barcode scanner to scan items to see if there is a matching coupon. I have found that it is easiest to keep the app open and scan each item as I add it to my cart. If there is a coupon available, I click the button to add it to my barcode. The most important thing is that you remember to have your barcode scanned during checkout to take off any applicable coupons.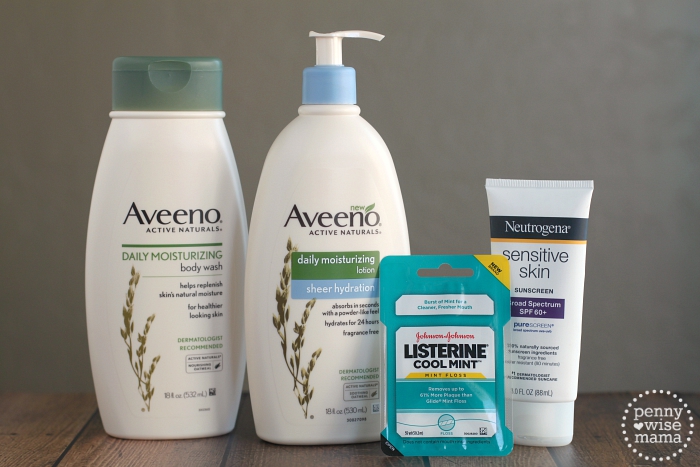 This past weekend, the kids and I shopped Target for back-to-school supplies and essentials. We found some great deals using the Target Cartwheel App, including 5%-10% off our favorite Aveeno, Listerine and Neutrogena products.
LISTERINE® COOL MINT™ Floss
While I prefer the Listerine Flosser, my husband really likes using the traditional Listerine Cool Mint Floss. He feels like it cleans between his teeth better and likes that it is minty and doesn't break or shred when he flosses his teeth.
AVEENO® Daily Moisturizing Body Wash
The Aveeno Daily Moisturizing Lotion is gentle, yet effective. It cleanses and moisturizes skin at the same time, without causing irritation. Followed by the Aveeno lotion, our skin is left soft and hydrated all day long!
AVEENO® Daily Moisturizing Sheer Hydration Lotion
The Aveeno Daily Moisturizing Sheer Hydration Lotion is moisturizing and doesn't irritate our sensitive skin. We normally use the Aveeno Daily Moisturizing Lotion, but we like that the Sheer Hydration formula is light and refreshing during the hotter months.
NEUTROGENA® Sensitive Skin Sunscreen
The Sensitive Skin Sunscreen Lotion is great for anyone with eczema or sensitive skin. It's safe and protects your skin using naturally sourced sunscreen ingredients. It performs wonderfully and doesn't irriate our skin. We've been using it a lot this summer!
Now through 8/15, save on these must-have essentials with the Target Cartwheel App:
Desitin, 5% off

Johnsons Baby, 5% off

Aveeno Baby, 5% off

Neutrogena Cosmetics, 10% off

Neutrogena FSC, 5% off

Listerine Floss, 10% off

Hand & Body Lotion- Neutrogena, 5% off

Hand & Body Lotion- Aveeno, 5% off

Sun – Neutrogena & Aveeno, 5% off
If you haven't already, make sure you download the Target Cartwheel App. It's a simple way to save money, without having to clip coupons or search for discount codes. With back-to-school shopping underway, this is a great way to stretch your spending!
Target Gift Card Giveaway
Who wants to WIN a $100 Target e-gift card? Use the form below to enter. Giveaway ends on 9/15 at 11:59 PM EST. Open to US & Canada. Good luck!