Football season is officially here, which means our weekends are filled with family, friends and delicious food. I have to admit, I am usually more excited about all the yummy food on game day than the actual game itself. I used to really enjoy watching football, but as I've gotten older and had kids, it's too hard to focus on the game. I would rather spend my time in the kitchen whipping up food for everyone else to eat.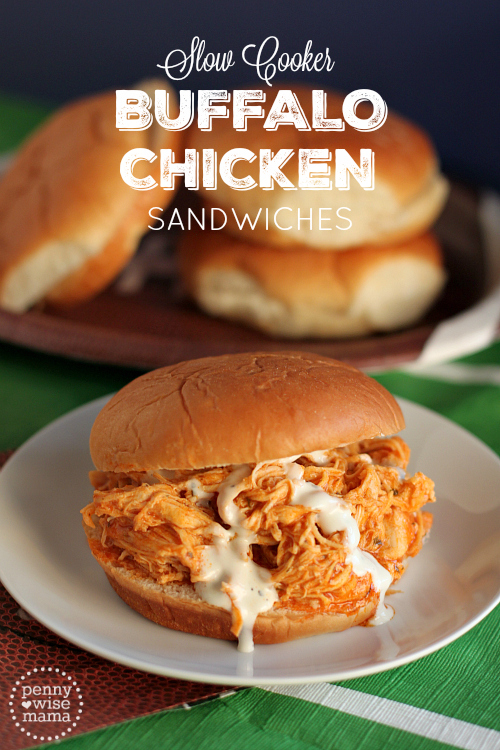 On game day, I like to serve some type of sandwiches like hamburgers, sloppy joes, pulled pork or shredded buffalo chicken. They are easy to make and keep warm in the slow cooker. KING'S HAWAIIAN® Hamburger Buns are perfect for whatever sandwich I decide to throw together! They are soft and sweet and big enough to hold even the largest burgers. They are definitely the most irresistible part of game time!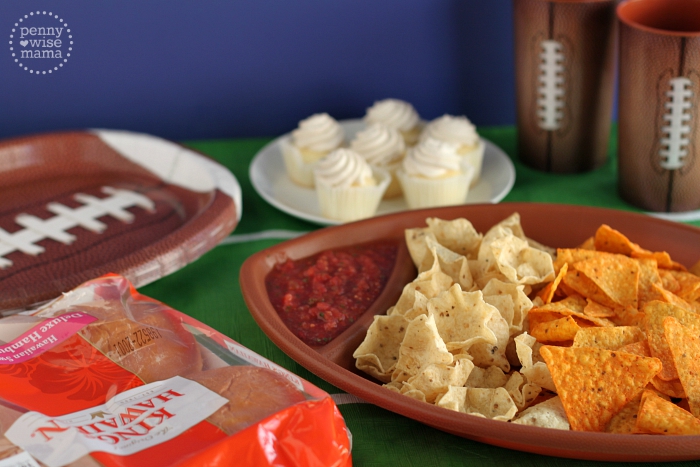 I also like to have a variety of finger foods for people to munch on while they watch the game such as chips, dips (salsa, guacamole, french onion, etc.), pickles, fruit, veggies and mini desserts like cookies, cupcakes or brownies. The more the merrier!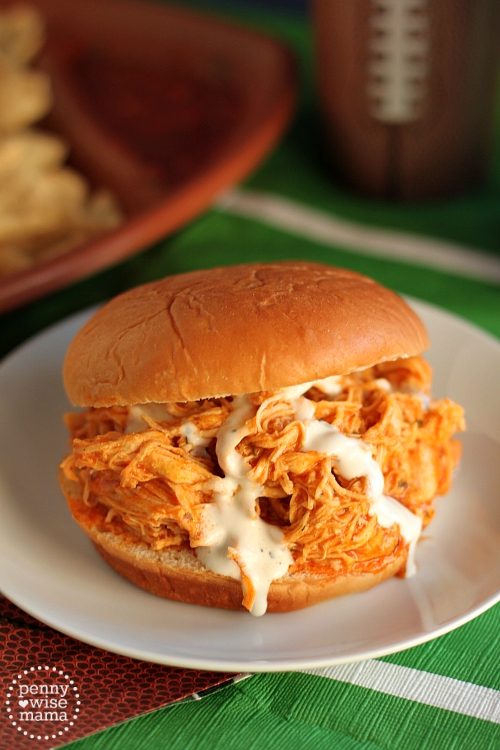 Recently, I made shredded buffalo chicken sandwiches in the slow cooker to serve during game time. I'm a huge fan of anything with buffalo sauce, so I was really excited to try them out. They were so easy to throw together and they turned out perfect. They were a hit among the whole family, especially on the King's Hawaiian Hamburger buns. The meat is a little on the spicy side, so the sweet buns help mellow the sandwich out.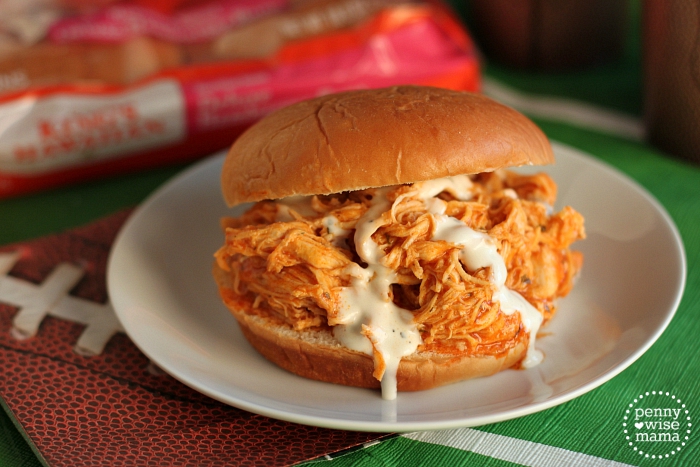 These Slow Cooker Buffalo Chicken Sandwiches are so easy to make! All you need are chicken breasts, wing sauce (I like Frank's), dry ranch dressing mix and butter. Simply throw it all in the slow cooker
and let it cook for 6-7 hours on low (or 3-4 on high if you are short on time) and then serve on King's Hawaiian Hamburger Buns like I did, or on rolls to create little appetizer sliders. Top with ranch dressing, bleu cheese, cole slaw or another favorite topping. It's a simple meal to put together, considering there's very little prep time and your slow cooker does most of the work!
Crock-Pot SCCPVL610-S 6-Quart Programmable Cook and Carry Oval Slow Cooker, Digital Timer, Stainless Steel
Reynolds Slow Cooker Liners (6 Count)
Cooking Tip: I recommend using a programmable slow cooker, like this one from Crock Pot
. It is so much more convenient to be able to set your slow cooker for a specific amount of time — that way you don't have to worry about your meal overcooking. Plus, the lid locks for easy transport! Also, these slow cooker liners
from Reynolds are a lifesaver! You just pop one in before adding your meal and then throw away when you are done. Your slow cooker is left spotless, making cleanup a breeze!

The best part about this recipe is you can easily double it if you need to and you can also add more or less hot sauce depending on how spicy you want it to be. It's the perfect recipe to serve at your next homegating or tailgating party. Simply prepare it ahead of time and keep it warm in your slow cooker until you are ready to serve. Try it out and let me know what you think!
Planning a tailgating or homegating party? Make sure you have these game time meal essentials!
What's your favorite food to serve on game day?
This blog post was sponsored by KING'S HAWAIIAN® but the opinions are all my own. #KHGameTime