If you are a resident of Colorado, Minnesota, Michigan, Wisconsin or New Mexico you may want to look into the benefits of renewable energy and wind power through Xcel Energy's Windsource Program, a voluntary green power program.
You may be asking yourself, what is wind power? Wind power (or wind energy) is the energy extracted from wind using wind turbines to produce electrical power. Wind power is plentiful, renewable, widely distributed, clean, produces no greenhouse gas emissions during operation and uses little land. In comparison to other power sources, it is much better for the environment.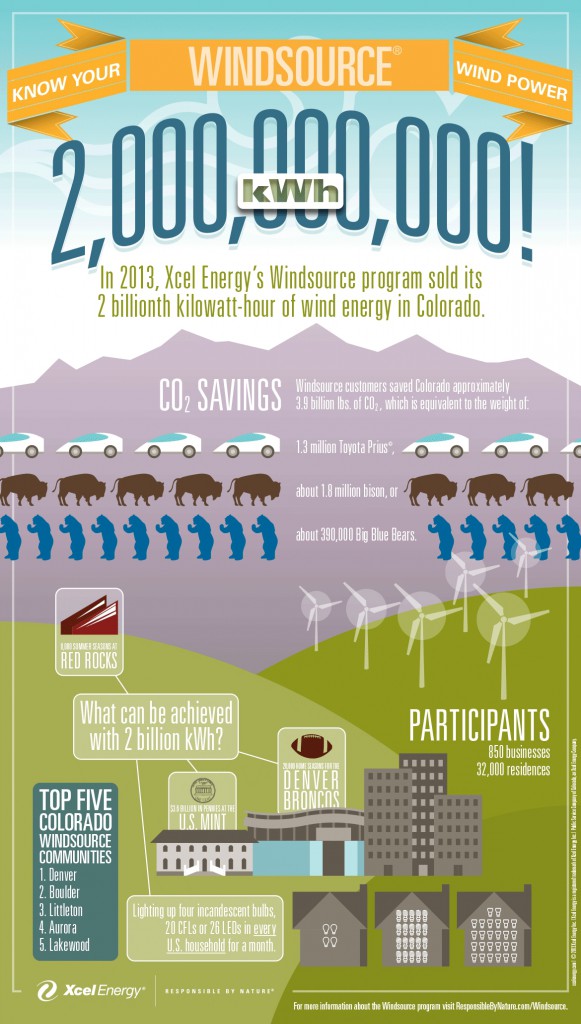 Xcel Energy Windsource Program
Windsource enables Xcel Energy's electric customers to purchase renewable energy, generated above and beyond the renewable energy in our standard energy supply. The program offers customers a choice on how they want to use energy. Windsource customers pay a small premium in return for the environmental attributes of the renewable energy, giving them the right to make the claim that they are powered by renewable energy.
Business customers can use their Windsource participation toward LEED certification points, as well as displaying an overall green sensibility and respect for the environment. Windsource currently operates in five of Xcel Energy's eight states: Colorado, Minnesota, New Mexico, Wisconsin and Michigan.
How it Works
Customers choose how much of their energy they'd like to get from Windsource.
They can start with one block per month, which is the equivalent of 100 kilowatt-hours of electricity, or about enough electricity to power the lights in a typical home for a month. (The cost per block varies by state.)
They can also choose to get 100% of their energy from Windsource.
The money received from Windsource customers is used to purchase wind energy.
The premium shows up on the customer's monthly energy bill.
As the program grows, more wind energy will be added to Xcel Energy's electric system/grid to meet the needs of Windsource customers.
How to Enroll
Residential electric customers can call Xcel Energy at 1-800-895-4999 or visit ResponsibleByNature.com/Windsource to enroll.
Business electric customers can contact their account manager or call their Business Solutions Center at 1-800-481-4700.

As the nation's No. 1 wind power provider for the past decade, Xcel Energy knows that wind energy is more than an environmental choice. Wind can help to keep energy rates affordable by protecting customers against rising fuel and other costs. I encourage you to take a look at the Windsource program to see if it is a good fit for your home or business!
Disclaimer: This is a sponsored conversation written by me on behalf of Xcel Energy. The opinions and text are all mine.