I participated in a campaign on behalf of Mom Central Consulting (#MC) for MedImmune Specialty Care. I received a promotional item as a thank you for participating.
My kids are generally very healthy. They rarely get the flu and when they do get sick, it's usually just a minor cold. However, this fall my twin girls started preschool and ever since they have been battling one virus after another. The past two months have been awful for us. All five of us got sick one after another (of course), and then after being better for a couple of weeks my husband and girls all got sick again. We are all finally back to normal (knock on wood), which is much needed with the holidays right around the corner.
In an attempt to keep us healthy throughout the rest of cold and flu season, I am incorporating more orange juice, fruit, and vitamins into our diets to help boost our Vitamin C intake. I'm also making sure that we disinfect our home and cell phones with disinfecting wipes more often to keep those icky germs at bay. I'm honestly not sure if any of us will get the flu shot this year. We all got them last year and it didn't seem to help (we all got the flu), so this year we may skip it and focus on preventing the flu naturally.
Flu Prevention
Bestselling author, Elizabeth Pantley, has written a helpful ebooklet for parents called "A Parent's Guide to Flu Season." I encourage you to check it out when you get a chance. She explains how to tell the difference between a cold and the flu and also offers some great tips on how to keep the flu out of your home this year.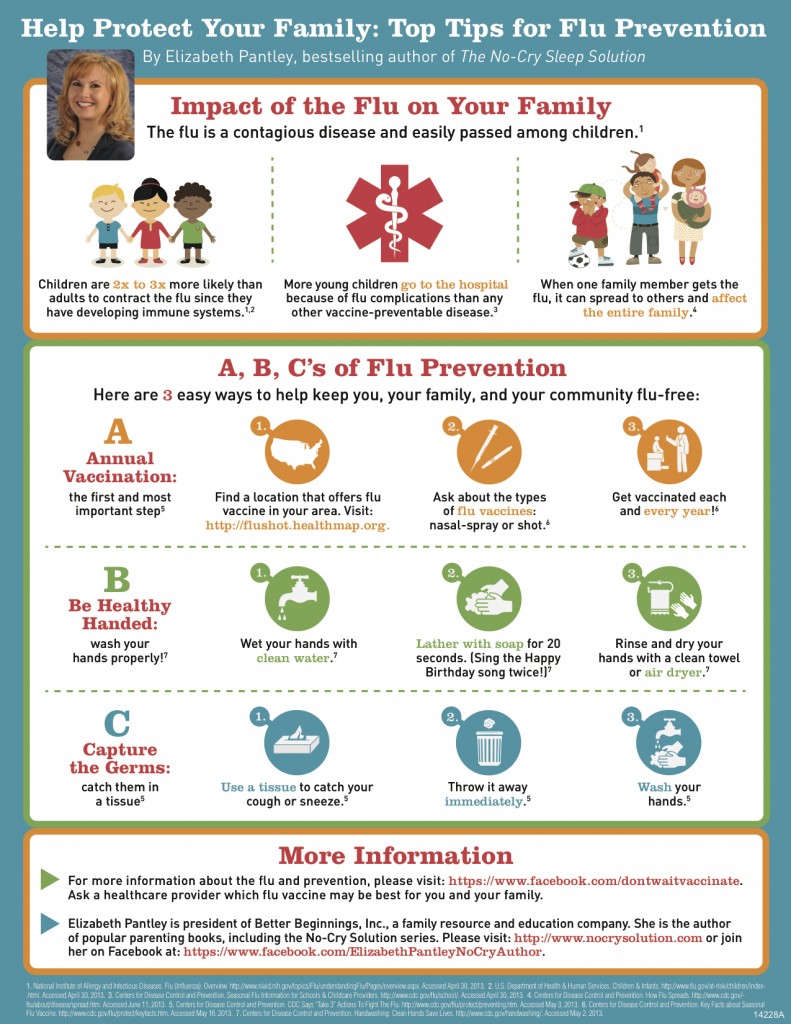 Tips to Stay Healthy During Flu Season
Get the flu vaccine
Wash your hands frequently — scrub, rub and lather for 20 seconds
Teach your children to cough or sneeze into a tissue or crook of the elbow
Clean and disinfect your home on a regular basis.
Eat healthy foods
Get adequate sleep
Keep your distance from people who are sick
While all of these tips are important, I definitely think that washing your hands and disinfecting your home are key to getting rid of germs that may lead to the flu. It's also important to teach your kids how they can be proactive about preventing the flu, such as how to properly wash their hands. It's no fun being sick, so here's hoping that we all stay healthy the rest of cold and flu season!
What are your tips to keeping your family healthy during cold and flu season?