Now that the holidays are over and the New Year is underway, it's time to get your finances in order. If you haven't already, now would be a great time to sit down and make a financial plan for the year. Whether you want to pay off debt, buy a house, build up an emergency fund or save for retirement, it's important that you make a plan and stick to it.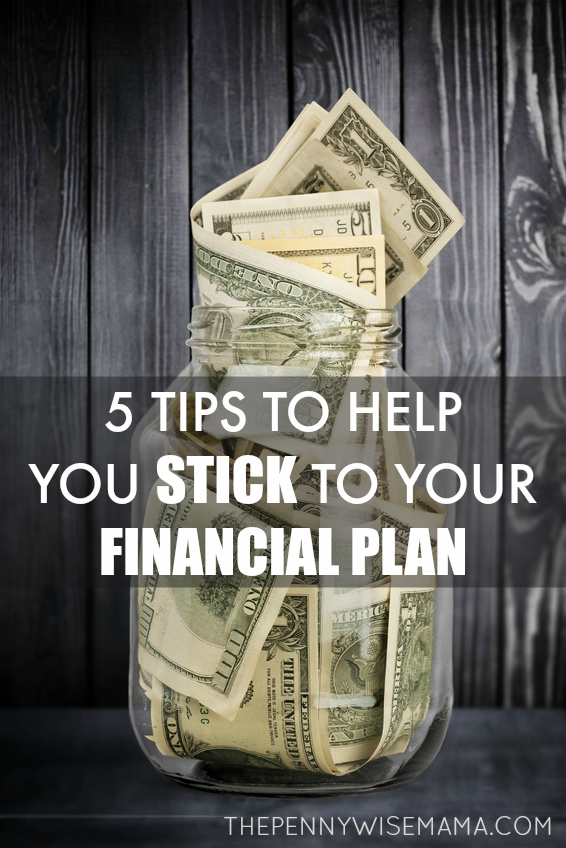 Sticking to your financial plan isn't always easy. There will be times that you become distracted or discouraged, causing you to lose sight of your end goal. This is especially true when you are working towards a long-term goal, such as paying off your mortgage or saving for retirement. The key is to stay focused and remember that you are more likely to be successful if your goals are realistic and attainable.
5 Tips to Help You Stick to Your Financial Plan This Year
1. Make Smart Purchases – Before every purchase, big or small, ask yourself: Do I really need this? Is this purchase part of my financial plan? Can I do without this item? How will this purchase affect my budget? Asking yourself these questions will make you stop and think before making spur-of-the moment purchases that could affect your finances long-term.
2. Re-Evaluate Your Budget Each Month – Your budget will fluctuate from month-to-month, depending on your income and expenses. Some months you might make more or less than others and some months you might have unexpected expenses come up like an emergency room visit or car repair. It's important that you adjust your budget and plan accordingly. Stay on track with a printable budget sheet (there are tons of free ones on Pinterest).
3. Make Small Daily Savings Goals – It's overwhelming to think about saving thousands of dollars a year to put in a savings account or emergency fund. An easy way to build up your savings is to make it a goal to save $5 a day (the cost of a latte or fast food meal). At the end of the year, you will have saved $1,825! Even if you only save $1 a day, that is better than nothing.
4. Get Organized – Don't just create a plan and forget about it. Write it down on paper or type it up on your computer and print it off. Pin it on your fridge or on the wall in your office. Seeing it every day will keep it in the forefront of your mind and will ultimately help you stay motivated. It's also a good idea to create folders for all of your expenses and financial documents. This will help you down the road come tax season.
5. Meet with a Financial Advisor – If you have no idea where to start, a financial advisor can lead you in the right direction. They will take a look at your income and expenses and help you create a plan that is attainable. They can also help you invest your money and plan for short-term and long-term goals, such as education expenses and retirement.
To help you save more this year, here are a few products offered by Discover to help get you there:
Online Savings Account: You never know when a rainy day is going to hit so setting aside money in a savings account is a great way to reserve your cash in case of an emergency. With a Discover Savings Account, you earn 0.95% APY for all balances, which is 5X the national savings average, low monthly fees and no monthly balance requirements.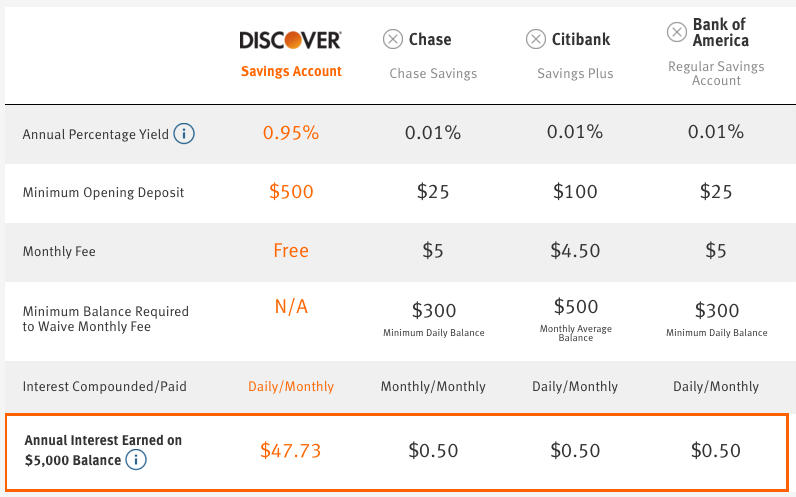 Certificate of Deposit: Money doesn't grow on trees, but it can grow in a certificate of deposit. With a minimum down payment of $2,500, a Discover Certificate of Deposit offers flexible terms from 3 months to 10 years allowing your cash to grow at a variable rate.
Cash Credit Card: If earning cash back rewards is more your style, using a credit card like the Discover it card gives you 5% cash back on quarterly rotating categories

on up to $1,500 in purchases

, 1% cash back on all other card purchases and you can double all of the cash back you earned at the end of your first year if you're a new Discover cardmember.
Have you set any financial goals for the year? How are you sticking to them?
I wrote this post as part of the Discover Preferred Blogger Program. All opinions are my own.