The giving season may be over, but that doesn't mean the "giving" has to stop. I think we should make it a point to help others all year long. Wouldn't you agree? If you are looking for an easy way to help others, I would like to share about a great cause with you.
You are probably familiar with White Cloud, a toiletry brand that makes awesome toilet paper. I have always loved their products, and now I am happy to see that they are making an effort to give back to those in need.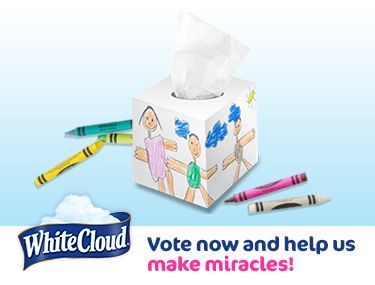 White Cloud is teaming up with Children's Miracle Network to create miracles in the lives of children receiving treatment in its 168 U.S. member hospitals. These kids have put their creativity and imaginations to work by illustrating a template that may become a new White Cloud Facial Tissue box design!
How You Can Help
White Cloud has collected all of the children's designs and narrowed the selection to the top 10 finalists. These 10 designs have been uploaded to the White Cloud Facebook page where fans can vote for their favorites. Three winning designs will be chosen and printed on special edition White Cloud Facial Tissue boxes to be exclusively sold in Walmart stores starting in May. White Cloud will also make a generous donation to each of the Children's Miracle Network hospitals with winning designs.
To vote, simply use the Voting App and follow the instructions provided.
You Can Win Too!
Those of you who vote for the designs will be entered into a sweepstakes. Three drawings will be held for $25 Walmart gift cards throughout the voting period and at the end of the voting period, three grand prize winners will be selected to win a one-year supply of White Cloud products!
I would like to encourage you to take a minute out of your day to use the Voting App to vote for your favorite design. It's fast, easy, and it supports a great cause!
Stay Connected with White Cloud
Find a store near you!
Like White Cloud on Facebook
Follow White Cloud on Twitter
Abbreviated rules: No purchase necessary. Void where prohibited. The Children's Miracle Network Contest and Sweepstakes are sponsored by Kruger Products (USA), Inc. The Contest is open to legal residents of the 50 United States and the District of Columbia, between the ages of 4 and 14, who are eligible patients at one of the 168 participating Children's Miracle Network Hospitals. The entry period for the Contest begins on November 29, 2012 and ends on December 28, 2012. The Voter Sweepstakes is open to legal residents of the 50 United States and the District of Columbia, 18 years of age or older. The Voter Sweepstakes begin at 6:00 p.m. ET on January 3, 2013 and end at 11:59 p.m. ET on January 30, 2013. For official rules, visit http://mywhitecloud.com/tissue-box-contest.
This post brought to you by White Cloud. All opinions are 100% mine.