This post is part of the HEALTHY ESSENTIALS® 2014 program by Johnson & Johnson Consumer Companies, Inc. and The Motherhood, who sent me a box of products and compensated me for my time. Opinions, experiences and photos shared here are all my own, and I hope you enjoy them.
I can't believe it's already time for my kids to head back to school! The summer flew by way too quickly. We've had a great summer and while I am going to miss our late night campfires and lazy days at the pool, I am anxious to get back on a schedule. My twin girls have been getting on each other's nerves, as well as mine, so it will be good for them to head back to preschool where they will have a chance to play and learn away from home.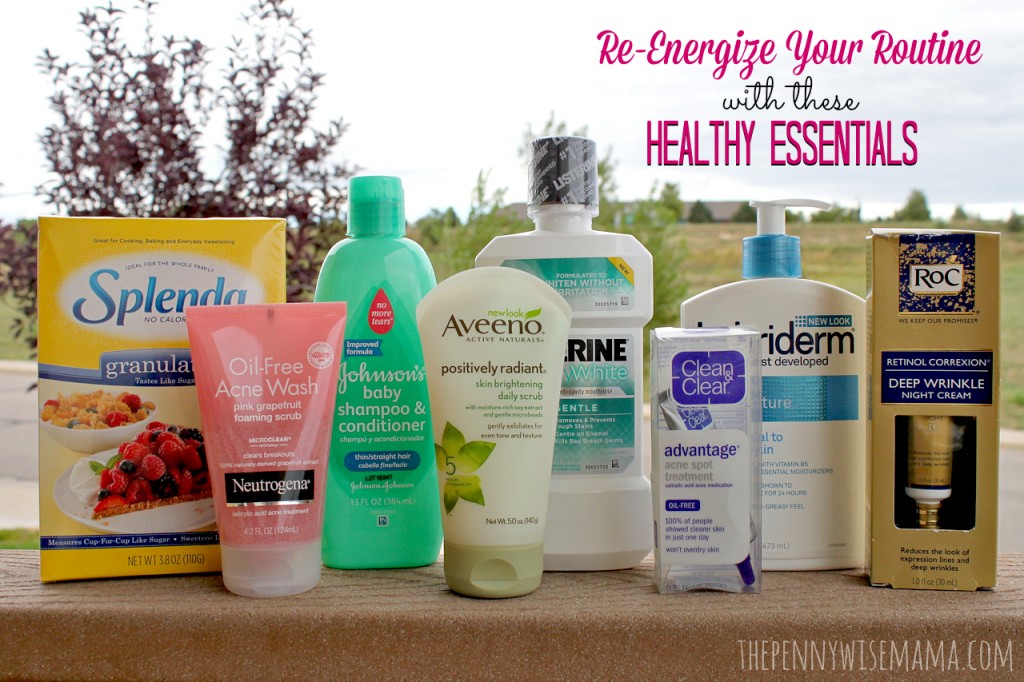 While heading back to school is a lot of fun, it is also stressful. Financially it's overwhelming with all the school supplies and back to school items we have to buy, and then on top of that the kids always have a hard time transitioning to a new routine. It usually takes my kids a couple of weeks to adjust, but I have found ways to make it easier. Today I am sharing my tips to re-energizing your back-to-school routine, as well as some awesome coupons for #HealthyEssentials!
Tips to Re-Energizing Your Back-to-School Routine
1. Adjust Your Sleep Schedule: A week before school starts, begin the transition to new bedtimes and wake times. Start by having your kids go to bed and wake up 30 minutes earlier than normal. After each day, adjust the time so that by the end of the week they are going to bed and waking up at the same they will need to once school starts.
2. Plan Meals for the Week: Make a list of what you'll need for snacks, lunches and easy family dinners for the first week of school and then head to the grocery store. The week will be a lot less stressful if you aren't trying to throw meals together last minute.
3. Plan a Family Fun Day: Take a day or weekend to do something fun with the kids before school starts. Go to the zoo, amusement park, or take a hike. Pick something that the whole family can enjoy.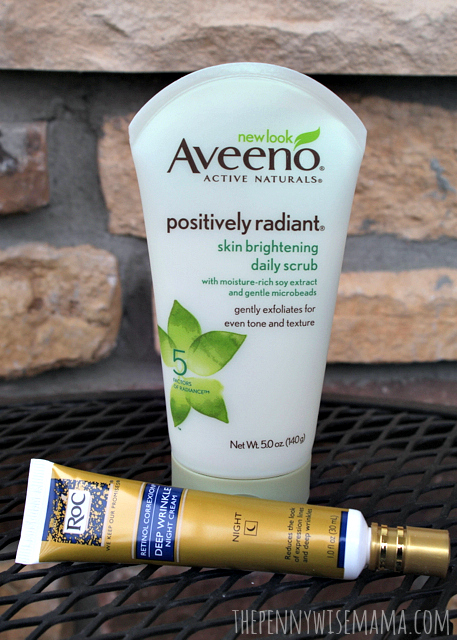 4. Pamper Yourself: Start your morning off right with AVEENO® POSITIVELY RADIANT® Skin Brightening Daily Scrub, proven to help improve skin tone, texture and clarity to reveal brighter, more radiant skin. Fight wrinkles with RoC® Deep Wrinkle Night Cream, containing an exclusive combination of pure Retinol and an essential mineral complex that is clinically shown to visibly reduce even deep wrinkles after 12 weeks use.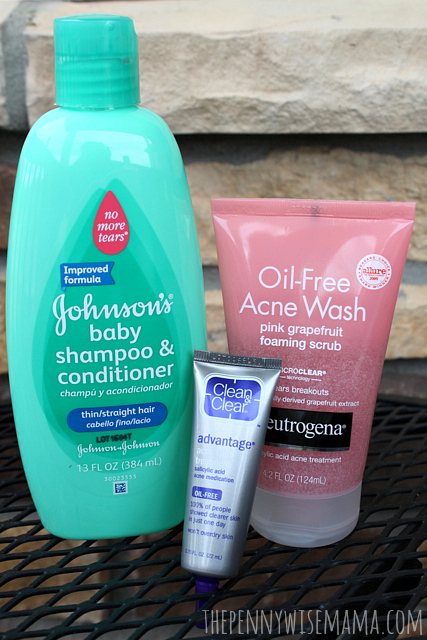 5. Teach Your Kids Good Hygiene: Have your younger kids bathe with JOHNSON'S® Baby NO MORE TANGLES® 2-in-1 Shampoo and Conditioner, formulated with hair conditioners that gently moisturize as they cleanse to help hair grow. If your older kids struggle with acne, have them wash their faces with NEUTROGENA® Oil Free Acne Wash Pink Grapefruit and treat their pimples with CLEAN & CLEAR® ADVANTAGE® Acne Spot Treatment.

If you haven't already, now is a great time to stock up on back-to-school essentials. The Johnson & Johnson HEALTHY ESSENTIALS® Program is offering amazing printable coupons, tips & tools and so much more for all the products you and your family love. You can save over $40 by visiting the Healthy Essentials website and by signing up for program coupons and offers.
Check out some of these fantastic deals:
Save $1.00 on any (1) NEUTROGENA® Sun product (excludes trial size
Save $1.00 on JOHNSON'S® Baby NO MORE TANGLES® or Extra Conditioning hair care product (excludes sizes 1 oz.-4 oz., JOHNSON'S® BUDDIES® and JOHNSON'S® KIDS® products)
Save $2.00 on any (2) AVEENO® products (excludes cleansing bars and moisturizing bars, trial sizes and 2.5 oz. lotion sizes)
Save $2.00 on any (1) RoC® Anti-Aging product
Save $1.00 on any (1) NEUTROGENA® Cleansing, Moisture, or Acne product
Save $1.00 on any (1) SPLENDA® No Calorie Sweetener Product
Save $1.50 on any (1) VISINE® product (0.5 fl. oz. or larger)
Save $1.00 on any (1) LISTERINE® Antiseptic Mouthwash, or (1) LISTERINE®NATURALS™ Antiseptic, or (1) LISTERINE® ULTRACLEAN® Antiseptic, or (1) LISTERINE® TOTAL CARE, or (1) LISTERINE® ZERO®, or (1) LISTERINE® FLUORIDE DEFENSE® Anticavity Mouthwash product (Valid on products 1L or larger)
What are your tips to re-energizing your back-to-school routine?