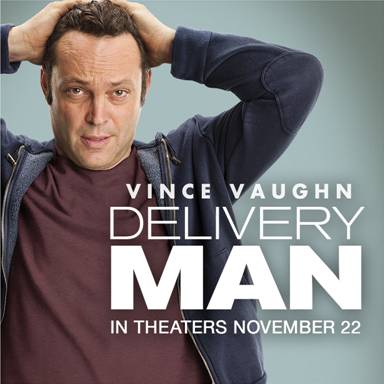 My husband and I love watching movies, especially comedies. We are huge fans of Vince Vaughn — he always makes us laugh! Did you you hear that he is starring in a new movie coming out this fall? DELIVERY MAN will hit theaters on November 22 and we can't wait to see it. It's going to be a huge hit!
In the film, Vince Vaughn plays an affable underachiever looking for his purpose in life, when he finds out he's fathered 533 children through anonymous donations to a fertility clinic 20 years ago. Now he must decide whether or not to come forward when 142 of them want to meet their biological father.
Sounds like quite the dilemma!
I'm sure you are dying for a sneak peek, so here's a new trailer release for you to enjoy! Just keep in mind that it is rated PG-13, so it's not appropriate for young children.
So what did you think of the DELIVERY MAN trailer? Are you excited to see it on November 22?!
Stay up-to-date with the movie release:
"Like" DELIVERY MAN on Facebook: Facebook.com/DeliveryManMovie
Follow DELIVERY MAN on Twitter: @DeliveryManFilm
Follow DELIVERY MAN on Pinterest: Pinterest.com/DeliveryManFilm
Follow DELIVERY MAN on Instagram: DeliveryManMovie