If there is one thing I am picky about, it's my long, blonde hair. Minus the one time a few years back that I chopped it off (terrible idea), I have had long hair ever since high school. I am obsessed with keeping it healthy, so I make sure to take great care of it. For awhile now I have been using sulfate and phosphate-free shampoo and conditioner and I only blow dry and flat iron it a few times a week. The rest of the time I just let it air dry. This has definitely helped keep my locks super healthy!
Recently, I discovered the Beauty Protector Ultimate Hair Protecting Trio, available for purchase from Birchbox. This top-rated trio includes Protect & Shampoo, Protect & Condition, and Protect & Detangle.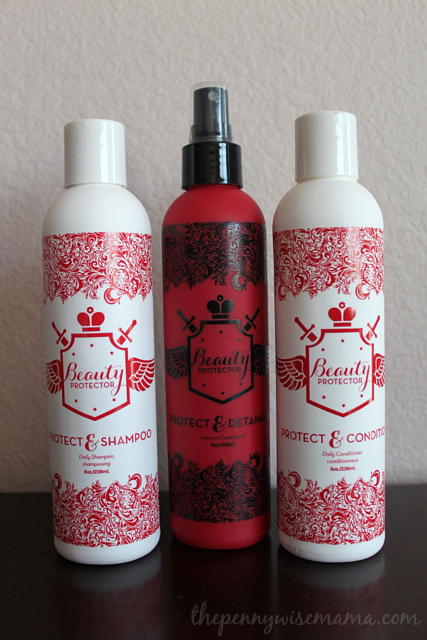 The sulfate-free Protect & Shampoo strengthens hair with pearl powder, a natural shield against heat and environmental damage, and a host of healing vitamins. Protect & Condition adds a double dose of pearl powder while nourishing and hydrating with shea butter and apple, lemon, and orange extracts. Protect & Detangle, does exactly that: It moisturizes, defrizzes, safeguards color, boosts shine, detanlges and protects against heat and UV damage.
I have been using the trio for a few weeks now and I am in love! For starters, it smells amazing. I wish you could smell it through the computer screen — it's just that incredible. On top of that, it works great! The Protect & Shampoo does a great job of cleansing my hair, even without all the chemicals. The Protect & Condition leaves my hair feeling soft and moisturized and the Protect & Detangle is amazing at getting out all of my tangles.
Even in just a few weeks time, I can tell that my hair is healthier. It's softer, shinier, and feels cleaner! And that's saying a lot, considering that my hair was pretty healthy before.
If you would like to get your hands on this fantastic trio, you can purchase it directly from Birchbox for $50.
Birchbox Giveaway
One lucky PennyWiseMama reader is going to WIN a Beauty Protector Ultimate Hair Protecting Trio, thanks to our friends at Birchbox!
To enter, simply use the Rafflecopter form below. Giveaway ends on 4/3 at 11:59 PM EST. Open to U.S. residents, 18+. Good luck!