I participated in a campaign on behalf of Mom Central Consulting for Cascade. I received a product sample to facilitate my review and a promotional item as a thank you for participating.
I am exceptionally picky about the cleanliness of my dishes. I love when they come out of the dishwasher all nice and sparkly. However, in order to achieve a sparkling shine, I have to rinse all of our dishes before putting them in the dishwasher. It's not that big of a deal, but the problem is my husband and son hardly ever rinse their dishes. This results in dishes that come out of the dishwasher with a filmy residue or food still crusted on them. This is extremely frustrating, especially considering we have guests over on a weekly basis and I want our dishes to look clean and shiny.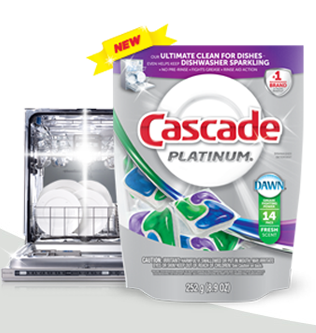 With a family of five, I run the dishwasher on a daily basis and need a dishwasher detergent that is not only easy to use, but effective. Thankfully, Cascade has come out with the all-new Cascade Platinum Pacs, a new premium product designed to deliver Cascade's most powerful clean while helping to maintain the sparkling look of dishwasher interiors.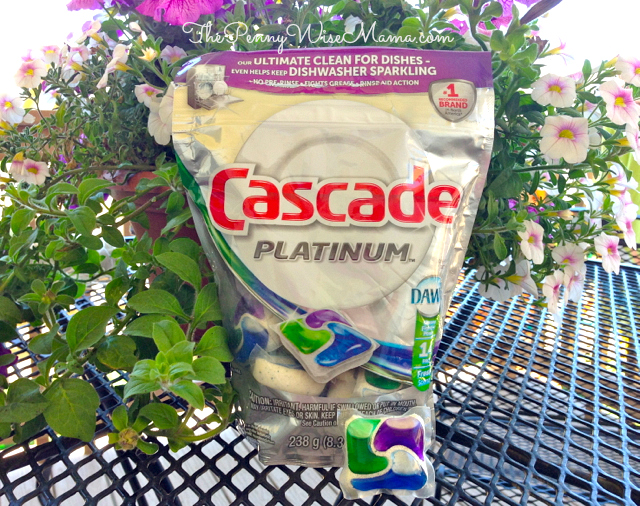 The Benefits of Cascade Platinum Pacs
Not only are they powerful enough to keep your dishwasher machine sparkling, they deliver a variety of dish care benefits:
Delivers Cascade's ultimate clean for dishes
Scrubs away tough 24 hour stuck-on food • Eliminates the need to pre-wash dishes
Provides exceptional dishware shine
Contains the Grease Fighting Power of Dawn
I have been using the Cascade Platinum Pacs for over a week now and I love them! Not only are they easy to use, they are also effective. We have grilled out a couple of times with family and friends in the past week, which has resulted in lots of dirty dishes. After each BBQ, we have placed dishes full of black residue and grease, as well as stuck-on food in the dishwasher and they have come out sparkling clean! It's so nice to not have to worry about rinsing our dishes beforehand. It saves me time and frustration! I have also noticed that my dishwasher itself looks and smells much cleaner after running a load. I will definitely continue to use the Platinum Pacs in the future!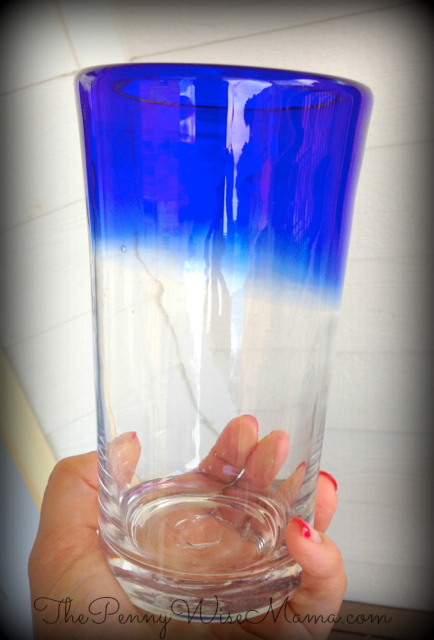 Look how clean & sparkly my glass is after using the Platinum Pacs!
Cascade's Partnership with Gail Simmons
Now, more than ever, people eat with their eyes, and the evidence is all over sites like Facebook and Instagram. With that in mind, Top Chef judge and editor of Food+Wine magazine, Gail Simmons, has partnered with Cascade to discuss why presentation is just as important as preparation.
From prep to plating: It's more than just a great-­‐tasting recipe, but also perfect presentation. Sparkling dishes, shining flat ware and spot-­‐free glasses truly let you put your best food forward with culinary creations that pop!
Gail recommends impressing with a Platinum Presentation: "The easiest recipes pop with unexpected, gourmet presentations. Drizzle bright sauces on sparkling white plates or layer desserts in crystal-­‐clean glassware. Keep your presentation sparkling with Cascade Platinum, which keeps dishes perfect for anytime entertaining and impromptu guests."
Learn more about Cascade's partnership with Gail Simmons by viewing videos available on the Cascade Facebook page and Cascade YouTube page.

The Cascade "My Platinum" Instagram Contest
The Cascade "My Platinum" contest is a four week Instagram contest encouraging fans to upload photos related to the weekly contest themes. Show off how sparkly Cascade makes all your pots, pan and plates! Visit the contest landing page for information on how to enter and submit images. Each week, two contestants will be selected to receive a brand new Whirlpool dishwasher. Additionally, one lucky grand prize winner will receive a Platinum kitchen makeover!
Sounds awesome, right?! So who's entering? I know I am!