We moved into our new home a little over a year ago and have been working hard to get it just the way we want it ever since. One room that we haven't had much time to work on is the family room. Thankfully, my husband had some time off work recently, so that gave us a chance to start working on it. Our goal is to make it feel warm and cozy — a place where we can cuddle up and watch a great movie and feel totally comfortable doing so.
When we were brainstorming ideas of what we could do, my husband insisted that we had to get a bean bag chair. He said it couldn't be just any bean bag chair either — it had to be one of those "big, comfy ones" that a couple of his friends have. I was only familiar with the cheap ones that aren't that comfortable and flatten out over time, so I was definitely intrigued and wanted to try and find a nice one like he talked so highly about!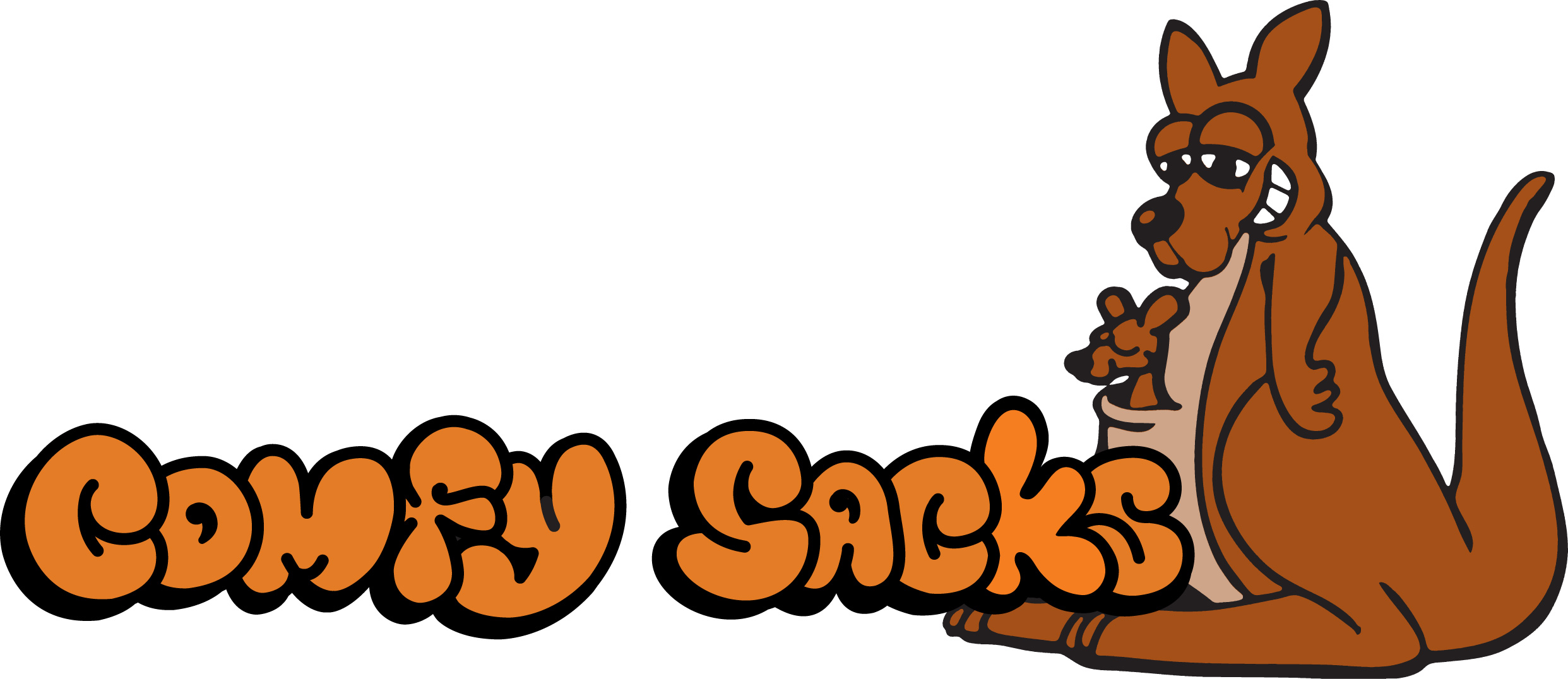 My search for a "big, comfy bean bag chair" led me to Comfy Sacks, a company that makes bean bag chairs right here in the US! I quickly learned that Comfy Sacks aren't like other bean bag chairs. Instead of being filled with squeaky polyurethane beans that flatten out over time, they are filled with shredded space-age urethane foam. Shredded foam is long lasting, soft, shapeable and resists permanent compression. This is why a comfy sack will last you for a long time!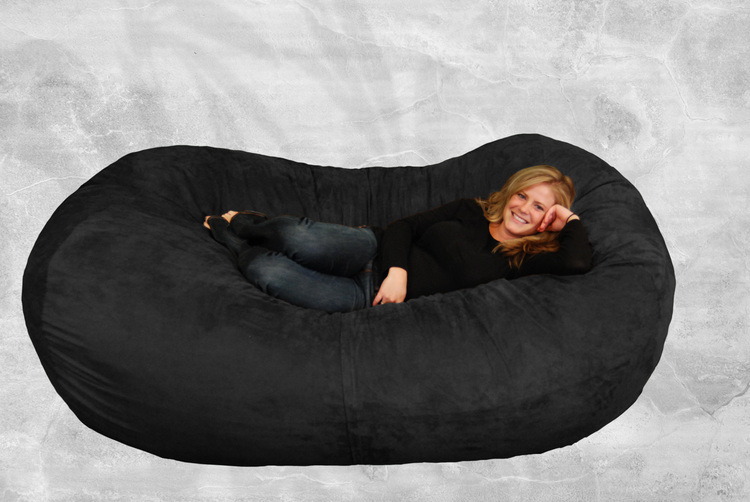 One of the great things about Comfy sacks is they carry so many different styles and sizes of bean bag chairs. They sell sacks that function like a chair, loungers that function more like a couch, and they also carry bean bag pillows and ottomans for extra comfort. The best part is you get to choose the texture and color of the cover you want. Whether you choose microsuede, pebbles, furry, or cords all of them are super soft, comfortable, and machine washable!
After browsing the Comfy Sacks website, I knew right away that I wanted to get the 6′ Sack in Mocha Cords to match our other furniture. On the day it arrived we were all so excited to open it up and try it out!

Our 6′ Comfy Sack arrived in a large rectangular box that we had to cut open. The box contained a compressed block of shredded foam along with the corduroy cover. Setup of the Comfy Sack was super easy. First we broke up the foam block to allow air to get to it and let it expand. Then we put the cover on and let it expand more on its own.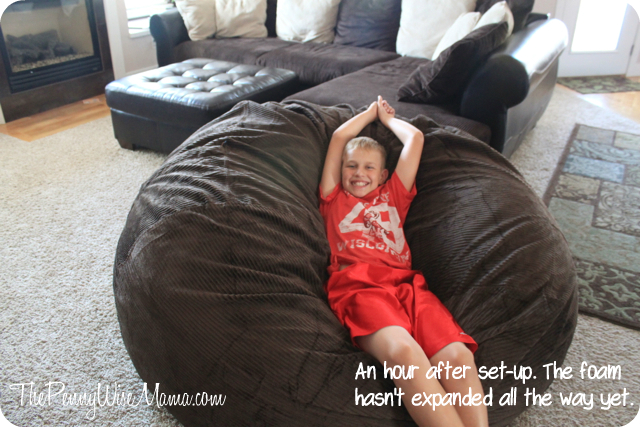 Within an hour, the sack had expanded quite a bit. We were able to sit on it and try it out.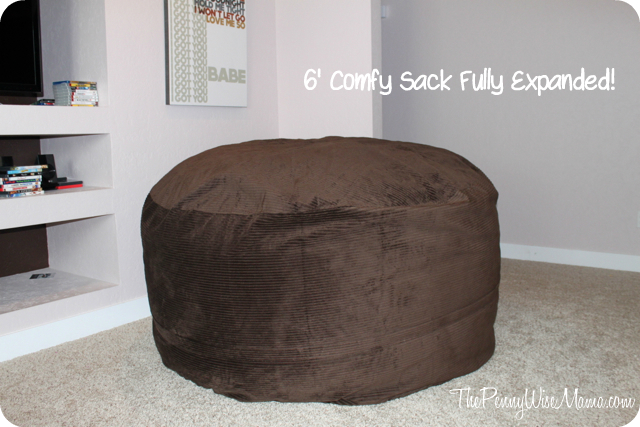 Within about 48 hours, the sack had fully expanded and let me tell you, it is HUGE! It is the biggest bean bag chair I have ever seen, weighing approximately 68 pounds and measuring 6 ft x 6 ft x 3 ft.!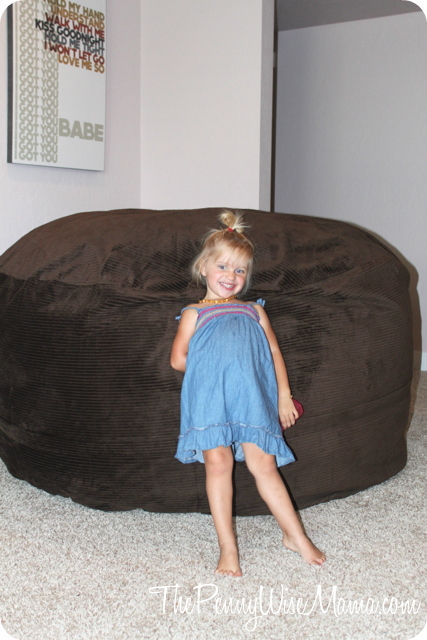 Look at how tall it is in comparison to my 2.5 yr old!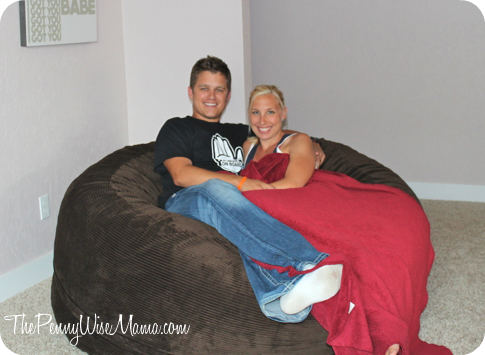 Sitting on the Comfy Sack is like sitting on a cloud — it's so soft and comfortable. You just kind of sink into it and it conforms around you, making you feel nice and cozy. The kids have already been fighting over it, even though all three of them can comfortably sit on it at once!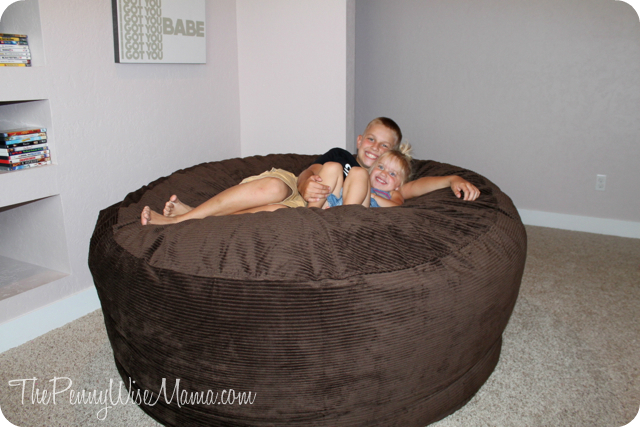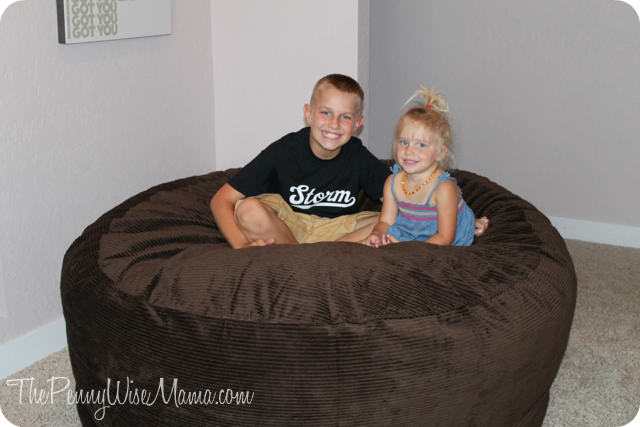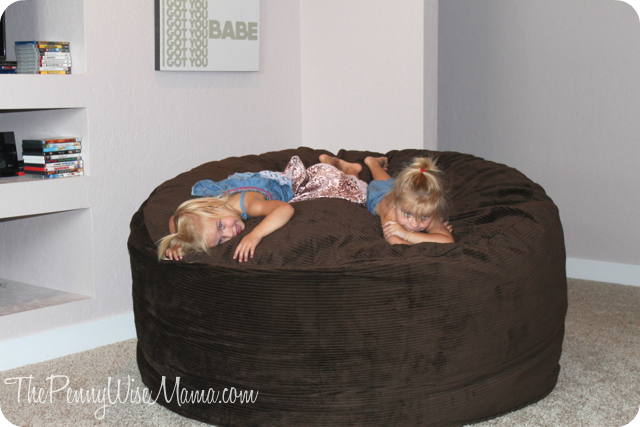 Everyone who has come to our house has been totally amazed by the size and comfort of the Comfy Sack. It definitely has made our family room feel more cozy and complete! We absolutely LOVE our Comfy Sack and would highly recommend it if you are looking for a bean bag chair that is superior in quality and will last for years to come!
BUY IT
Right now Comfy Sacks is offering 20% off and FREE shipping, making the 6′ Comfy Sack in microsuede only $285. That may seem expensive, but if you compare it to other bean bag companies who charge $400+ for a similar sized bean bag chair, Comfy Sacks is a much more affordable option.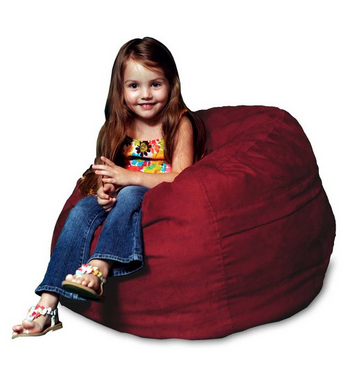 WIN IT
Comfy Sacks has generously offered to give away a Kids Sack (20in x 28in x 28in) in the winner's choice of color, valued at $151.25!
To enter to win, simply use the Rafflecopter form below. Giveaway ends at 11:59 PM EST on 9/10. Open to US residents only. Must be 18+ to enter. Good luck!
a Rafflecopter giveaway